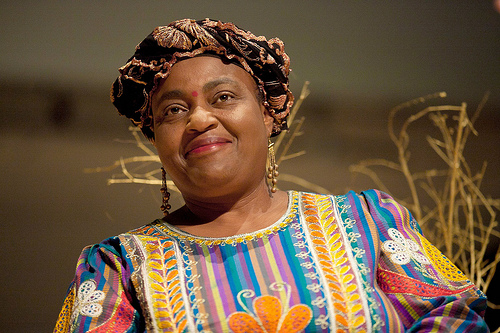 Barbara Guillaume, a human rights activist born and raised in Haiti, at Sustainatopia 2011 (photo by JD Lasica).
SuperGuide to events for nonprofits & social good organizations
Note: See our calendar of 2012 nonprofit and social change conferences.

Following is a roundup of conferences and events scheduled in the nonprofit and social change sector in 2012 with a few related events tossed in as well. This has become an annual tradition here at Socialbrite, and we hope you'll bookmark this page and return to it throughout the year — we'll be updating it throughout 2012 as more conference details firm up.
We'll be reporting on many of these events and invite you to share your coverage or observations on Socialbrite, or let us know and we'll tweet it or Facebook it. Throughout the year you'll be able to see a list of all these events in the weekly Google calendar in the sidebar at the lower right of nearly every page on Socialbrite.
If you know of other must-attend events, please add them by posting in the comments at the bottom. Note that we've also published a calendar of 2012 conferences in social media, tech and marketing on our sister site, Socialmedia.biz.
Conference
Date
Place
January
edSocial Media Bootcamp
Jan. 12
Windsor, Conn.
The edSocialMedia Bootcamp offers a one-day, practical application of social media tools in a school environment. The workshop provides an in-depth, hands-on introduction to social media for school leaders and administrators, complete with an opportunity to create and share content through edSocialMedia's practice lab site and other social media channels.
The Intersection Event
Jan. 14
Emeryville, Calif.
In this day-long event, innovators converge with leading social change agents to tackle significant issues. The Intersection reflects a change in how philanthropy is being delivered to the world and how innovation can drive your bottom line, improving the businesses that participate and the world around us.
WordCamp
Various
Worldwide
WordCamps are casual, locally organized conferences covering everything related to WordPress, the free and open source personal publishing software that powers over 25 million sites on the Web. WordCamps come in all different flavors, based on the local communities that produce them, but in general, WordCamps include sessions on how to use WordPress more effectively, beginning plugin and theme development, advanced techniques, security, etc. The year's first WordCamp takes place in Birmingham, Ala. on Jan. 14-15.
TransportationCamp
Jan. 21
Washington, DC
TransportationCamp is a free unconference bringing together transportation professionals, technologists and others interested in the intersection of urban transportation and technology.
PodCamp Halifax
Jan. 22
Dartmouth, Canada
A PodCamp is a free BarCamp-style community unconference for new media enthusiasts and professionals including bloggers, podcasters, YouTube producers, social networkers and anyone curious about new media.
Emerging Media Conference
Jan. 23-26
San Francisco
This gathering gives people the chance to view and experience the latest in technology advances and upcoming product roll-outs. For three full days there will be demonstrations, presentations and discussions led by some of the most connected and recognized experts in the industry.
World Economic Forum
Jan. 25-29
Davos, Switzerland
This gathering convenes under the theme, The Great Transformation: Shaping New Models. World leaders and public figures return to their core purpose of defining what the future should look like, aligning stakeholders around that vision and inspiring their institutions to realize that vision.
Content Marketing Retreat
Jan. 26-27
Langley, Wash.
This year's conference will move beyond "building the case for content marketing" to sharing strategic insight and best practices on how to effectively plan, manage and measure content creation, curation, publication and distribution..
She's Geeky 10 – The 5th Bay Area Event
Jan. 27-29
Mountain View, Calif.
She's Geeky hosts unconferences across the nation, providing an environment for women working in technology and other geeky fields (science, engineering and math) to learn from one another, grow networks, connect across generations and discuss issues.
Social Media for Nonprofits – NYC
Jan. 30
New York
The multi-city series focuses on providing practical tips and tools for fundraising, marketing and advocacy, all delivered by experts in keynotes, workshops, roundtables and panels. Topics include viral marketing campaigns, volunteer recruitment, social email campaigns and more.
February
Media That Matters
Feb. 10-11
Washington, DC
This year's theme, "Change for Good," features conversations about how independent social change filmmakers can execute integrated campaigns that are strategic, action-oriented and have enduring impact.
ACM Conference on Computer Supported Cooperative Work
Feb. 11-15
Seattle
CSCW presents research in the design and use of technologies that affect groups, organizations and communities. CSCW encompasses both the technical and social challenges encountered when supporting collaboration. The development and application of new technologies continues to enable new ways of working together and coordinating activities.
Rootscamp
Feb. 18-19
Washington, DC
This year marks the sixth anniversary of the Rootscamp unconference where organizers set the agenda, share lessons learned and drive the conversation about best practices in organizing. RootsCamp is an "open space" unconference driven by the people who attend to share, debrief and celebrate the tremendous work organizers have made.
Wisdom 2.0
Feb. 23-26
Redwood City, Calif.
Join the founders of Facebook, PayPal, Zynga, and other technology leaders along with wisdom teachers in this conference where they focus on exploring how one can live mindfully and wisely and engage the great technologies of this age in ways that benefit us, our society and our world.
BlissDom
Feb. 23-25
Nashville, Tenn.
This conference is for women who find and express their bliss by publishing online. Speakers and panels will feature the best blogging, public relations and social media pros who'll be on hand to mentor new and old friends.
Social Enterprise Conference
Feb. 25-26
Boston
This year's conference will feature two days of rich content at the Harvard Business School and Harvard Kennedy School. The Saturday schedule is designed for a smaller and more practitioner-focused audience, while the Sunday schedule will feature about 100 speakers with a more general focus with a Pitch for Change Competition and Career Fair.
TED
Feb. 27-Mar 2
Long Beach, Calif.
From dazzling technology and leading-edge science to the richest veins of human creativity and interconnection, TED 2012 will display remarkable speakers, new uses of music, extravagant use of underused senses, intricate choreography between speaker and screen, new ways of involving the audience, breakthroughs in animation, intense, campfire-style storytelling and some "spectacular surprises."
TEDActive
Feb. 27-Mar 2
Palm Springs, Calif.
TEDActive is an opportunity to let your mind travel the world of ideas while watching the live-hosted TED 2012 program on screen in a comfortable, customizable space. When the talks are over, your conversations with other passionate people begin — a chance to engage in inspiring discussions and projects.
March
Washington Nonprofit Conference
March 1-2
Washington, DC
Need a fresh perspective on fundraising? At this conference, you'll learn innovative strategies and creative approaches to fundraising that will help you identify and develop new initiatives for your programs, as well as how to increase donations. You'll find more than 30 educational sessions, a keynote presentation and roundtable discussions so that you're able to pick and choose from topics that best offer solutions to your challenges.
SXSW
March 9-18
Austin, Texas
South by Southwest offers an amazing gathering of thought leaders in independent music, independent films and emerging technologies. Fostering creative and professional growth alike, SXSW is the premier destination for discovery.
Left Forum
March 16-18
New York
A one-of-a-kind gathering, Left Forum convenes the largest annual conference of a broad spectrum of left and progressive intellectuals, activists, academics, organizations and the public. Conference participants come together to engage a wide range of critical perspectives on the world, to discuss differences, commonalities and alternatives to current challenges and to share ideas for transforming the world.
Cause Conference
March 21
San Diego
The 14th annual AMA Cause Conference is the West Coast's largest cause partnership event that will feature experts in cause marketing, nonprofit resource development, community relations, new media technology and corporate social responsibility. This daylong networking and informational event offers nonprofits and businesses innovative ways to be a force for good in the current economic climate.
eCampaigning Forum
March 21-22
Oxford, UK
In the 10th annual eCampaigning Forum, you'll learn about e-campaigning from the people who do it and share effective strategies and practices with peers.
Creating Social Change
March 22
London
Creating Social Change will bring together individuals and organizations to discuss why a new, integrated approach is needed to achieve meaningful change for social and environmental sustainability. The day will include inspiring examples of both research and practitioners at the forefront of the movement to create long-term changes in collective societal values, behaviors and lifestyles.
The Social Enterprise Exchange
March 27
Glasgow, UK
This event will create plenty of opportunity to exchange best practices and information on a number of topical themes including social enterprise policy, growth and replication, starting a new business, winning business, social investment, subcontracting and impact measurement.
Skoll World Forum
March 28-30
Oxford, UK
The Skoll World Forum on Social Entrepreneurship is the premier international platform for advancing entrepreneurial approaches to solving the world's most pressing problems. Their mission is to accelerate the impact of the world's leading social entrepreneurs by uniting them with essential partners in a collaborative pursuit of learning, leverage and large-scale social change. About 800 hand-selected delegates from the social, finance, private and public sectors convene for three days and nights and attendees representing nearly 65 countries participate in critical debates, dedicated networking events, self-organized sessions, small group workshops and compelling panel and plenary sessions.
Clinton Global Initiative University
Mar 30-Apr 1
Washington, DC
This fifth annual gathering will bring together students and national youth organizations to create and implement Commitments to Action across five Focus Areas: Education, Environment & Climate Change, Peace & Human Rights, Poverty Alleviation and Public Health.
April
AFP International Conference on Fundraising
April 1-3
Vancouver, BC
Join your fellow fundraisers for a three-day immersion to learn best practices and strategies that work. It's a place to gain insight from industry and world leaders, a chance to learn breakthrough fundraising tactics and an opportunity to share your own successes and challenges while meeting colleagues from across town and around the globe.
Innovative Giving Conference
April 2
San Francisco
Innogive returns for its 3rd annual conference at the Union Square Hilton the day before NTEN. Mobile giving is still among one of the most talked about solutions to surface in recent memory. After a sold-out 2011 show, it is clear nonprofits are hungry to learn about how to make mobile successful, given that it's not going away.
Nonprofit Technology Conference
April 3-5
San Francisco
This three-day gathering brings together nonprofit professionals from around the world to collaborate, innovate and maximize effectiveness. With a wide mix of social events, seminars, trainings and resources, NTC will help you put technology to work to further your cause.
Global Engagement Summit
April 8-15
Evanston, Ill.
The Global Engagement Summit is an empowerment platform for students to make the change they wish to see in the world. GES provides the opportunity for delegates to engage in critical discussion and think about how to do good well, to network with passionate individuals and innovative thought leaders and to build capacity and develop skills to implement change-based projects.
Global Philanthropy Forum
April 16-18
Washington, DC
A project of the World Affairs Council of Northern California, the Global Philanthropy Forum aims to build a community of donors and social investors committed to international causes, and to inform, enable and enhance the strategic nature of their work. GPF connects donors to issues, to effective strategies, to potential co-funding partners and to emblematic agents of change from around the world.
Global CSR Summit
April 19-20
Cebu, Philippines
This gathering will examine the issues of sustainability for businesses in Asia for the 21st century amid weaknesses in the global economy, environmental disasters, political instability in the Middle East and the global food crisis. The theme of the event, "Beyond Sustainability," highlights the future directions of CSR. It involves going beyond narrow concepts of sustainability that aim at minimizing environmental harm and maintaining the status quo toward a new paradigm of embracing innovative and cutting-edge solutions that benefit profits, societies and the environment.
Social Venture Network Annual Member Gathering
April 19-22
Stevenson, Wash.
Social Venture Network connects, supports and inspires business leaders and social entrepreneurs in expanding practices that build a just and sustainable economy. A second conference this year, the SVN Hall of Fame Celebration, will be held Nov. 13 in New York.
Sustainatopia
April 19-25
Miami
With 60 individual events in film, art, music, eco-fashion, food, design, parties and two major impact investing conferences, Sustainatopia is one of the biggest sustainability and impact investing events in the hemisphere.
Innovate / Activate
April 20-21
Berkeley, Calif.
Innovate / Activate is an event about intellectual property and activism. It's about spurring change through the thoughtful consideration of IP. It's about reexamining our approaches to improving global welfare by diagnosing new and existing IP-related challenges to activism, developing strategies for overcoming IP obstacles and delivering practical solutions. It's about identifying additional tools for a more effective activism that is capable of challenging our accepted notions of freedom and equality.
Connections
April 25-26
Alberta, Canada
The 2012 conference will bring together leaders from the nonprofit sector, the corporate community, government and other funders, and community leaders to dialogue about the significant changes that will impact the sector and its ability to meet community needs in the future. A goal of the conference is to foster enhanced understanding across the three sectors through focused dialogue on timely and relevant issues.
May
Connecting Up Australia
May 1-3
Sydney, Australia
As nonprofits continue to look at new ways to innovate in all aspects of their organization, Connecting Up 2012 will be a conference that will help you draw inspiration from speakers, both international and local. Meet other people working in the nonprofit sector, share your stories and strengthen each other.
Digital Leap
May 3
Ontario, Canada
The Digital Leap conference is about communication in a digital world, particularly the combination of technology, strategy and creative in a digital age. The vision behind Digital Leap is to create an experience to inspire marketers and fundraisers in not-for-profit organizations to work in new ways and embrace best practices and current techniques.
99% Conference
May 3-4
New York
For two days, creative leaders from across industries will come together to focus on the mechanics of idea execution as speakers share lessons learned in a series of 20-minute talks and interactive master classes.
NCTech4Good
May 4
Chapel Hill, N.C.
NCTech4Good is the regional network for sharing knowledge about technologies that can advance the mission of nonprofit organizations.
Ignite Phoenix
May 5
Scottsdale, Ariz.
Ignite brings together entrepreneurs, technologists, DIYers, creative professionals and enthusiastic knowledge-seekers. O'Reilly has not yet announced if there will be an Ignite Week 2012 in dozens of cities around the world (but we expect it'll be back!). Ignite's motto: "Enlighten us, but make it quick."
Ideation Conference
May 7-9
Chicago
!deation is designed to create a rich learning and sharing experience. The goal is inspiration, encouragement and new explorations for participants. Social entrepreneurs like Scott Harrison (charity: water), Ben Keesey (Invisible Children) and Scott Belsky (Behance) have spoken in past years.
The Global Action Forum And Awards
May 9-11
Los Angeles
Canceled.
Government Web and New Media Conference
May 16–17
Washington, DC
The annual Government Web and New Media Conference is the premier networking and educational event of the year. Hear from peers and industry thought leaders on the latest trends and tools, learn practical strategies for improving your online strategies, see innovative projects happening throughout government and connect with colleagues from across the country.
Fundraising Day
May 23
Toronto
The Association of Fundraising Professionals is the professional association for individuals responsible for generating philanthropic support for a wide variety of charitable organizations. The association advances philanthropy in society by enabling people and organizations to practice effective and ethical fundraising.
Cause Marketing Forum
May 30-31
Chicago
The ninth annual forum will include Networking Galore, New Perfect Pitch Contest and sessions such as Bridging the CSR/CM Divide, The Great Breast Cancer Debate, Cause Marketing Innovation, Gaming for Good and more.
June
AFP TechKnow
June 4-5
Orlando, Fla.
The AFP TechKnow Conference Presented by Visa will offer an interactive learning experience designed to connect nonprofit fundraising and management professionals with leading-edge information and effective practices in using technology to accomplish their organizations' missions. The conference will position interactive websites and social media as core elements in today's development mix via two tracks: strategy and technology. It will feature opportunities for learning, networking and exhibiting. Hashtag: #RewireToInspire
Sustainable Brands
June 4-7
San Diego
Widely reputed to be the most compelling sustainability conference of the year, Sustainable Brands 2012 will convene over 800 brand leaders, sustainability executives from the global brands leading sustainable innovation today, and an unprecedented list of others to carry forward the conversation about sustainability as a driver of business growth and brand benefit.
BlogWorld New York
June 5-7
New York
BlogWorld & New Media Expo is the first and only industry-wide conference and tradeshow for all New Media. This conference is for anyone who is creating content online with Blogging, Podcasting, Vlogging, Web TV or Internet Radio, Social Media, or New Media Content of any kind. In this conference you'll find comprehensive and critical knowledge for growing your business, brand and audience with the latest new media technology, methods and tools.
Social Change Institute
June 6-10
Cortes Island, BC
SCI gathers seasoned and emerging leaders with thinkers and trainers from the change-making world. Designed to strengthen capacity, collaboration and success of the sector, SCI offers workshops, creative practices, dialogue circles and community building that will enhance your organizational effectiveness.
Netroots Nation
June 7-10
Providence, RI
Netroots Nation amplifies progressive voices by providing an online and in-person campus for exchanging ideas and learning how to be more effective in using technology to influence the public debate.
Personal Democracy Forum
June 11-12
New York
Personal Democracy Forum is the world's leading conference exploring technology's impact on politics and government. Join hundreds of individuals interested in how technology is changing politics, governance and society.
North by Northeast
June 11-17
Toronto
Now in its 18th year, North by Northeast Festivals and Conference (NXNE) has become the Canadian festival destination for emerging artists and major-label headliners, for music filmmakers and for digital interactive innovators bridging the gap between technology and the arts. Seen as the most anticipated summer music event in Canada, NXNE Music, NXNE Film and NXNE Interactive are an essential gathering for artists, industry and fans.
MyCharityConnects
June 12-13
Toronto
Join nonprofits from across Canada and social media experts for the premier social media and online fundraising learning opportunity of the year. After three sold-out years, MyCharityConnects offers thought-provoking keynotes, practical how-to workshops and chances to learn from other nonprofits about what works online and what doesn't.
NMC Summer Conference
June 12-15
Boston
The NMC Summer Conference attracts an audience of hundreds of highly skilled professionals interested in the integration of emerging technologies into teaching, learning and creative inquiry. This conference will feature new session paths that will help to spark new thinking and ideas: Imagine, Explore, Play, Create, Transform and Reflect.
Conference on Scaling Impact
June 13-14
New York
Social Impact Exchange's conference focuses on building a philanthropic capital marketplace that can consistently finance the scaling of effective social solutions. The event brings together more than 400 nonprofits, foundations, individual philanthropists and nonprofit advisers to share best practices and knowledge for creating sustainable social solutions.
Tällberg Forum
June 14-17
Stockholm, Sweden
The Tällberg Foundation is reaching out to thought leaders from around the world to come and join the conversation. By once again posing the question "How on Earth can we live together?," they help leaders find viable paths in a globalized and interconnected world.
MIT-Knight Civic Media Conference
June 17-20
Cambridge, Mass.
This conference will bring together past and present Knight News Challenge winners, media innovators, and community leaders – all working together to use new technologies to shape the future of news and civic media.
Games for Change Festival
June 18-20
New York
The annual Games for Change Festival is the largest gaming event in New York and the only international event uniting "games for change" creators, the public, civil society, academia, the gaming industry and media.
National Conference on Volunteering and Service
June 18-20
Chicago
This annual event provides attendees with an opportunity to learn, connect and be inspired through a wide range of engaging, informative plenary sessions, workshops, special events, service projects, exhibits, specialized corporate tracks and more.
Net Change Week
June 26-28
Toronto
Net Change Week is Canada's premier event on social tech for social change. The weeklong series of events features training workshops, evening programming with guest speakers, lab sessions and plenty of opportunity for networking.
Aspen Ideas Festival
June 27-July 3
Aspen, Colo.
The Aspen Ideas Festival will gather some of the most interesting thinkers and leaders from around the US and abroad to discuss their work, the issues that inspire them and their ideas. Presented by the Aspen Institute and The Atlantic, the festival is dedicated to dialogue and exchange and in commited to bringing ideas to the public at large.
Allied Media Conference
June 28-Jul 1
Detroit
The conference seeks to cultivate strategies for a more just and creative world. Attendees come together to share tools and tactics for transforming communities through media-based organizing.
Indie Web Camp
Jun 30-Jul 1
Portland, Ore.
IndieWebCamp is a 2-day dev camp in Portland, Oregon focused on building a more open Web.
Craigslist Foundation Boot Camp
TBD
TBD
Craigslist Foundation Boot Camp helps people learn how to make a positive impact in their communities and neighborhoods. It aims to serve community builders and people engaged with their neighborhoods and social good across all sectors. No date has been set yet for the 2012 event even though they promise it'll happen in "spring 2012."
July
Community Leadership Summit
July 14-15
Portland, Ore.
The Community Leadership Summit 2012 is the meeting place for community managers and leaders from all around the world.
OSCON
July 16-20
Portland, Ore.
OSCON is where all the pieces come together: developers, innovators, businesspeople and investors. Today OSCON is about how the close partnership between business and the open source community is building the future. OSCON is the best place to prepare for what comes next, from learning new skills to understanding how new and emerging open source technologies are going to impact how we live, work and do business.
Project SEARCH
July 23-27
Austin, Texas
Project SEARCH is dedicated to providing education and training to young adults with intellectual and developmental disabilities through an innovative workforce and career development model that benefits the individual,workplace and community.
Alliance for Community Media
Jul 31–Aug 2
Chicago
The Alliance for Community Media is where progressive media makers come together to learn and collaborate. This year's theme is "Collaborate." The conference focus will support the growth of business opportunities for community media centers.
August
Bridge to Integrated Marketing & Fundraising
Aug. 7-9
Washington, DC
The Bridge conference brings together some of the biggest buyers, sellers and users of fundraising and direct marketing products and services. The three-day event features nationally and internationally renowned speakers and top cutting-edge educational programming.
ASAE Annual Meeting & Exposition
Aug. 11-14
Dallas
What does Dallas have in store for ASAE Annual Meeting & Exposition? The presenters put together a video to show what's in store.
Social Media for Nonprofits
Aug. 14
Los Angeles
In this conference series, these sessions are designed to provide attendees with concrete insights and takeaways, showcasing best practices, pitfalls to avoid and free, helpful resources for nonprofits and causes.
Social Media for Nonprofits
Aug. 28
Cambridge, Mass.
In this conference series, these sessions are designed to provide attendees with concrete insights and takeaways, showcasing best practices, pitfalls to avoid and free, helpful resources for nonprofits and causes.
Government Open Source Conference
TBD
Washington, DC
GOSCON was held in August 2011 and they say they'll return in 2012 to continue the discussion of open source in the government sector.
September
Web of Change
Sept 5-9
Cortes Island, BC
Web of Change is a tribe of fearless leaders pioneering new strategies of digital engagement to improve the world. It provides senior technology and social media leaders with the opportunity to share their world-class work, ideas, and inspiration with a powerful community of deeply committed peers, all in a bucolic area of British Columbia.
Social Venture Institute
Sept. 12-16
Cortes Island, BC
Since 1996, SVI has offered leaders of social purpose businesses a forum in which to air their business problems and receive advice and mentoring. Founded by Gary Hirshberg, President and CEO of Stonyfield Farm, SVI was designed to provide an interactive and affordable way for entrepreneurs to explore creative ways to succeed.
Retail Sustainability Conference
Sept. 19-21
Phoenix
The Retail Sustainability Conference brings together executives involved in establishing environmental programs and integrating green practices into their companies. The conference's program will address the key operational aspects of environmental sustainability and compliance for the retail industry, including sessions on energy, waste management, water conservation, store operations, real estate development, supply chain issues and opportunities for improving corporate social responsibility.
IdeaFestival
Sept. 19-22
Louisville, Ky.
IdeaFestival is a world-class event that attracts leading global innovators and thinkers to discuss and celebrate imagination, new perspectives and transformational ideas. (I've spoken here in the past and recommend it.) It provides a stage to explore the cross-cutting nature of innovation involving a range of diverse disciplines.
GigaOM Mobilize conference
Sept. 20-21
San Francisco
GigaOM's Mobilize conference will explore the technical and business opportunities spurred by the proliferation of connected devices, apps and the way it shapes the way we work, play and live. Learn how people and enterprises need to think as we enter a mobile first world.
Salsa Community Conference
Sept. 20-21
Washington, DC
Salsa is spicing up the Community Conference with a Geek Lab (two days of hands-on training with Salsa support and developers for all things techie: emails, donations, advocacy, supporter management, reports, queries, events, APIs and more), Salsa Newbie Training (a half day for all of you who are just getting started with Salsa), Curbside Consulting (one-on-one meetings with leading strategists), workshops and sessions to enhance your online strategies, and more.
Food + Justice = Democracy
Sept. 24-26
Minneapolis, Minn.
This national meeting is a call to action for activists, urban farmers, food system workers, immigrant rights advocates and anyone seeking to explore community-driven solutions to promote food equity through the lens of race, class and gender.
Blackbaud Conference for Nonprofits
Sep 30-Oct 2
National Harbor, Md.
Join this conference to experience everything you love about the Blackbaud Conference — three days of educational content dedicated to your specific needs and opportunities to network and interact with your peers and industry experts.
October
SOCAP
Oct. 1-4
San Francisco
The venerable Social Capital Markets gathering for social entrepreneurs and change agents will return to SF's Fort Mason.
The Feast
Oct. 3-5
New York
The Feast convenes the most remarkable entrepreneurs, radicals, doers and thinkers who are revolutionizing the way things work for the betterment of humanity.
Grace Hopper Celebration of Women in Computing
Oct 3-6
Baltimore
This series of conferences is designed to bring the research and career interests of women in computing to the forefront. Presenters are leaders in their respective fields, representing industrial, academic and government communities. Leading researchers present their current work, while special sessions focus on the role of women in today's technology fields, including computer science, information technology, research and engineering.
Cause Placement
Oct. 11
Washington, DC
Cause Placement 2012 is an interactive, in-depth exploration of strategies and initiatives that create mutually beneficial matches between causes and content–embedding essaging and marketing into the influential channels of entertainment including movies, television, celebrity activation, publishing, music and games.
Social Enterprise World Forum
Oct. 16-18
Rio de Janeiro, Brazil
The Social Enterprise World Forum – Fórum Mundial de Negócios Sociais 2012 is the premier global event focused on building a social enterprise movement worldwide.
PopTech
Oct. 17-20
Camden, Maine
An eclectic mix of thought leaders and visionaries will convene in Camden, Maine for its 16th annual gathering. A celebration for the intellectually engaged, PopTech is a chance to meet the people who are inventing our future and an opportunity to engage in stimulating presentations, exhilarating performances and life-changing conversations.
ArtezInterAction
Oct. 18
Toronto
Whether you're a seasoned fundraising veteran or new to fundraising, ArtezInterAction Toronto has something for everyone. This one-day conference is designed for fundraisers looking to accelerate their online activities.
Bioneers Conference
Oct. 19-21
San Rafael, Calif.
Explore the forefront of positive change in deeply inspiring keynote talks, panels, workshops and intensives. Network with dynamic change-makers, experience Moving Image Festival screenings and networking receptions, and discover powerful opportunities and strategies for creating positive change in your work, life and community.
Social Media for Nonprofits
Oct. 23
Austin, Texas
In this conference series, these sessions are designed to provide attendees with concrete insights and takeaways, showcasing best practices, pitfalls to avoid and free, helpful resources for nonprofits and causes.
BSR
Oct. 23-26
New York
BSR works with its global network of more than 250 member companies to develop sustainable business strategies and solutions through consulting, research and cross-sector collaboration.
NETA Conference
Oct 30-Nov 1
St. Louis
The nonprofit National Educational Telecommunications Association is a professional association that serves public television licensees and educational entities in all 50 states, the U.S. Virgin Islands and Puerto Rico. They connect people and ideas, by providing quality programming, educational resources, professional development, management support and national representation.
November
RECHARGE! Power Up Your Capacity
Nov. 2
Jackson, Miss.
This conference is a terrific opportunity for emerging and established professionals to learn from leaders who are shaping the way we think, talk and act when it comes to health equity, health care, social change and public policy. Conference blocks will include Innovative Models of Care Delivery in the Age of Health Reform; Advocacy: Using Your Voice for Change; Prioritizing Prevention to Build Healthier Communities; and Philanthropic Support as a Catalyst for Community Change.
Digital Capital Week
Nov. 2-9
Washington, DC
DCWEEK is a festival focused on bringing together designers, developers, entrepreneurs and social innovators of all kinds. It's a series of hundreds of distributed events powered by the community and complemented by core conferences, parties and projects created by the festival organizers.
Global Social Business Summit
Nov. 8-10
Vienna, Austria
This annual summit gathers worldwide social business pioneers from all kind of backgrounds (corporate, political, academic, civil societal) — it's from Nobel Peace Prize laureate Prof. Muhammad Yunus. You can check last year's website www.gsbs2011.com to get a better impression. www.gsbs2012.com will be up by February.
ARNOVA
Nov. 15-17
Indianapolis
ARNOVA, now in its 41st year, is the largest and most significant research conference focusing on nonprofits, philanthropy, voluntary action and civil society to be held on an annual basis. No word yet on a date or place.
December
Big Ideas Fest
Dec. 2-5
Half Moon Bay, Calif.
Big Ideas Fest is a unique three-day immersion into collaboration and design with a focus on modeling cutting-edge thinking in K-20 education.Rapid-fire speakers provide the inspiration to think differently, and Action Collabs lead the charge to create and act differently. No date set yet for the 2012 event.
Other conferences and events
We can't possibly list every conference in the world, but if you know of other nonprofit or social good gatherings that should be included here (or if you see anything amiss), please share in the comments or contact us!
Here are some conferences that we couldn't find any plans for in the new year:
• NETA, held in January 2011 in Nashville, Tenn.
• ReVisioning Value: How to increase economic, ecological and social returns.
• Twestival: Tweet, meet and give.
• National Conference for Media Reform: No word on whether a conference devoted to media, technology and democracy is taking place in 2012.
• Transparency Camp: An unconference that convenes a tribe of open government advocates.
• Net Change Week, put on by MaRS, was held in June 2011 in Toronto.
• ArtezInterAction was held in June 2011 in San Francisco and September 2011 in Toronto.
• bigBANG!, sparking social innovation, was held in June 2011 in Dallas.
• International Development Design Summit was held last July to August in Ghana.
• Mobilize was held in September 2011 in San Francisco with a focus on cloud computing and the mobile Web.
• Open Video Conference was held in September 2011 in New York to help shape the future of online video.
• SXSW Eco provided solutions for a sustainable world in October 2011 in Austin, Texas.
• fiess, the International Forum on the Social and Solidarity Economy, was held in October 2011 in Montreal.
• Social Enterprise Summit is an international forum for increased social impact through social enterprise.
• Vivanista's Charitable Fundraising Summit was held in November 2011, no word on whether it will return.
• Nonprofit Software Development Summit was held in November 2011.
• NextGen Charity, the conference on new strategies in nonprofit and philanthropy work, was held in November 2011 in New York.
• International Green Awards, an initiative showcasing the best in class examples of creativity leading to sustainable outcomes, was held in London in November 2011.JD Lasica, founder and former editor of Socialbrite, is co-founder of Cruiseable. Contact JD or follow him on Twitter or Google Plus.

This work is licensed under a Creative Commons Attribution-NonCommercial 3.0 Unported.