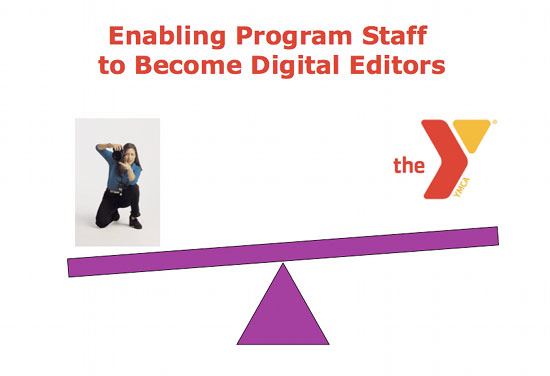 And a look at the YMCA's social media response chart
Target audience: Nonprofits, cause organizations, foundations, NGOs, social enterprises, businesses, educators, journalists, general public.

The YMCA is a great example of a nonprofit that understands the importance of having a comprehensive digital content strategy. Steve Heye, Digital Content Services Manager of the YMCA of Metro Chicago, explained at a recent NTEN Chicago conference that the YMCA not only trains their staff on how to use social media, but their strategy ensures that staff members understand the impact of their engagement and how to monitor their social media efforts.
Establishing structure and accountability
Heye explains that the first step in converting staff into digital storytellers is to make sure they have the tools they need to develop great content. Their strategy is to:
allow staff to work with the tools they are already comfortable with: strong writers to create blogs, social media gurs to operate Facebook, Twitter, etc.
provide support and training (establish guidelines, provide feedback, monitor activities)
make materials, resources and assistance easily accessible
identify who to contact for help.
Measurement and feedback
Providing techology doesn't magically create digital authors. Training, assistance and feedback are essential.
As program staffers become comfortable with their roles as digital editors, it's important to show them the impact of their social media efforts in a visual way to help them understand what's behind all the numbers. A visual representation of the stats can provide a clearer indication of change — of where improvement may be needed in digital engagement.
The YMCA Chicago publishes and shares these metrics with staff:
Reach data (measures the reach of email, website, and social media)
Engagement data (measures conversations such as Facebook's "People Talking About This")
Comparing & contrasting digital engagement between different YMCA branches
Monitoring content
While establishing a structure and measuring the impact of social media efforts are important, a critical element of the YMCA's digital strategy is to provide content creators with a detailed flowchart for "what-if" occurrences. For example, Heye detailed in this flowchart how the YMCA responds to social media posts in various situations.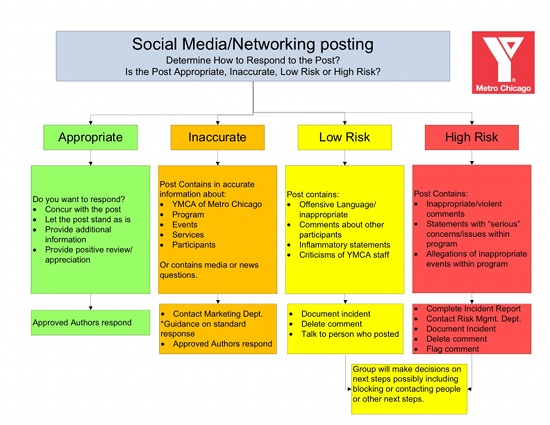 YMCA staff is kept up to date through internal webinars on digital content training, with email re-caps and with shout-outs (attaining "rock star" status) for centers that show great content work. The YMCA clearly grasps the importance of having a strong digital content strategy and understands the importance of training, measuring and monitoring its digital content creators.
How does your nonprofit use a digital content strategy for your staff? For volunteers? If you have developed a digital content strategy, what was your experience? Let us know in the comments below.
This originally appeared on A digital storytelling campaign that went viralLauren Major is a visual storyteller who helps nonprofits, NGOs and small to mid-size businesses create and share their stories of social good and corporate social responsibility. She is a visual artist, consultant, producer and a partner in Socialbrite. Visit her profile page, see her Major Multimedia site and blog, follow her on Twitter and Google Plus or leave a comment.

This work is licensed under a Creative Commons Attribution-NonCommercial 3.0 Unported.