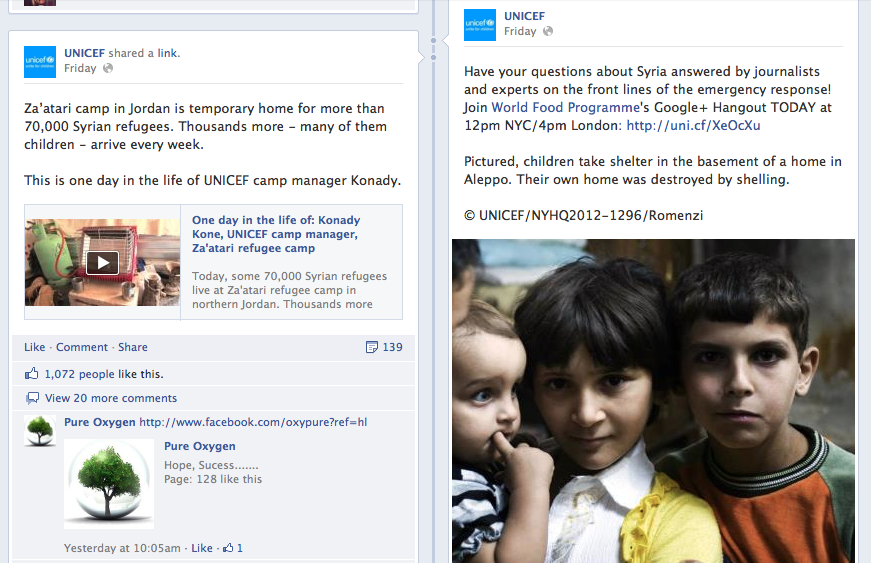 Get your Facebook page buzzing by using these tactics
Target audience: Nonprofits, cause organizations, foundations, NGOs, social enterprises, businesses, Facebook administrators.

If you're like most busy nonprofit professionals, you make your best effort to have an organized content strategy on Facebook. Still, there are times when you get buried with other projects and simply have no idea what to post on your Facebook page.
Here are 19 quick Facebook page post ideas that you can use right now to get your page buzzing.
Ask a fill-in-the-blank question about the specific area of your cause. Begin the prompt with "Fill in the Blank:"
Ask a multiple-choice question related to a specific area of your cause. Begin the update with "Quick Poll" and then write the choices on separate lines (A, B, C).
Cap that! Ask fans to caption a photo. Post an unusual photo (that has to do with your cause) and ask your Facebook fans to come up with a caption. Tell them that the best answer wins an Einstein award.
Play the elephant game. Crop a small section from a photo, post it on your page and ask fans to guess what it is. For example, a dog shelter can post a picture of the dogs ear and ask fans to guess what breed the dog it is.
Let Google Analytics help you. Post a picture from your one of your top viewed Web pages and post it with a comment or excerpt from the article.
Let aliens abduct your page. The Alliance Theatre in Atlanta did a show that involved a tiny alien. In December they dressed it up as Santa and shared it on their page.

Isn't that Pinteresting? Post a picture from one of your Pinterest boards that's received the most repins. For inspiration, see what Survival for Blondes does.
Play and edge. Ask a question about a topic where people have strong opinions one way or the other. For example, "Yes or No: Do you think we should ban assault rifles in the United States?
Supporter love. Post a picture of one of your top volunteers in action and share something really great that he or she did recently.
Let locals know that you care. If you notice a news article about a tragedy in a specific city, target an update to that location letting those fans know that your organization cares.
Post a fun fact related to your cause. "Did you know that…?"
Share a post from George Takei's page. You won't go wrong there, unless your organization leans more conservative.
What the FAQ? Post the answer to the most common question you get asked at events.
Ask your supporters for ideas. If you have an event coming up, ask your Facebook fans what they'd like to see to make it memorable, different and amazing.
Share your work life. Snap a quick picture of a peculiar item in your office and share it on Facebook with a comment. Or take a picture of staff doing cool and interesting things.
Share a post from a partner page. Your sponsors spend a lot of resources to support your nonprofit. Make a point of regularly promoting their agenda to your fans.
Try conditional sharing. Post a compelling photo related your cause and ask people to share if they've been affected by the same issue.
Learn from the best. Post a similar updates to one of the top ones from your competitors.
Steal success. Oscar Wilde said, "talent borrows, genius steals." An example Jeremy from The Dundee Hills Winegrowers Association shared is the someecards ecards site. If you see one that is already getting a ton of likes and shares, go ahead and post it as your own (with proper credit).
Bonus: Here are 16 ideas to get more comments on your Facebook page using text.
Do you have a creative example of a Facebook update that worked for your nonprofit's Facebook page? Don't be shy — share your example below!
Related
• 16 ways to get more comments on your Facebook Page (Socialbrite)
• 27 ways to increase engagement on your Facebook page (Socialbrite)
• Facebook tools and tutorials (Socialbrite)John Haydon delivers social web strategy solutions for "the quick, the smart, and the slightly manic." Curious? Then visit the John Haydon blog, follow him on Twitter or leave a comment.

This work is licensed under a Creative Commons Attribution-NonCommercial 3.0 Unported.