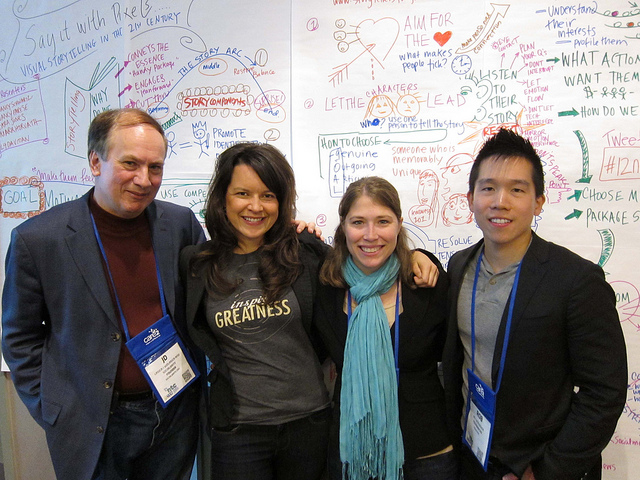 Me, Cara Jones, Jenna Sauber and Rob Wu after our "Future of Nonprofit Storytelling" session at last year's Nonprofit Technology Conference.
Plan for the month's top conferences & events

April marks a busy month for the nonprofit and social good community. I'll be heading to Minneapolis for the Nonprofit Technology Conference (how about you?). Other highlights include Innogive, the National Conference for Media Reform, Investing In Women, Skoll World Forum, the Global Philanthropy Forum, Sustainatopia and Social Venture Network Spring.
Which of these are you going to?
For the full year, see our Calendar of 2013 nonprofit and social change conferences. If you're interested in social media, tech and marketing conferences, see this month's calendar on our sister site, Socialmedia.biz.
If you know of other events, please share by adding the info in the comments below. And if you can't attend, follow the proceedings online, through live streams (where available) or Twitter hashtags.
Conference
Date
Place
April
Innogive: Innovative Giving Conference
April 2
San Francisco
The path to successful mobile fundraising starts with successful donor cultivation of mobile engagement, resulting in successful fundraising campaigns. Innogive will be holding its fourth annual conference for innovative use of mobile tech by nonprofits.
National Conference for Media Reform
April 5-7
Denver
Organized by FreePress.net, the National Conference for Media Reform is dedicated to changing the media and building a better democracy.
Clinton Global Initiative University
April 5-7
St. Louis
This fifth annual gathering will bring together students and national youth organizations to create and implement Commitments to Action across five focus areas: Education, Environment & Climate Change, Peace & Human Rights, Poverty Alleviation and Public Health. The CGI U meeting will include plenary sessions, working sessions and other special events that provide participants (who must apply by Jan. 30) with a wide variety of knowledge-sharing and networking opportunities.
AFP International Conference on Fundraising
April 7-9
San Diego
For the past half-century, the AFP International Conference on Fundraising has helped fundraising professionals around the world face a variety of challenges. This year, the goal is to engage and re-energize the fundraising industry, create balance, focus on critical priorities and simplify complexities.
Investing In Women
April 10–12
Detroit
This conference brings together hundreds of leaders in women's philanthropy, including grantmakers, donors, industry experts and activists. Investing in Women will explore the latest models in collaboration, in giving and in making an impact. Hear from organizations who are making lasting systems change in the U.S. and around the world, and learn how to measure the impact of your work and tell the story to increase engagement.
Skoll World Forum
April 10-12
Oxford, UK
Since 2004, the Skoll Foundation and its partners at the Skoll Centre at Oxford University have convened this invitational event, which hosts more than 800 delegates from over 65 countries for three remarkable days of sharing, learning and inspiration. Delegates represent the best and brightest thinkers and practitioners from the social, academic, finance, private and policy sectors.
NTC: Nonprofit Technology Conference
April 11-13
Minneapolis, Minn.
This three-day gathering brings together nonprofit professionals from around the world to collaborate, innovate and maximize effectiveness. With a wide mix of social events, seminars, trainings and resources, NTEN's Nonprofit Technology Conference will help you put technology to work to further your cause.
Global Health and Innovation
April 13-14
New Haven, Conn.
Last year Unite for Sight's Global Health and Innovation Conference devoted a full session of speakers to Social Change and Impact and addressed issues regarding changing the world for the better. Here is the speakers' lineup for this spring, including speakers at the forefront of philanthropy and social entrepreneurshp.
Global Philanthropy Forum
April 15-17
Redwood City, Calif.
A project of the World Affairs Council of Northern California, the Global Philanthropy Forum aims to build a community of donors and social investors committed to international causes and to inform, enable and enhance the strategic nature of their work. The gathering is intended for individuals who have made a significant commitment to international philanthropy, donors who have established family foundations and executives of corporate, private or public foundations based in the U.S. and overseas.
Sustainatopia
April 16-22
Miami
With 60 individual events in film, art, music, eco-fashion, food, design, parties and two major impact investing conferences, Sustainatopia is one of the biggest sustainability and impact investing events in the hemisphere.
Sankalp Unconvention Summit
April 17-18
Mumbai, India
The Sankalp Forum is a holistic ecosystem designed to catalyze impact investments into sustainable and scalable social enterprises globally. The annual Sankalp Unconvention Summit is one of Asia's largest collaborative platforms to bring together social enterprises, impact investors, policy makers, academicians and other market makers. The summit will bring the entire network together to discuss emerging trends and to recognize the best social enterprise models through the Sankalp Awards.
Global Engagement Summit
April 17-21
Evanston, Ill.
The Global Engagement Summit builds the capacity of the next generation of change-makers. By identifying talented, young individuals, providing skills training and connecting driven students with innovative thought leaders, GES empowers them to produce responsible and sustainable solutions to shared global problems. In addition to tangible outcomes, resources and opportunities, GES also strives to provide a forum for discussing critical issues and evaluating why we want to "do good well."
Global CSR Summit
April 19-20
Philippines
The Global CSR Summit & Awards 2013 celebrates its 5th successive year at the beautiful city of Davao on Boracay Island in the Philippines. Organized by the Pinnacle Group International, the summit on corporate social responsibility has been at the forefront of the sustainability debate, introducing cutting-edge ideas and issues to the Asian business community.
Corporate Citizenship
April 21-23
Boston
Successful corporate citizenship is all about managing many interests – the community, workplace, marketplace, investors and others – in a way that contributes to the bottom line. How to make this work for your company is the focus of this year's Corporate Citizenship Conference.
Social Venture Network Spring
April 25-28
San Diego
Social Venture Network connects, supports and inspires business leaders and social entrepreneurs in expanding practices that build a just and sustainable economy.
Ignite Phoenix
April 26
Scottsdale, Ariz.
Ignite Phoenix is an information exchange, fostering and inspiring Phoenix and global communities to share, experience and enjoy different topics from the creative and subjective, to inspirational, technical and philosophical. Presentations will educate, exhilarate, motivate and move you, and you'll look at your world in a whole new light.
Connections
April 29-30
Calgary, Canada
Calgary Chamber of Voluntary Organization's conference will bring together leaders from the nonprofit sector, the corporate community, government and other funders and community leaders to dialogue about the significant changes that will impact the sector and its ability to meet community needs in the future.
JD Lasica, founder and former editor of Socialbrite, is co-founder of Cruiseable. Contact JD or follow him on Twitter or Google Plus.

This work is licensed under a Creative Commons Attribution 3.0 Unported.