Charting 'The Rise of the Reluctant Innovator'
"Don't ask yourself what the world needs. Ask yourself what makes you come alive and then go do that. Because what the world needs is people who come alive" – Howard Thurman (1899 – 1981)

When David Rowan, editor of Wired Magazine, invited me to write a short article for "Ideas Bank" in the spring of last year, it gave me a great opportunity to share something I'd been witnessing on an increasing scale since my days at Stanford University in 2007. The article had to be short – 600 words – and because of that I invited only a couple of friends to contribute their stories. But the seed of an idea was born, as was the concept of "reluctant innovation."
It was that seed which, one year on, would turn into a book set for launch in a couple of months' time. You can read the original Wired piece that inspired it.
The new book features the likes of Medic Mobile, WE CARE Solar, Ushahidi, PlanetRead and DataDyne, and comes with a foreword from Archbishop Desmond Tutu. "The Rise of the Reluctant Innovator" highlights the personal stories of 10 social innovators from around the world. Ten social innovators – ordinary people – who randomly stumbled across problems, injustices and wrongs and, armed with little more than determination and belief, decided not to turn their backs but to dedicate their lives to solving them.
Take Brij Kothari, for instance. Watching yet another Spanish movie in his friend's apartment to avoid writing up his doctoral dissertation, Brij makes a throwaway comment about subtitles, which plants the seed of an idea and spawns a literacy initiative that has had, in Bill Clinton's words, "a staggering impact on people's lives."
Worried about the political turmoil in Kenya, and concerned at the lack of information that is forthcoming from his adoptive country, Erik Hersman mobilizes his own five-strong army to conceive, create and launch a Web-based facility that revolutionizes how breaking news is disseminated worldwide.
Parachuted into the middle of sub-Saharan Africa with a brief to collect public health data, and confronted with a laborious, environmentally wasteful paper-based system, pediatrician Joel Selanikio finds the perfect outlet for the skills he acquired as a Wall Street computer consultant.
Intending to ground himself in the realities of global health during his internship in rural Malawi, Josh Nesbit discovers that it is hard to sit on the sidelines and soon finds himself proposing a solution to overcome the difficulty of connecting patients, community health workers and hospitals.
After watching local doctors and midwives struggle to treat critically ill pregnant women in near-total darkness on a Nigerian maternity ward, where an untimely power cut can mean the difference between life and death, obstetrician Laura Stachel delivers a solar-based solution that enhances survival prospects.
Observing how well the autistic son of a close friend responds to the therapeutic effects of a Chinese massage technique that she has advocated using, Louisa Silva is convinced that the treatment has the potential to benefit thousands of others, but she needs to prove it.
Haunted by the memory of being separated from her older sister during a childhood spent in foster care, and disturbed that other siblings are continuing to suffer the same fate, Lynn Price resolves to devise a way to bring such people back together.
An unexpected conversation over dinner leads Priti Radhakrishnan to build an innovative new organisation with a mission to fight for the rights of people denied access to life saving medicines.
Until a visit to the dermatologist turns her world upside down, Sharon Terry has never heard of pseudanthoma elasticum (PXE), but when she discovers that research into the disease afflicting her children is hidebound by scientific protocol, she sets about changing the system with characteristic zeal.
Encounters and conversations with leftover people occupying leftover spaces and using leftover materials, at home and abroad, led architecture professor Wes Janz to view them as urban pioneers, not victims, and teach him a valuable lesson: think small and listen to those at the sharp end.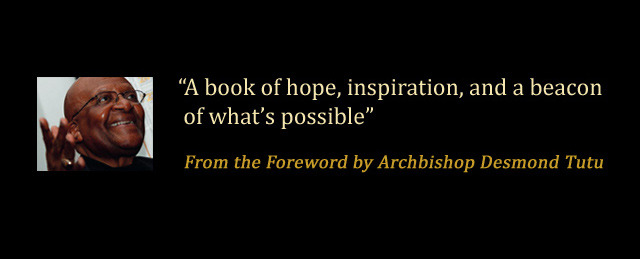 Written with younger people interested in social innovation in mind
You can help with the launch of the book by pledging on Kickstarter and/or sharing the book drive with your own social networks
The book is aimed at a general audience, although I'm hoping it will particularly appeal to younger people interested in social innovation and social entrepreneurship, and schools, colleges and universities teaching the subject. It fills what I believe is a much-needed gap in the market, one which is currently dominated by books which – often at no fault of their own – give the impression that meaningful change is only possible if you're an MBA, or a geek, or have money or influence, or a carefully laid out five-year master plan, or all five. Let's be honest – you don't need qualifications to change the world.
By highlighting the stories of 10 ordinary yet remarkable individuals, and the impact their work is collectively having on hundreds of millions of people around the world, "Rise of the Reluctant Innovator" will show us that anything is possible, planning isn't everything, and that anyone anywhere can change their world for the better.
The book will be out on 20th November 2013, with a holding page up at reluctantinnovation.com. You can follow us on Twitter at @ReluctantsBook.
Thank you.
"If we can help anyone on their journey, then we should. Whether that be giving advice or a positive critique on an idea, helping raise awareness through blog posts, giving tips on fundraising, making introductions to other projects and people with the same interests, or offering to be a future soundboard as their ideas grow and develop. These are all things I didn't have when I started out, and using them productively now that I do is one of the biggest contributions I believe I can – and should – make to the future growth of our discipline. Our legacy shouldn't be measured in the projects or tools we create, but in the people we serve and inspire."
— Enabling the Inspiration Generation, December 2009Ken Banks is founder of kiwanja.net, a site that helps nonprofits use mobile technology to serve their communities' information needs. See his profile page, visit his blog, contact Ken or leave a comment. Follow Ken on Twitter at @kiwanja.