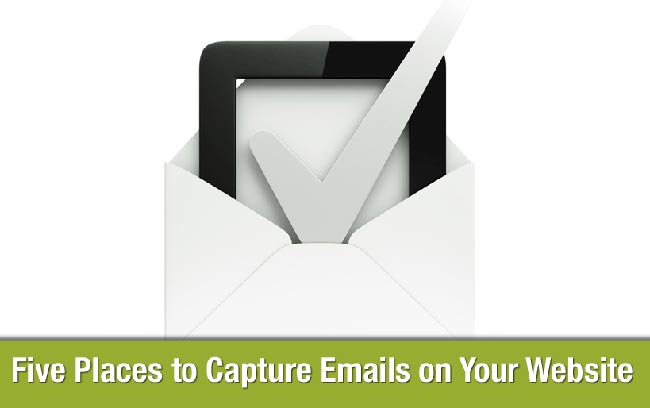 Target audience: Nonprofits, cause organizations, foundations, NGOs, social enterprises, businesses, educators, Web publishers, general public.

Did you know that on average, email lists for nonprofit organizations are shrinking?
If this is the case with your organization, there are lots of ways to fix the problem, including where to capture emails on your website. Here are five places to consider:
In the sidebar — Add a capture form to the sidebar of every single page inside the site (don't worry about the home page).
On a subscribe landing page — Create a single page within the site for your email newsletter. On this page, you want to answer questions like "How often do I get an email?" and "What's in it for me?". Finally, remove the sidebar on this page. This way visitors will have less distractions when joining your email list.

eBook download page – On this page you will have a graphic representation of an e-book (like on this page) and a brief summary about what the reader is going to get from reading the eBook. Be super specific and use bullet points to outline the tactical "meat" inside the e-book. Also, remove the sidebar on this page.
In the footer – You can also put a small form in the footer of the site. This location is almost like having a gentle "P.S ." on your website. They've scrolled your site from top to bottom, and may have even seen another sign-up form. But once they get to the bottom, they're reminded again to join if they haven't yet.
At the end of blog posts – Once someone has finished reading an amazing blog post, they'll want more. A capture form at the end of a blog post takes advantage of these moments!
What should the capture form look like? Check out these designs.
Where else would you put a capture form?John Haydon delivers social web strategy solutions for "the quick, the smart, and the slightly manic." Curious? Then visit the John Haydon blog, follow him on Twitter or leave a comment.

This work is licensed under a Creative Commons Attribution-NonCommercial 3.0 Unported.