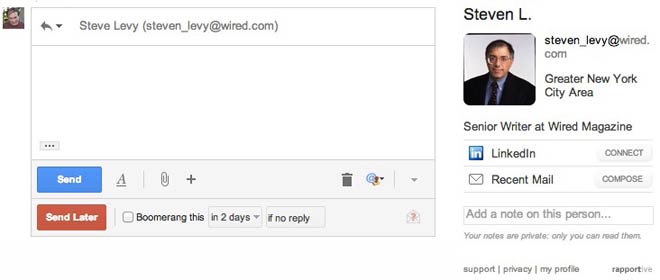 Use Rapportive to track down someone's email address.
Tips for fundraising and other outreach to supporters

At a startup event in San Francisco last week, Matt Van Horn, VP of Business at Path, shared five tactics for how to reach people you have no relationship with.
After I heard his tips, I thought, anyone working for a nonprofit whose job it is to engage influencers or raise funds from donors could benefit from Van Horn's advice. So here's a short cheat sheet on how to reach out to potential partners, influencers or donors:
Use Rapportive to guess email addresses
1Use Rapportive or other tools to learn a recipient's email address. Rapportive is an add-on for Chrome and Firefox that lets you easily see a person's contact information and social networks right inside your email inbox, particularly Gmail. Purchased by LinkedIn last year, Rapportive pulls info from all over the Web and puts it at your fingertips. (Hey, I see you're tweeting about poverty. I'm with you on that!)
This week I had lost my old contact information for Wired staff writer Steve Levy, so I began guessing his email address in the "To" field of Gmail (was it steve.levy? steven.levy? ah! [email protected]). Rapportive has tens of millions of email addresses in its database, so start guessing away and often you'll hit on the right combination.
Van Horn also listed Slideshare and Google (but you knew that) as other good sources for obtaining contact information. Send a short, friendly intro before you hit someone with an overture that requires them to do take an action.
Use your social network to be social
2"Use your network to make a cold call a warm one," Van Horn said. That means make use of Twitter, Facebook, LinkedIn and Instagram to start engaging with people. You have to start building a modest relationship before getting down to business. "Add value before an ask," he said.
Follow up after meetings
3After spending time with someone you met in a meeting or on the phone, send a quick two- to three-line email within 48 hours of meeting someone. Try to mention one unique thing you spoke with them about to help them remember you.
Keep and use a deep contacts list
4Use Gmail, Google Apps or a Contacts database to add a person's name, affiliation and email address after you get, say, their business card. Set up 1 on 1 time to connect over a drink, coffee or food. Draw upon those contacts whenever the opportunity arises.
Go old school and pick up the phone
5Here's a little trick Van Horn employs. "When I'm trying to reach someone at a business, I call the corporate number and the person's extension at odd hours like 7-9 am and 5-7 pm. You'd be surprised how often they're in and they pick up."
Bonus tip: Pick up a copy of Never Eat Alone by Keith Ferrazzi (hardcover and Kindle), which outlines a strategy for building a lifelong community of colleagues, contacts, friends and mentors.
Cross-posted to Socialmedia.biz.
JD Lasica, founder and former editor of Socialbrite, is co-founder of Cruiseable. Contact JD or follow him on Twitter or Google Plus.

This work is licensed under a Creative Commons Attribution-NonCommercial 3.0 Unported.