Have some fun! "Follow the Frog" by the Rainforest Alliance.
Guest post by Teddy Hunt

Creating video content is one of the easiest ways a nonprofit organization can get noticed. Eighty-five percent of Internet users say they'll watch videos online, and 39 percent say they're more likely to share videos than text-based content with their friends.
Forrester Research says it's also 50 times easier to get a site with a video to rank on Google's first page than a standard website. Read on to learn about the key ways nonprofits can take advantage of the power of video marketing.
Raise awareness of your nonprofit
There are more than 1.5 million nonprofit organizations in the United States alone, according to the latest stats from the National Center for Charitable Statistics. These organizations and those abroad all compete for the generous donations of the world's donors. So how do you make sure that your nonprofit's voice is heard above the throng?
A video is one obvious answer. It puts a human face to your nonprofit's name, outlining the problems it addresses and its efforts to fix them. Focusing on your achievements is a good strategy, as video ads that evoke strong position emotions, such as happiness and pride, are three times more likely to be shared among friends than those that elicit neutral or negative responses. Think carefully about your script and lead with your most compelling points, as you'll have only 10 to 15 seconds to capture the attention of your online audience.
Outline your nonprofit's mission and efforts with a mixture of emotion and intelligence and you'll inspire your viewers to want to help you. However, you shouldn't just expect that they'll figure out how. A "call to action" is a key element of any nonprofit awareness video. This is the point in your video where you encourage your viewers to give to your cause and you tell them how to help. Creating a unique click-through Web address for video donations is a great way to monitor your advertisement's effectiveness.
You may want to display basic call to action information at the bottom of the video throughout. This ensures that people know how to give, even if they don't make it to the end of your video presentation.
Thank your donors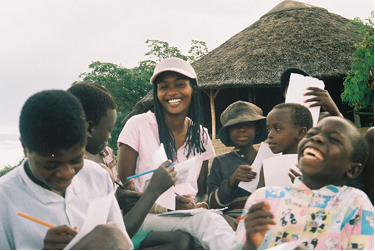 Your relationship with a donor shouldn't end once they part with their hard-earned cash. Thanking your donors is the best way to cement the relationship and encourage them to give again. Consider the research of Grant and Gino, which asked students to offer their feedback on an employment letter from a fictional student called Eric. One group received a personal response after submitting their feedback, while the other received an impersonal email receipt. The students who were personally thanked were twice as likely to help again when compared to the control group.
Nonprofits that receive many donations often aren't able to personally thank all their donors. However, a thank-you video can bridge the gap by adding a personal touch to your message of gratitude. A video enables you to show donors where their money is been spent, to see the smiles on the faces and hear the appreciation in the voices of the people they've helped. Positive video advertising like this is a good way to engage your donor base and encourage repeat donations.
Donors can see this message no matter where they are, whether they're at home browsing their emails on a desktop computer or visiting your social network page during a subway ride on their mobile device, tablet  or laptop.
Have a bit of fun
Nonprofits do serious work, but that doesn't mean that you can't have a bit of fun with your videos. Creating a more light-hearted video is a great way to separate your nonprofit from its competition and show a more human side of your organization. Consider filming the humorous interactions of your volunteers or office workers to engage your viewing public.
Use these videos sparingly to give your nonprofit personality. Rely on them too much and you risk detracting from the serious work you do.
Entering the world of video marketing can be daunting, but the advantages of this form of digital promotion make it worth the effort for your nonprofit.
Teddy Hunt
is a freelance content writer and designer with a focus on technology. When not behind a computer or testing new
tablets
, Teddy spends the majority of his free time outdoors and resides in Tampa, Fla.

This work is licensed under a Creative Commons Attribution-NonCommercial 3.0 Unported.