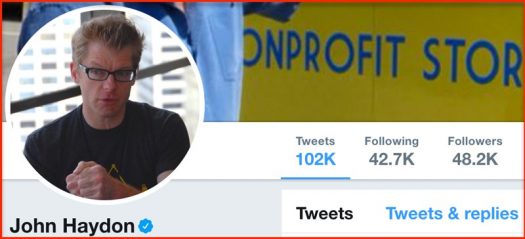 Is your Twitter profile follow-worthy? Or are you unknowingly turning people away, leaving them confused or unimpressed?
Your Twitter profile very is different from many other social profiles. On Facebook, LinkedIn, and other social networks, you have lots of space for your bio, links, and other elements.
Not so with Twitter:
Limited space: Twitter allows for one link, a small profile picture, and a very short bio. In this sense, your Twitter profile is like a business card. You have limited space to make a solid first impression.
Limited time: You also have just a few seconds to convince people to follow you (or not). Influencers with a large Twitter following are too busy to spend time deciding whether they should follow you or not.
With all this working against you, here are 5 simple ways you can spruce up your Twitter profile to make a better first impression:
1. Update your Twitter profile picture
It's best to use a picture of something people can connect with. For example a person, animal, or a place.
An immediately recognizable logo is also good, for example Creative Commons:
Also, because profile pictures are so small, design one that uses contrast (colors and shapes) to stand out in Twitter feeds.
2. Update your Twitter profile bio
Most Twitter users regularly search Twitter using specific keywords. Search results include the top profiles that match that search, followed by top tweets.
Make sure your bio includes the most relevant keywords. For example, FightCRC ranks number one when users search for "colorectal cancer cure":
3. Update your Twitter profile link
Make sure the link drives traffic to a web page on your site, and not just the homepage. For example, an upcoming event, or a welcome page that includes your top tweets.
My Twitter profile link sends visitors to an email subscription page.
4. Update your Twitter profile header
Use your Twitter header to tell a story about your cause, or highlight your current campaign. For example, HRC highlights the current TransBan
You can create a beautiful Twitter header with Canva.com.
5. Pin your best Tweet to your Twitter profile
Make your profile even more attractive by pinning your best Tweets to the top to your profile. For example, this tweet from Vermont Public Radio with a large number comments:
Make sure that you always review your pinned tweet, replacing it with one that's more engaging, current, and relevant.
BONUS: Verify your Twitter profile
There may be other Twitter users talking about your cause that aren't nonprofits, or aren't even who they say they are.
But the blue checkmark (see below) on Twitter lets people know that your account is the real deal. It's a stamp of instant credibility.
To verify your account, start here.
What next?
Check out these Twitter strategies that will never go out of style, and these pro tips from 25 experts.John Haydon delivers social web strategy solutions for "the quick, the smart, and the slightly manic." Curious? Then visit the John Haydon blog, follow him on Twitter or leave a comment.

This work is licensed under a Creative Commons Attribution 3.0 Unported.