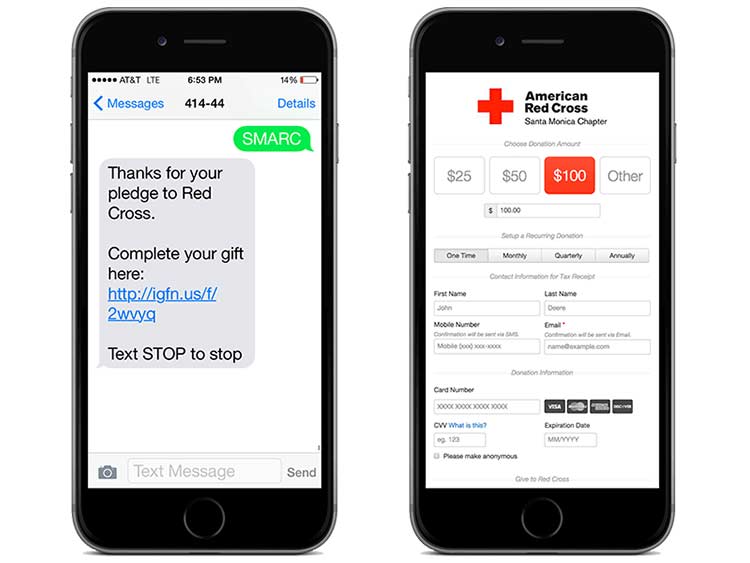 A text-to-donate campaign for the American Red Cross.
Post by Brooklin Nash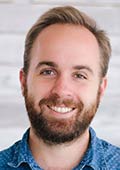 Smartphones are the key to the future of marketing. And like it or not, marketing is an important part of the day to day functions of most nonprofits. Marketing drives donations, which drives what nonprofits are able to accomplish.
As smartphones become more and more important to the marketing scene, it's important that those working for nonprofits also understand how smartphones can be used for fundraising. Here, we detail just five of the many roles that smartphones can play in raising funds for your nonprofit.
If you're not convinced that smartphones are important, consider these statistics:
There are 2.7 billion smartphone users worldwide.
The average smartphone user is one their phone for more than 4 hours a day.
As of November of 2018, mobile devices accounted for more than 48% of all web traffic.
With the importance of mobile marketing in mind, consider these fundraising techniques using a smartphone.
Text-to-donate campaigns
1Most people who work for nonprofits are likely familiar with the concept of a text-to-donate campaign. The premise is that those wishing to donate can text a specific shortcode to indicate their intent to donate, and can either donate via the bill they pay their cell phone provider or be provided with a link to donate online.
These types of campaigns can be useful in their simplicity ⁠— they're easy to set up, and you can see the results quickly if you're tracking text responses.
Because donations can be made with so few steps, text-to-donate campaigns are an easy way to engage existing donors. There's no need to provide a ton of new information or re-explain where the money is going. Simply tell those already familiar with your organization what your need is, and they can respond financially almost instantly.
Organization-specific apps
2You don't need to reply solely on text messages and calls to make good use of your donors' smartphones. One way to be proactive is to develop an app made specifically for donors and supporters of your organization.
Apps can be beneficial in that they can be all-inclusive. They can take the place of a mobile webpage, a newsletter, and a fundraising link. They can include features such as:
An "About Us" page
Your organization's blog
A donation form
A list of needs
Updates and news
Pictures
Videos
Job or volunteer listings
Records of an individual's past donations
And much more!
Unfortunately, personalized apps often cost more money, time, and resources,  making them an unrealistic option for those from smaller nonprofits or those struggling financially. Additionally, you have to have an incredibly committed donor base to find enough people willing to download such an app.
While apps may be the most beneficial of the options presented here, it's also likely that they're the least likely.
Website and social media optimization for mobile
3Even if your organization has an app, it's important to make sure that your website and social media content are mobile-friendly. Because about half of all web traffic comes from mobile devices, it's equally important that your website looks good and makes sense on a smaller screen.
What does this have to do with fundraising? Well, everything.
Nonprofit websites should be a source of information and a major draw for donors. No one will give you money if they don't know what their money will be supporting. No one gets invested in a cause without understanding why that cause needs advocates.
Ensuring that mobile viewers of your site can easily view and navigate your content essentially doubles the reach of your site ⁠— and, presumably, your donations.
Sharing information via calls & texts
4In the same way that a well-designed and current website can draw donors, consistent communication can keep existing donors coming back to give time and time again.
Voice calls, or even voice broadcasts, add a personal touch to any communication. Voice calls or text messages can be used to keep everyone in your donor base on the same page. Do you have a new program, a new fundraising need, or a new staff member? Do you want to share specific prayer requests or goals you've met?
Even the messages that aren't strictly asks can be beneficial in the fundraising process because they help you build rapport with donors that you don't see face to face on a regular basis.
When the time comes that you need money, or perhaps when your donors have an amount they're willing to give, everyone already knows what you're doing, where you are, and what your biggest needs are. There's no playing catch-up. What's more, if you've communicated with a donor recently, your organization probably comes to mind much more quickly when someone has extra money to give.
When donors are informed, they become more engaged. When they're engaged, they become more involved. The more involved they are, the more likely they are to commit their money (and time) to your cause or organization.
Gathering information via calls & texts
5Additionally, both voice broadcasts and mass text messages can help you gather feedback or concerns from donors. Listening to what questions or comments they have is the best way to provide them with what they want.
This doesn't mean that you should only ask for input from donors right before asking them to give. Rather, you should be keeping up a constant dialogue with donors so that you're always aware what questions or concerns they have and how they think you're doing.
Of course, you can't act on every bit of feedback you receive. You can, however, stay in communication so that even when you don't respond directly to a specific concern, your donors always know that you're learning and changing how your organization functions.
Smartphones: The Swiss Army knife of nonprofit marketing & fundraising
Obviously, smartphones are valuable to nonprofits in more than one way. They are multifaceted tools with a lot of potential. They can help nonprofit admin to both talk to and hear from donors, double the visibility of a website, and serve as avenues for donations and learning opportunities for those who are unfamiliar with the organization.
Most of these fundraising or marketing techniques cost very little, leaving little room to argue about their overall value to the nonprofit scene.
Brooklin Nash
writes about the latest tools and tech trends for
DialMyCalls
. When he's not writing, you can find him reading YA dystopian fiction (with guilty pleasure) and cooking. You can catch him on Twitter at
@realBrookNash
.