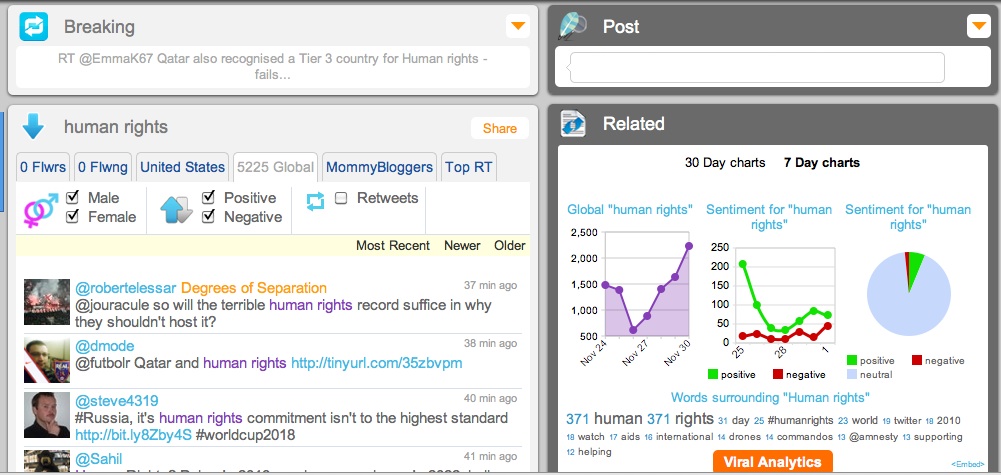 Twitter data galore: A screen grab from ReSearch.ly.
Trackur, Sprout Social, Thrive & other monitoring tools worth paying for
Target audience: Mid-size nonprofits, cause organizations, agencies, brands, NGOs, Web publishers, individuals. This is part of our series on social media monitoring:
• Guide to monitoring social media conversations
• 20 free, awesome social media monitoring tools
• How to create & manage a monitoring dashboard

Search engines and free monitoring tools can help you find mentions of your brand easily, but if you want to take your social media efforts to the next level, you may want to consider using a social media monitoring vendor.
Once your nonprofit or business reaches a certain size — with, say, hundreds of daily mentions — a paid social media monitoring vendor or service can help you smartly assess the conversations taking place about your brand. In many cases, they offer tools for you to respond and forge deeper levels of engagement. A good paid service will offer not just data but ways for you to draw insight and develop strategy by tapping into actionable intelligence.
Paid subscription services for social media monitoring can save staff time and provide insight into influence, authority, sentiment and reach. But remember: For your social media program to work, you'll need to designate someone on your staff to own this. The person or team should analyze the results, act on time-sensitive issues and make recommendations about how to integrate the learnings from the community into your operation. (Socialbrite can help you get your program up and running.)
Social media vendors come in all shapes and flavors. Some cater to small organizations with modest budgets that want to handle monitoring internally. Others service large nonprofits and corporations that want a robust suite of tools and access to expert analysts. So we've broken this package into two parts:
• 10 paid social media monitoring services for nonprofits (below)
• Top 20 social media monitoring vendors for business (on our sister site, Sociamedia.biz), which includes Radian6, Lithium and 18 other vendors that work with nonprofits
Please note that we've already covered a number of monitoring services in our roundups Top 10 social media dashboard tools and 14 free tools to measure your social influence — including TweetDeck, CoTweet, Seesmic, Spredfast, MediaFunnel, Bit.ly and others  — so think of this as a package of monitoring resources.
Commercial social media monitoring services
Here is our guide to 10 subscription-based social media monitoring services for nonprofits and organizations, with the most affordable ones listed first. Have your own favorites? Please add them in the comments below.

Trackur: Affordable tracking & engagement
1An online reputation management and social media monitoring tool created by reputation expert Andy Beal and team, Trackur is sort of a Google Alerts on steroids. Trackur provides all the monitoring tools you need. It is brandable, will rate the sway power of your influencers for prioritized responses and will deliver results to your inbox, RSS feed or Web-based dashboard. Quickly monitor your reputation, check on trends and analyze media mentions for your company, brands, sector, cause or clients. Cost: Four plans range from $18 to $377/month and vary depending on number of searches and features used. Free 10-day money-back guarantee. Clients: 27,000+ users. Affordability makes it popular among small businesses. Owner: Independent.