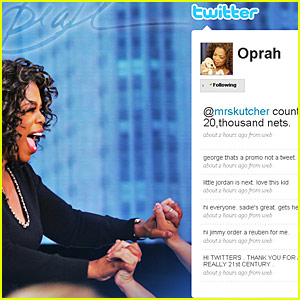 Recently the TV critic of the St. Petersburg Times asked for my thoughts about the migration of celebrities to Twitter over the past few months. Will it inevitably dumb down the service? Bring it into the mainstream? Make us want to move on to the Next Big Thing?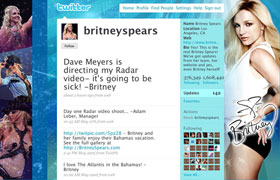 Ashton Kutcher is closing in on 2 million followers, Britney Spears is at 1.6 million, Oprah at 1.2 million, Shaq and Demi Moore at 1 million and Perez Hilton at 860 followers for some reason.
The columnist, Eric Deggans, did a solid writeup (I'm quoted): Celebrities who Tweet: Tips to keep them from ruining Twitter for us all.
Here's the friendly advice I'm offering to celebrities joining the Twitterverse:
First, understand that you're not leading this parade. But we're happy to have you in it. You have the advantage of having tens or hundreds of thousands of fans follow you on Twitter, even if you don't know the difference between a tweet and a twit. But listen, observe, follow back, participate. It's the golden rule of social media.
Second, how should you use your special powers? To do good.
Ignore the newbie approach of chronicling the mundane aspects of your daily life. The Twitter question isn't really: What are you doing right now? It's: What are you doing that's interesting? Or: what's cool that you've happened across?
Consider: Twitter has the potential to be the greatest force for grassroots charitable fundraising in history — the greatest do-gooder tool ever invented. Twestival raised $250,000 for charity:water in a single day. TweetPoverty is giving new power to micro-donations. CharityNavigator supports worthy causes a few dollars at a time. The couple behind the Global Hug tour just began an effort to raise $1 million for 50 charitable causes in 50 cities around the world, raising $10 a pop from … well, from exactly the kind of folks who follow you.
Dig it, get behind it. Use your celebrity to save lives and help worthy causes. Don't dumb down the culture 140 characters at a time.JD Lasica, founder and former editor of Socialbrite, is co-founder of Cruiseable. Contact JD or follow him on Twitter or Google Plus.

This work is licensed under a Creative Commons Attribution 3.0 Unported.