Good.ly: a url shortener to benefit charity from JD Lasica on Vimeo.

During the Traveling Geeks' visit to London last week, I twice met Alicia Navarro, founder and CEO of Slimlinks, an automated affiliate marketing service for blogs and websites. During our talk she mentioned a little-known service that deserves wider visibility: good.ly.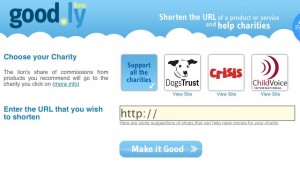 In this one-minute video, Alicia describes how it works. If you're going to make a product recommendation on Twitter, you can do it through one of the traditional url shorteners — bit.ly, is.gd, ow.ly — or you can use good.ly. At good.ly you can designate a charity will would benefit from any commissions that are generated by your recommendation.
ChildVoice International, Crisis and DogsTrust are among the charities that would earn the lion's share of commissions generated by a tweet.
Watch or embed the video on Vimeo
Related articles
JD Lasica, founder and former editor of Socialbrite, is co-founder of Cruiseable. Contact JD or follow him on Twitter or Google Plus.

This work is licensed under a Creative Commons Attribution 3.0 Unported.