By Katrina Heppler, envisionGOOD.tv
and JD Lasica, Socialbrite
Last week, guests at the Digital Summer event in San Francisco "planted" 940 trees in Honduras with the help of partner Mokugift. Co-founder Hans Chung (whom we met at two previous awareness2action events) was in attendance, showing off on his laptop the site's global reach: You can plant trees in Central America, Africa, Asia — countries such as Belize, Haiti, Nicaragua, India, Cameroon, Ethiopia — for a donation of just $1 per tree. Since the site's launch, more than 75,000 trees have been planted.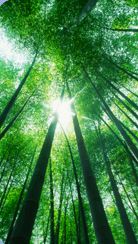 We have a long way to go: Through its Billion Tree Campaign, the United Nations Environment Programme is calling on citizens globally to plant 7 billion trees. That's one tree per person. As the site says, "Ordinary people can fight global warming."
UNEP has partnered with Mokugift to make it easy for everyone to plant a tree. You can help spread the word through social media, including embeddable widgets like the one below. Mokugift tracks how your inspiration spreads from one friend to another friend, and to subsequent friends (3 degrees). You can see the total number of people you inspired and the total number of trees planted by them. For every 10 trees planted by people inspired by you (all 3 degrees), you will get a free tree.
As the site points out, "Sharing the inspiration with your friends is as important as planting a tree yourself."
Katrina recently caught up with Hans at a cafe in San Francisco's Union Square. In the video above, hear what Hans has to say about Mokugift and the UN program.
Remember, it costs only $1!

This work is licensed under a Creative Commons Attribution 3.0 Unported.