Mozilla Service Week offers ideas to help you put technology to good use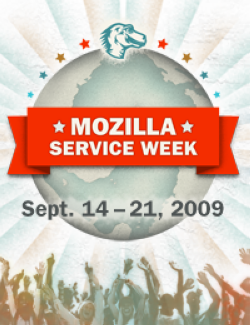 Socialbrite is a partner in Mozilla Service Week, which runs today through next Monday. The initiative inspires tech companies across the globe to offer their talent and expertise to local organizations that need their assistance.
Here's a quick overview from our friends at Mozilla:
"During the week of September 14-21, 2009, we're asking individuals to step up and make a difference by using the Web to better their community. We're looking for people who want to share, give, engage, create, and collaborate by offering their time and talent to local organizations and people who need their help. … By utilizing our community's talents for writing, designing, programming, developing, and all-around technical know-how, we believe we can make the Web a better place for everyone."
Some specific ideas that Mozilla offered:
Teach senior citizens how to use the Web.
Show a non-profit how to use social networking to grow its base of supporters.
Help install a wireless network at a school.
Create Web how-to materials for a library's computer cluster.
Refurbish hardware for a local computer center.
Update a non-profit organization's website.
Teach the values of the open Web to other public benefit organizations.
Today the Mozilla blog gave an update, saying: "we're close to 10,000 volunteer hours and over 3,500 volunteer opportunities."
Choose from a list of over 3,500 service opportunities on our partner sites (Idealist & betterplace.org). There is a plethora of opportunities, including helping The Nature Conservancy of Chicago, IL with its photo archive, developing a LinkedIn group for Wardrobe for Opportunity in Oakland, CA, helping CARE, Germany's largest NPO, and keeping Mexico's Puente a la Salud Comunitaria's website up-to-date.  Our partner OneWebDay also has a variety of service events taking place on and around Sept. 22nd, including a number of events in San Francisco.
You'll also want to learn how you can take part in OneWebDay on Sept. 22 to make the Web better. Begin by following @owd on Twitter and donating your Facebook status on Sept. 22.JD Lasica, founder and former editor of Socialbrite, is co-founder of Cruiseable. Contact JD or follow him on Twitter or Google Plus.

This work is licensed under a Creative Commons Attribution 3.0 Unported.