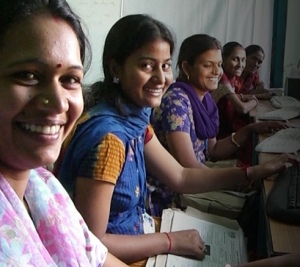 The Bay Area nonprofit Samasource will host the first GiveWork Charity Gala on Nov. 12 at the University Club of San Francisco, bringing together writers, luminaries, and some of the most influential women entrepreneurs in Silicon Valley.
The event will feature a live auction, with items for bid including a conversation with Nobel Prize laureates George Akerlof and Myron Scholes, a secret challenge with "The 4-Hour Workweek" author Tim Ferriss, and a date with Bollywood actress Vida Samadzai (Miss Afghanistan 2003).
The gala aims to raise funds for Samasource, a nonprofit social enterprise that creates computer-based work for women, youth and refugees living in developing countries. Samasource provides technical training, then connects workers with clients, like Stanford University Libraries and Bookshare.org, that need to outsource data jobs.
The core concept behind the service is what is called "microwork." Samasource founder and CEO Leila Chirayath Janah says, "These little bits of labor that can be performed anytime and anywhere can add up to a real livelihood for people in many parts of the world. The driving force behind Samasource is knowing that hard-working people in places like refugee camps in Kenya and women in rural Pakistan can get life-changing work opportunities through the Internet."
The gala's silent auction, which hopes to raise enough funds to create work programs in two new refugee camps, will be designed Auctionomics, the auction-design firm created by Stanford Professor Paul Milgrom, the world's most recognized expert in auction theory. Gala co-organizer Silvia Console Battilana, an Auctionomics co-founder, met Janah at the unveiling of the Her Code Report which was released by Orange Labs earlier this year. That study showed that fewer than 9% of Silicon Valley companies have a female board director, and only 3% of venture-funded companies are run by women.
Janah presented the topic of microwork at the conference, and Console Battilana was immediately impressed. "I saw an opportunity to address several challenges at once — poverty, education, and female empowerment," she says.
With that in mind, the gala will also bring together many of the Bay Area's leading women entrepreneurs. The event has garnered support from women such as Adriana Gascoigne of Girls in Tech, Women 2.0 CEO Shaherose Charania, and Randi Zuckerberg of Facebook, with whom Samasource has recently partnered.
"It's great that the work Samasource is doing on Facebook Platform is also giving all these opportunities to people in some of the world's poorest places" Zuckerberg says. Samasource has developed a platform that allows application developers to outsource the testing of their products to workers in Africa and Asia.
Janah is scheduled to speak at the Nov. 21 gathering of TEDx in San Francisco, an independently organized offshoot of the international TED conference. The large overlap in attendees between the two events has given the GiveWork Gala the distinction of being the "unofficial pre-party" for TEDx. Tickets for the GiveWork Gala are now on sale at samasource.org/gala.
Source: Samasource and Girls in Tech
Related
• Samasource enables socially responsible outsourcing (Socialbrite)
• Harnessing the crowd for social good (Socialbrite)


This work is licensed under a Creative Commons Attribution 3.0 Unported.