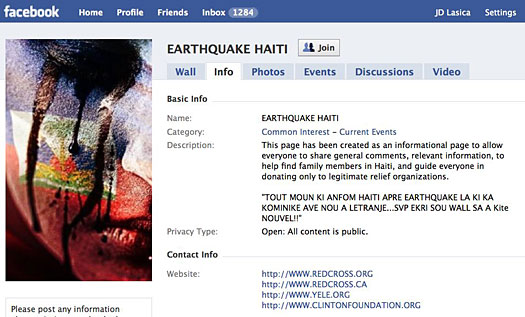 This is part of the series 31 Day Challenge To Optimize Your Blog With Social Media.

You know about Facebook and how everyone and their mom uses Facebook. More than 350 million users so far and growing. While brands like Coke and Starbucks recognize the huge marketing potential on Facebook, what does it mean for your blog?
Why you should care about Facebook
Facebook Pages have become a popular way for non-profits and businesses expand their presence with Facebook users. There are at least four reasons why you should take a closer look at Facebook:
Largest user base – 350 million users and growing. Do your constituents / customers use Facebook? Probably.
Viral venue – Facebook is built for sharing. Users share messages and other content either as messages or wall posts.
Facebook Connect – Facebook Connect lets third party apps share data and other info with the Facebook platform. For example, Activity Brain lets users create an account with their Facebook profile. This means that Facebook users are sharing outside the Facebook walls.
Not going away – The best way to predict which social media sites you should have a presence on is to see where the crowds are.
How to create a compelling Facebook Page
Chances are you already have a Facebook Page. If so, there are several ways you can create an even better Facebook Page. (If you don't have a Facebook Page, check out How to create a Facebook Page in less than four minutes.)
1Pick a good name for your Page – You can boost your search engine rankings by choosing a Page title that has carefully chosen keywords. Name your Facebook Page after your organization or whatever phrase fans might use to search for you.
2Customize your main image – Facebook allows for a main profile image that's up to 200 x 600 pixels. Maximize this real estate! Like Gabe did with his Facebook Page. Also read 5 Creative Ways to Hack Your Facebook Profile Photo.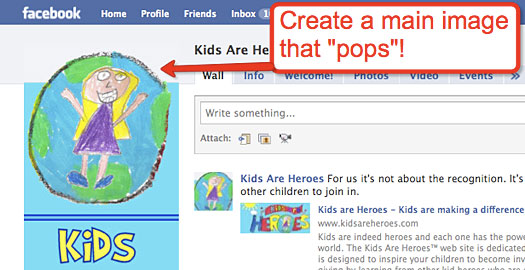 3Arrange tabs – The order of your Facebook Page tabs can be arranged by dragging them. Simply click on the tab you'd like to move and then drag it where you'd like it to go. Avoid clutter by removing tabs you won't be using. FYI – The Wall and Info tabs can't be moved.

4Create a custom landing page – Facebook allows you to add up to 10 custom tabs with the Static FBML application. Check out the custom tab Greenpeace has on their Facebook Page: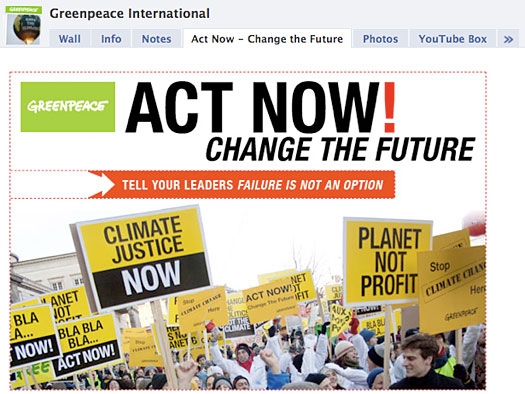 5Set your default landing tab – Once you have created a customized tab, go into Settings on your Facebook Page and under Default Landing Tab for Everyone Else select the tab you want for your default landing tab in the pop-down menu.

6Determine your landing Page – Because each tab has its own URL, you can choose any of them as the landing Page for off-site promotion.
7Create a custom navigation sidebar – A few months ago, I showed you how to add an interactive sidebar to your Facebook Page. This is a creative way to help visitors find exactly what they are looking for on your Facebook Page.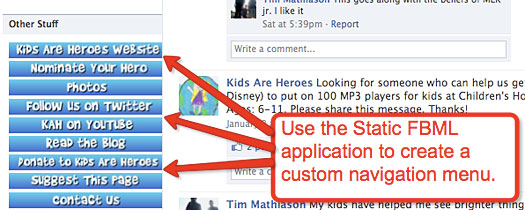 8Add a custom Fanbox to your blog – The Facebook Page Fanbox is a social widget that converts casual website visitors into fans of your Facebook Page. You can configure your Fanbox to show your friends, your wall stream or simply a Become a fan button. Learn how to add a Fanbox to your blog by watching this video tutorial: How to add a Facebook Page Fanbox to your website (and customize it).
9Feed your blog posts onto your Facebook Page – The Facebook Notes application allows you to automatically import an RSS feed from your blog onto your Facebook Page wall. If you haven't set that up yet, please watch this video tutorial: How to automatically feed your blog posts into your Facebook Page.
10Import your YouTube videos – Check out the application called YouTube Video Box. It includes an integrated search to find videos on YouTube and a Tab where you can display videos from YouTube. You can also import videos from an existing YouTube.com account.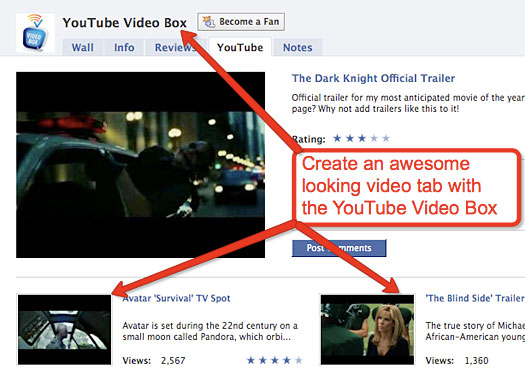 11Get a custom vanity URL – Facebook offers vanity URLs for Facebook Pages that have more than 25 fans. A vanity URL is the short Facebook URL that helps people easily access your page. A short URL with relevant keywords is good for getting the elusive "Google juice."
12Rank higher in Facebook searches – This can be done by creating multiple inbound links to your Facebook Page. You can do so by linking back to your Page from your blog, linking to your Page from signatures used in forums, and linking from other social media sites like LinkedIn.
What else? Leave a comment below.
If you don't want to miss out on the 31 Day Challenge To Optimize Your Blog With Social Media, please sign up.
Cross-posted from JohnHaydon.com.John Haydon delivers social web strategy solutions for "the quick, the smart, and the slightly manic." Curious? Then visit the John Haydon blog, follow him on Twitter or leave a comment.

This work is licensed under a Creative Commons Attribution-NonCommercial 3.0 Unported.