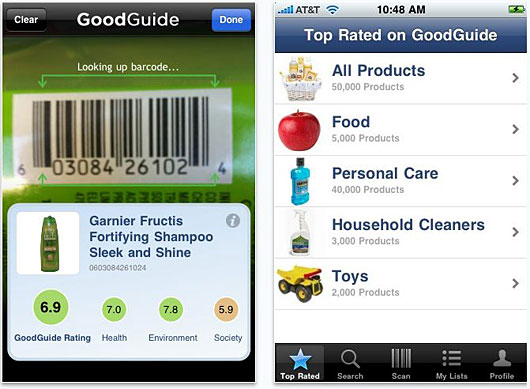 GoodGuide, Find Green, Give Work make Socialbrite's Top 10 list
By Kim Bale
Socialbrite staff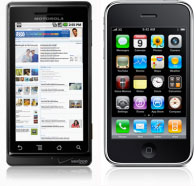 Mobile applications are flooding the market at a dizzying rate — more than 150,000 now for the iPhone and tens of thousands for Android and Blackberry. And it's important to keep in mind that only 18 percent of the phones in the United States are smart phones, as reported at yesterday's Where 2.0 conference, so text-only SMS plays an important part in many of the campaigns run by nonprofits, NGOs and anyone interested in doing good.
In the past few months, though, a host of very cool smart phone apps have been released, making it easier for people and volunteers to carry their top-of-mind social causes in their pockets. And, take note, all of the iPhone apps listed here also work on the iPod Touch and the new iPad.
Here are 10 of our favorite mobile apps, from nonprofits and social change organizations, that are contributing to a sustainable economy of social good. This is by no means a definitive list, so please add your own favorites in the comments below.
Download the handout here (also at bit.ly/10mobileapps)

GoodGuide: Scan products for social responsibility
1Available in the iTunes App Store, the GoodGuide iPhone app allows you to scan the barcode of a product while you're shopping and immediately receive ratings regarding health, environment and social responsibility. How cool is that? Other mobile users can text product information to 41411 to access ratings for more than 70,000 companies and toys, foods, health and beauty products — including an API that lets any website operator create a custom product directory that pulls from its database. GoodGuide on iTunes
What are some of your favorite mobile apps for social good?
Related
• Net2 Think Tank: Apps for Good (NetSquared)
• Helping Haitians via mobile, crowdsourcing & social media (Socialbrite)
• The Extraordinaries: Building the 'micro-volunteering' movement (Socialbrite)
• All for Good: A Craigslist for Service (Socialbrite)Kim Bale was recently the community outreach specialist for The Extraordinaries. Follow her on Twitter at @balekimb.

This work is licensed under a Creative Commons Attribution 3.0 Unported.