When you launch a hosted WordPress blog for your nonprofit, one of the first questions you might have is the difference between Pages and Posts. When would you use one over the other, and why?
The biggest difference between Posts and Pages is this: Posts are social media instruments. Pages aren't.
The WordPress Post is the tool you'll be using within your blog to engage readers. Posts are what everyone on Twitter and Facebook are sharing. They enhance sharing and engagement with:
Pages are static web pages within your blog for permanent content, like an About Page, a Donation Page or a Services Page. The website for Inbound Zombie is built with WordPress, sans posts.
Timely vs. timeless content
Posts are published in reverse chronological order on your home page or blog index page, depending upon how you've configured your blog (Sticky posts will remain above your latest posts). This allows visitors to see your most recent content first and dig for related posts within the archives.
Pages have no date and time associated with them.
Posts can also be scheduled for future publication at a specific date and time, as shown below: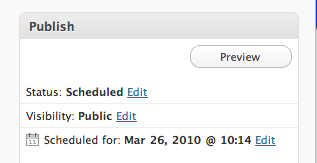 More distinctions
Because Pages aren't published with respect to a time and date, they aren't syndicated through RSS feeds or email blog broadcast services such as Aweber or Constant Contact.
Posts are generally short, bite-size pieces of content intended to bring your readers with you on a journey over time. For example, in January, I wrote a series over 31 days about optimizing your blog with social media (now an ebook!). This series gave me and my readers an opportunity to get to know each other – to go on a journey together.
Pages, on the other hand, are pit stops my readers can visit along the way if they want to learn more about me or my services.
Children vs. orphans
Pages allow users to create a hierarchy structure within your site, often referred to as a parent/child structure. Posts don't allow for a parent/child structure, although you can do that with the Headway WordPress Theme (see How To Create A Bootylicious WordPress Nav Bar" for more info).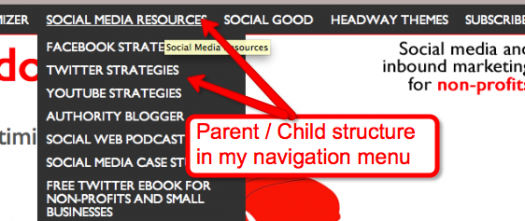 Traffic cop vs. GPS
The hierarchy feature of Pages turn site owners into traffic cops where visiters are pointed towards specific pages in relation to each other (a hierarchy. Posts, on the other hand, enable visitors to decide where they want to go via tags and categories.
How do you use Posts and Pages on your WordPress blog?
Related articles by Zemanta
John Haydon delivers social web strategy solutions for "the quick, the smart, and the slightly manic." Curious? Then visit the John Haydon blog, follow him on Twitter or leave a comment.

This work is licensed under a Creative Commons Attribution-NonCommercial 3.0 Unported.