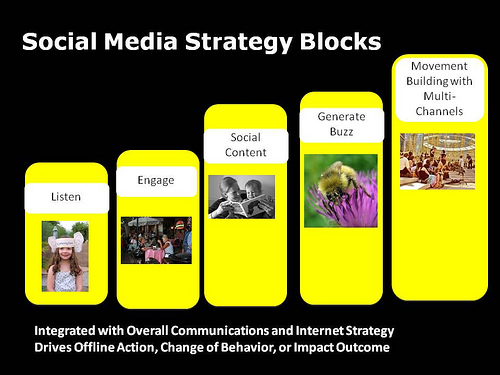 Iwas honored to be the keynote speaker for the Bay Area Microsoft/TechSoup Global Connection Day last week. My presentation on Slideshare takes the audience through my Principles for Effective Social Media. The principles cover strategy, learning, capacity, and organizational culture, and each principle is illustrated with some practical and tactical advice that ladders up to strategy.
My opening framework breaks down the strategy into strategy blocks. These incremental chunks that can be laddered up to program or communications goals. I urge people to think of the chunks and then the tools. You begin slowly with small steps and build up to your capacity level. This is the crawl, walk, run and fly approach used by NASA and later by Obama.
Here are 9 ways nonprofits can excel using social media:
1

Social media must be integrated with internet communications or program strategy

Begin with a communications and program assessment that helps you best determine where social media brings value, the objective, audience, and budget. Use an excel spreadsheet to look at events, fundraisers, programs, web site content, performances, and other activities to socialize.

Examples: Wildlife Direct and Brooklyn Museum

2Use listening techniques to develop a deep understanding of the audience

Organizations must begin with listening, but an integrated listening channel that includes social media and traditional marketing channels. I cover a couple techniques and tools using participants as an example to illustrate that keywords are king. And, of course, many of the listening tools like Radian 6 or free ones like Social Mention allow you export your listening streams into Excel spreadsheets!

Example: Red Cross

3 Use conversation starters to engage your target audience

The most important thing for nonprofits is to shift from messaging to conversation starters based on listening. And of course, you can use a spreadsheet to plan out your conversation starters!

Examples: San Jose Opera use of #Operaplot Twitter Hashtag

4 Identify influencers in social media spaces and cultivate them

I introduce a couple of basic social network analysis concepts and how they apply to an organization's friends, fans, and followers on social media sites. I also mention other tools like Friend or Follow or NodeXL both of which make influencer analysis more efficient with the ability to export the data into an excel spreadsheet.

Example: Northern California ACLU social network analysis of their followers on Twitter.

5 Make sure your content has a social life

This point is about making sure you are thinking about your web site content and social media outposts in an integrated content strategy. Also, the way people are consuming content is changing because of social media. We can no longer think of our web sites as the one stop destination to get the whole context. People are more likely to stumble upon content in small chunks via their friends on social networks. This changes how nonprofits need to think about web social content strategy and how to make it efficient.

Here's where I had a lot of fun pulling up screen shots of participants Web and Social Media outposts.

6 Use social media to close the loop between online and offline action

This is about making sure that your social media is integrated into all marketing channels and that you have to think in both directions — from offline to online and online to offline. I give some very specific tips here.

7 Allocate enough staff time and have the expertise to implement the strategy

I start with a crawl-walk-run-walk framework for staffing models for nonprofits. I also talk about tracking the time because working on social media can give you ADOLAS (AD – oh look a squirrel!) If you track you time and have specific tasks, you know what you're getting for your time investment. It's just one step away from looking at ROI. I had a funny picture of a Squirrel and shouted out Squirrel at random points during the presentation.

8 Launch small pilots and reiterate using the right metrics to understand what is and what isn't working

I talk about spreadsheet aerobics and other measurement tips. There are many ways to use Excel. Take, for example, my Facebook Analysis Excel template. (Join my fan page, read the thread, and the link is at the bottom.)

9 Assess organizational culture and have strategies to address issues that may prevent adoption

I've been writing about technology adoption and culture change for a long time and how it applies to social media. I also offer some pointers around developing a social media policy. This is a big theme in my book, The Networked Nonprofit – so stay tuned.
How is your nonprofit excelling at social media?
Cross-posted from Beth's Blog.Beth Kanter is CEO of Zoetica, a consultancy for nonprofits. See her profile, visit her blog, contact Beth or leave a comment.

This work is licensed under a Creative Commons Attribution 3.0 Unported.