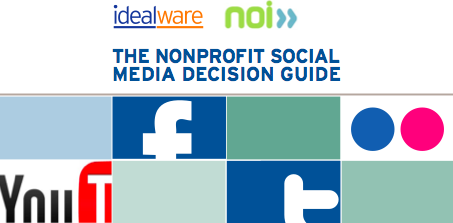 Download Idealware's free guide to get a handle on Facebook, blogs & more

Idealware, along with the New Organizing Institute and Trellon, just published The Nonprofit Social Media Decision Guide.
The guide helps you to decide how Facebook, Twitter, blogs, Flickr, YouTube and other channels fit within the marketing strategy of your nonprofit or social change organization.
Six things you'll love about this guide
It includes an extremely pragmatic approach to social media decision-making, breaking it down into a 5-step process that is easy to follow.
In the second section of this guide you'll find a workbook, with worksheets and samples to help you figure out your own social media strategy.
You'll find lots of examples of how orgs can use Facebook, Twitter, YouTube and blogs.
Each platforms benefits are clearly presented, along with tips of getting started and resources you'll need.
It encourages organizations that aren't using social media to at least define why it doesn't make sense for them.
At the end of the guide is a directory of nonprofit consultants.
As a side note, I wasn't asked to blog about this guide, although Socialbrite and Inbound Zombie are listed in the directory. I simply wanted to share something that truly is useful for nonprofits.
Download The Nonprofit Social Media Decision Guide at Idealware, or directly (PDF).John Haydon delivers social web strategy solutions for "the quick, the smart, and the slightly manic." Curious? Then visit the John Haydon blog, follow him on Twitter or leave a comment.

This work is licensed under a Creative Commons Attribution-NonCommercial 3.0 Unported.