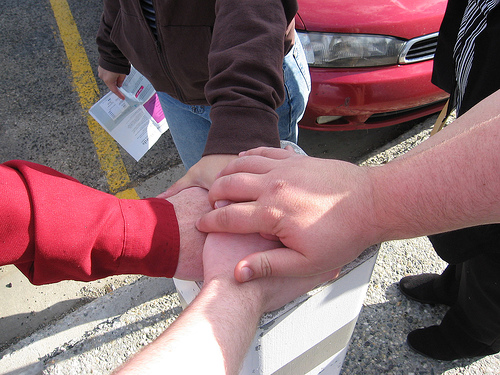 Image by ChrisL_AK on Flickr
Huddle, Basecamp, DeskAway among tools to help your team members work together
Target audience: Nonprofits, cause organizations, entrepreneurs, NGOs, citizen publishers, educators.
By Jessica Haswell
Socialbrite staff
The Google Wave came and went – what was that thing, anyway? — but here are some tools that maximize the collaboration and efficiency of your organization and are sure to stick. We took a look at five of the top Web-based project management and collaboration tools that can help nonprofits and other organizations get stuff done. These tools are productivity boosters, regardless of whether your staffers work in the same office or if your team wants to engage supporters in far-flung locations.
Have your own favorite? Please share in the comments below.

Huddle: Free workspaces for nonprofits
1Habitat for Humanity, UNICEF and World Vision are just a few of the nonprofits using Huddle, and it's a great option for smaller organizations as well. We use London-based Huddle — which just opened a San Francisco office — as the online workspace for New Media Labs, one of our nonprofit clients. Coolest features: Huddle's customizable dashboard, making it easy to add widgets, and online whiteboards that foster effortless integration with LinkedIn, Ning and Facebook. Thanks to the Huddle Foundation, Huddle is one of the only outfits that offers registered charities (with budgets below $7 million) completely free services. Huddle.net won the Best B2B/Enterprise Start-up at the TechCrunch Europe Awards 2009. Follow Huddle on Twitter. See Huddle on iTunes.
Other collaboration tools
These are by no means the only collaboration and efficiency tools out there. We'd be remiss if we didn't mention some of these:
• Wikis, of course, though not all employees are taken with them. Compare the different wiki software platforms on Wikipedia.
• Redmine, which we wrote about in A developer's 5 favorite social tools.
• Some other choices worth a look: Colaab, the open source Teambox, Active Collab, Comind, Central Desktop and the other Project tools we list at Web 2.0 Productivity Tools.
I'd love to hear about your organization's experiences with some of these project management tools – please share your thoughts below!

This work is licensed under a Creative Commons Attribution 3.0 Unported.