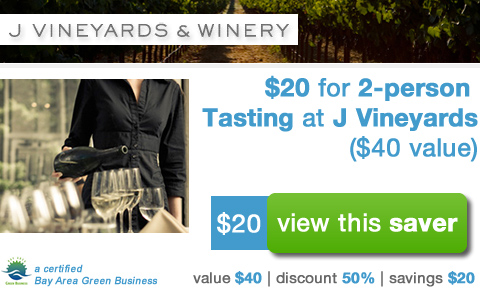 You may have heard of deal-of-the-day site Groupon — Get 50 to 90 percent off the best stuff your city has to offer! Hot deals in Chicago, New York, Boston! — and the breed of "offertising" sites that aim to make people break their habits and check out a new place. What if this model were applied toward getting people to buy more sustainable products?
That is the mission of San Francisco-based blissmo (tagline: buy good, feel great), which offers one-time discounts to certified sustainable and/or organic businesses. They recently launched their service and are currently featuring 50-percent-off promotions on Kaia Foods, a national organic food company, and wines at J Vineyards and Winery (see above), a certified sustainable vineyard in Sonoma, Calif.

From the perspective of businesses, offertising sites are a good way to gain new customers without requiring any upfront cash, as with traditional advertising. While we don't yet know how effective these deals will be in retaining repeat customers over the long term, blissmo — run by entrepreneur Sundeep Ahuja, a friend — is positioned to be a better ally for green businesses, as they're delivering customers who are already predisposed to buying sustainable goods and products.
We'll be keeping a watch to see where all this goes. Meantime, I'm trying to shake the word "offertising" out of my head.JD Lasica, founder and former editor of Socialbrite, is co-founder of Cruiseable. Contact JD or follow him on Twitter or Google Plus.

This work is licensed under a Creative Commons Attribution 3.0 Unported.