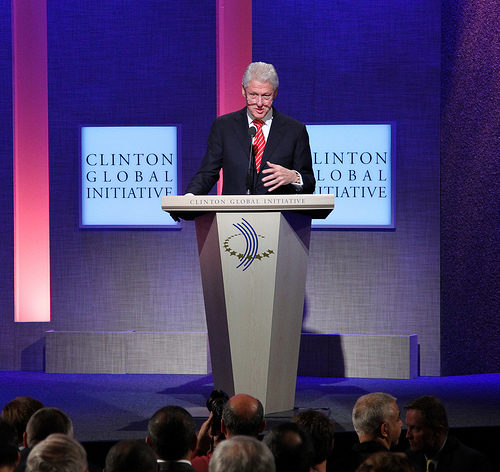 Former President Clinton at the Clinton Global Initiative this week. (Photo by Taylor Davidson on Flickr)

I'm in New York City this week for a flood of world-changing, global-thinking, innovative and inspiring conferences, meetups and opportunities. I'm also covering much of what is happening on a few different online platforms, plus have some exciting press to share, so I thought I'd put it all here for you.
It's UN Week, and accordingly, Mashable, the 92nd Street Y and the UN Foundation hosted the Social Good Summit, which I attended and wrote about. I wrote up a few posts online, check them out!
Halogen: Social Good Summit Kicks Off UN Week Republished on the United Nations blog, Conversations For A Better World
UN Week Media posted three of my posts:
You can also find some of my posts at WeBlogTheWorld.
On NPR's 'Talk of the Nation'
Next up! I was on NPR's Talk of the Nation Tuesday afternoon. What an honor. I was contacted through the contact form on my blog to see if I could participate in a conversation about how apps and social media can change the world. I was like "uhm yeah, I can talk about that." Minus the "uhm" of course. But seriously, I mean my grandparents listen to NPR. Along with my photo and coverage in the Wall Street Journal earlier this year when I was the citizen journalist chosen to go to the World Economic Forum in Davos, it's like my family finally understands what I do!
So I was on NPR talking about Saving The World With Apps And Twitter along with Chris Hughes, one of the founders of Facebook and founder of the soon-to-be-launched Jumo, and Ray Chambers, General Secretary of the Special Envoy on Malaria. From the write-up:
Many donors are understandably wary of donating to far-flung, small-scale organizations, says Sloane Berrent, founder of the consulting firm Answer With Action. But tools like YouTube and Flickr, Berrent says, can help donors hold organizations accountable.

"We have an opportunity to ask organizations and ask the people who are taking our donations to provide information back to us when they give that money to the people on the ground," Berrent says.
Read the NPR article and listen to the transcript here.
Last, I'm spending a good part of this week at the Clinton Global Initiative. It's been my dream to attend (after Davos, of course) and so to have the opportunity to be here, to soak up the knowledge and to share it with so many of you – it's truly amazing. I'm going to have posts on WhatGives?! starting today for the rest of the week and again in a few other spots so hope you enjoy the coverage. If there are certain topics you really want to know about, people you'd like interviewed or anything else, just let me know!Sloane Berrent is a cause-based marketing consultant who works with nonprofits and social cause organizations. See her business profile, contact Sloane or leave a comment.


This work is licensed under a Creative Commons Attribution-NonCommercial 3.0 Unported.