Introducing Facebook Deals.
New Facebook feature makes cause marketing more actionable

Last week Facebook launched a new app for Facebook Places called Deals.
Deals essentially allows any small business to more easily offer deals when users check in to their place on Facebook.
But there's also an opportunity for nonprofits to take advantage of the new feature.
What's in it for your nonprofit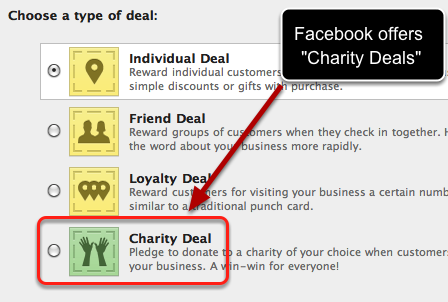 Obviously your nonprofit doesn't offer deals as a way to raise donations. But the restaurant or clothing store down the street does.
One option that local businesses have in creating a deal is to create a "Charity Deal." This allows the business to implement a cause marketing program with a single mouse click!
Conduct a cause marketing pilot program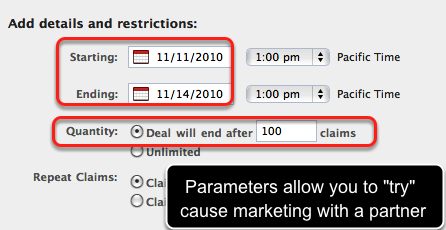 If your nonprofit hasn't thought about doing cause-marketing, start thinking about it now – and read Selfish Giving.
There are local businesses that you already know who would love to partner with you. The owners of these businesses already support your organization at events through their donations.
Facebook Deals could enhance these relationships by making cause marketing easy to implement.
And if you're scared, don't worry. Simply agree to conduct a pilot cause marketing campaign. Get your hands dirty.
What do you think about Deals?
Related articles
John Haydon delivers social web strategy solutions for "the quick, the smart, and the slightly manic." Curious? Then visit the John Haydon blog, follow him on Twitter or leave a comment.

This work is licensed under a Creative Commons Attribution-NonCommercial 3.0 Unported.