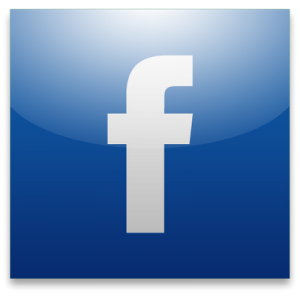 Facebook Pages has undergone so many enhancements over the past few months that even the simple act of creating a Page is different.
So I put together the following "tactical guide" summarizing the steps required to create a Facebook Page as well as all the new Page features. Nonprofits and cause organizations may want to bookmark this blog entry and return to it when making changes to your Facebook Page in the weeks and months ahead.
How to create a Facebook Page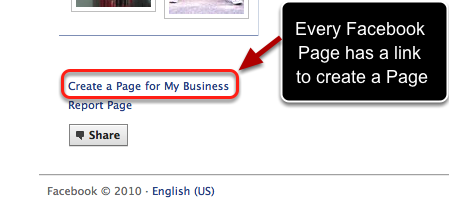 The very first step in creating a Facebook Page hasn't changed. You can still find a link in the bottom left of every Facebook Page that says "Create a Page for my Business."
Official Pages vs. Community Pages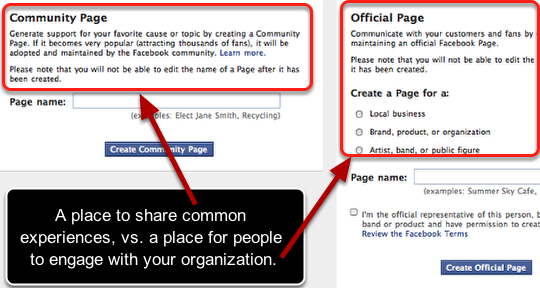 Facebook came out with Community Pages earlier this year in response to users creating "unofficial" Pages around experiences or topics.
While Somerville, Mass., is a town in Massachusetts, its culture is also a common experience that many people love. Now there's a Community Page for Somerville that pulls in updates from users who mention Somerville, Mass.
Like Somerville, the cause you fight for is a common experience in people's lives. And because your organization is an agent for that fight, you should use a Facebook "Official Page."
Creating an 'Official Page'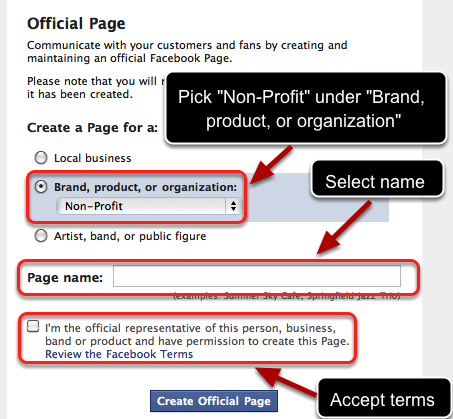 The first step in creating an "Official Facebook Page" is to select the right category. Then you enter your Page name, which can be changed for Pages with fewer than 100 fans. Accept the Facebook terms and you've got yourself a Page!
Using the Facebook Page wizard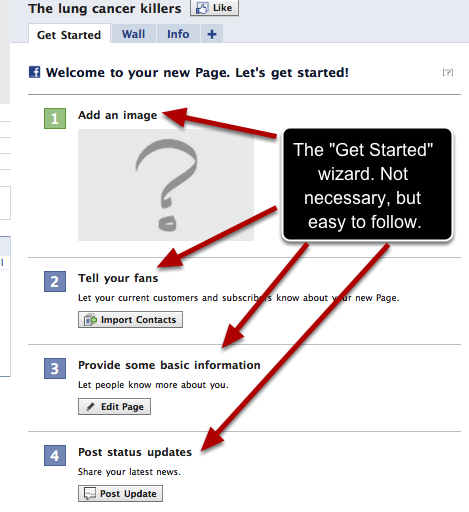 The six steps in the wizard are not all necessary. And some steps don't make much sense for new Pages.
For example, for most Pages, you'll probably want to create a custom tab before importing contacts or posting an update. Nonetheless, the wizard is very easy to follow for newbies.
Uploading your main image or avatar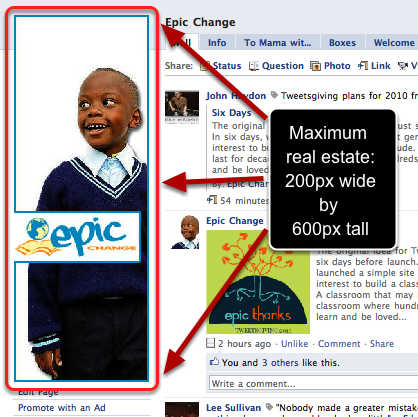 If you can upload an image to Flickr, you can add your main image. The key here is being creative with the maximum dimensions that Facebook allows: up to 200 x 600 pixels for your main profile image.
Importing existing contacts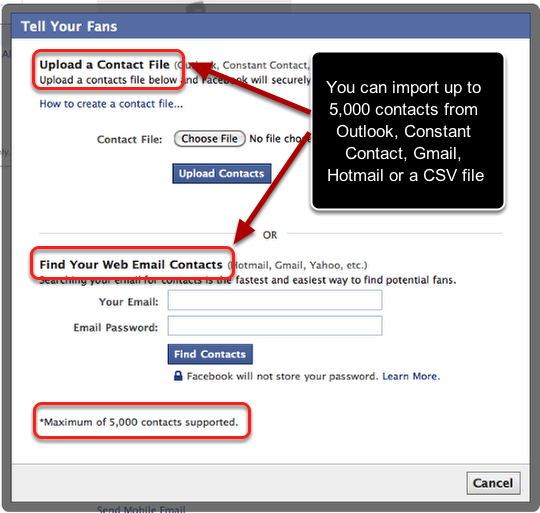 You can now import up to 5,000 contacts from Outlook, Constant Contact, Gmail, Hotmail or a CSV file.
This is a great way for nonprofits to get an initial bump in fan growth when they start a Page. (Pages that have an established fan base don't seem to have this import ability.)
New admin sidebar panel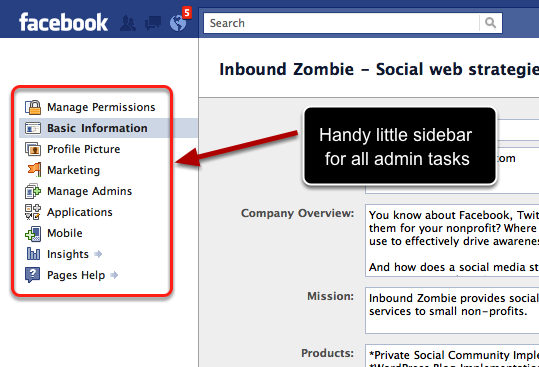 I wrote about this in October, but it's worth mentioning again. The back-end panel of your Facebook Page has a new interface that's easy to navigate.
How to hide or display the spam filter to admins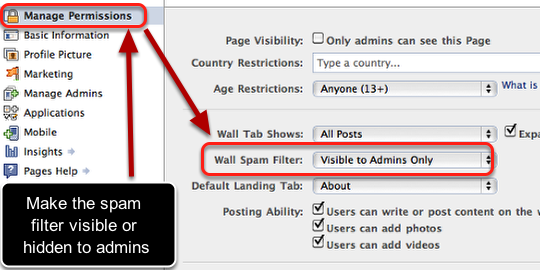 The spam stream, which I also mentioned last week, is never seen by fans. But there is an option to even hide it from admins.
How to tag spam on your Facebook Page
You can now mark specific updates as spam by clicking on the "X" to the right of the offending post.
Marking a post as spam will also put future posts from that connection into the spam folder. You also have the option of removing the fan.
Pages with fewer than 100 fans can now change their name

If you have fewer than 100 fans, you can change your Page's name. Simply click on "Basic Information" and the name field should be editable.
Adding applications is much easier

Adding recommended apps is also a lot easier. Simply click on "Add Application" and you're done. No more going to an app, adding it to your Page and then clicking the back button in your browser 37 times.
Export and manipulate Insights data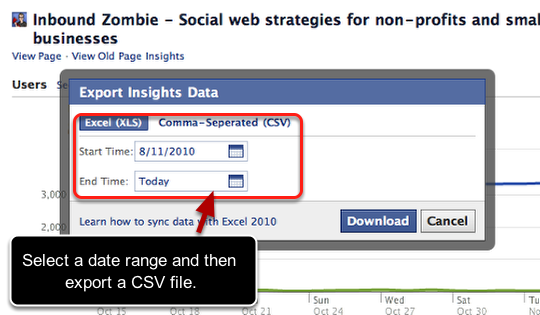 You can now export Insights Data in Excel. Click on "Insights" in the sidebar, then "Export" on the next screen. You can select a date range and choose Excel or CSV as formats.
See top viewed tabs and external referral sources

Within Insights, admins can now view the top viewed Tabs as well as top external referrers for a seven-day period.
If you want deeper traffic analytics on your Facebook Page, you'll need to integrate it with Google Analytics.
What did I miss? Comment below
Cross-posted to JohnHaydon.com.John Haydon delivers social web strategy solutions for "the quick, the smart, and the slightly manic." Curious? Then visit the John Haydon blog, follow him on Twitter or leave a comment.

This work is licensed under a Creative Commons Attribution-NonCommercial 3.0 Unported.