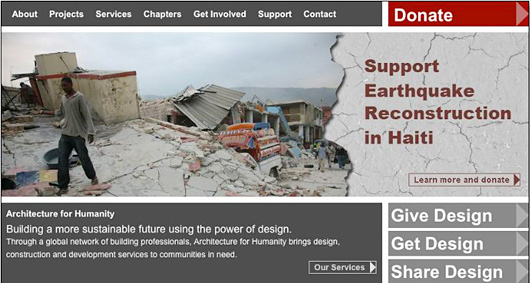 One of the most important elements on your nonprofit's website is your call to action.
You might have a great design, compelling content and lots of visitors to your site. But what's it worth if no one does anything on the page?
What is a 'call to action'?
A call to action is just that – a direction or request for your visitor to take action. You want them to do something.
That something can range from sharing content via social media, joining an email list, signing a petition, or making an online donation.
10 steps to create a killer call to action on your site
1Know the time and place – If most of your traffic is coming from search, it means that the majority of people visiting your site are being introduced to you for the first time. They probably won't make a donation, but they might "like" your Facebook Page or join an email list. You might not get kissed on a first date, but you might get a "yes" to a second date. Take the "yes".
2Tell them what you want – Don't be afraid to tell people what you want them to do. They're busy. They want to be told.
3Make it about them – Instead of saying "Join our email list," say "Don't miss out!" Email lists are boring, but "missing out" is  painful. Think about what value they gain from taking action.
4Be specific – Giving people three donation amounts to choose from will get more results than making them come up with an amount. Guesswork takes time – remove it.
5Keep it simple – If they have to spend a minute or two to understand what you're asking, you'll lose them. Make sure your call to action is easy to understand.
6Make it personal – Tell personal stories about real people. People will take action to feed a little girl in Haiti before 500,000 homeless children.
7Create a short line-of-sight – Tell them how their specific donation will make an impact. "Your $10 will pay for a child's lunch at school for an entire month."
8Reduce the number of clicks – Remove CAPTCHAS, use Facebook Connect (the log-in protocol), keep the transaction all on one Page (as Razoo does).
9Say thank you – Tell them sincerely how much their donation means. A thank you goes a lot farther than you may think.
10Ask them to share – They just donated. That means you have a live one! Right now is the best time to ask them to share their actions on Facebook and Twitter. Use donation tools like Giving Impact to embed sharing into the donation process.
Finally, if you're planning on using social media to promote the call to action, you need to be able to cut through the noise by presenting your call to action in a way that gets people talking. Like  Manny Hernandez did with this video.
What else works for you?John Haydon delivers social web strategy solutions for "the quick, the smart, and the slightly manic." Curious? Then visit the John Haydon blog, follow him on Twitter or leave a comment.

This work is licensed under a Creative Commons Attribution-NonCommercial 3.0 Unported.