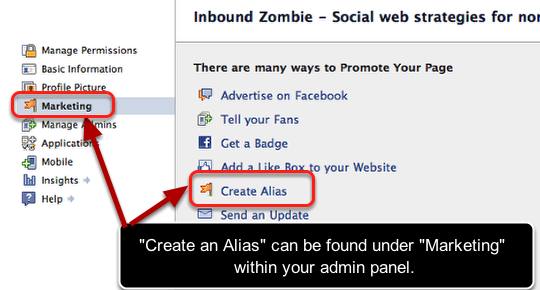 Facebook Pages now have a new option called "Create Alias" under "Marketing" within the admin panel. An alias is a shortened url for your Facebook Page, making it easier for potential fans to remember, and easier to use in print, radio or TV (see facebook.com/CreatingTheFuture as an example). Pages admins can create an alias once they have a minimum of 25 connections.
This new approach differentiates the feature from what most people might consider log-in credentials (username / password).
Also, having this located in the admin panel enables users to be more aware of this feature.
See also:
• How to create a custom Facebook Page url
• More Facebook tutorialsJohn Haydon delivers social web strategy solutions for "the quick, the smart, and the slightly manic." Curious? Then visit the John Haydon blog, follow him on Twitter or leave a comment.

This work is licensed under a Creative Commons Attribution-NonCommercial 3.0 Unported.