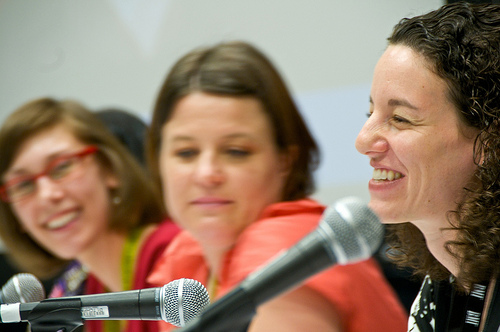 Amy Sample Ward, Holly Ross and Kari Dunn Saratovsky at the Crowdsourcing Innovative Social Change panel at SXSW 2010. (Photo by JD Lasica)
Superguide to events for nonprofits & social good organizations
See our Calendar of 2012 nonprofit & social change conferences.

Following is a roundup of conferences and events scheduled in the nonprofit and social change sector in 2011, with a few related events tossed in as well. This is now an annual tradition here at Socialbrite.
We'll be reporting on many of these events and invite you to share your coverage or observations here. Throughout the year you'll be able to see a list of all these events in the weekly Google calendar at the lower right of nearly every page on Socialbrite. And don't forget to attend a local Netsquared event!
If you know of other must-attend events, please add them by posting in the comments at the bottom. Note that we've also published a calendar of 2011 conferences in social media, tech and marketing on our sister site, Socialmedia.biz. We'll continue to update this calendar throughout the year.
Conference
Date
Place
January
NETA
Jan. 11-13
Nashville, Tenn.
The NETA Conference will help you learn new ideas for workflow and staff, gain opportunities to share/exhibit/demonstrate ideas that make a tangible difference and put you in touch with people who understand the value of what you do.
10 Years of Wikipedia
Jan. 15
Global
A series of events to mark the democratic online encyclopedia's 10th birthday. See the wiki for a location near you.
Leadership for Social Change
Jan. 19-21
New York City
This executive education program will help you learn how to open new markets using responsible programs, how to build relationships through public/private partnerships to achieve impact and value and how to meet the challenges of implementing social-benefit programs.
PodCamp Halifax 2011
Jan. 23
Halifax, Nova Scotia
A PodCamp is a free BarCamp-style community unconference for new media enthusiasts and professionals including bloggers, podcasters, YouTube producers, social networkers and anyone curious about new media.
BlissDom
Jan. 26-28
Nashville, Tenn.
BlissDom is designed with content suited to diverse interests. Look for a Professional Track, Writing Track and tracks on Brand Partnerships and Personal Strategy.
World Economic Forum
Jan. 26-30
Davos, Switzerland
The Annual Meeting provides a rethinking of our systems and exploration of strategies and solutions that have positive transformational implications. Particular emphasis will be placed on addressing the question of "how" at this invitation-only event.
Global Ignite Week
Jan. 27
Various
During the week 50-plus Ignites will take place in cities around the world. As many as 10,000 entrepreneurs, technologists, DIYers, creative professionals and enthusiastic knowledge-seekers will gather in local pubs, theaters and other venues for an evening that is a unique blend of networking, information and fun, encapsulated in the Ignite motto: "Enlighten us, but make it quick."
She's Geeky Bay Area 4
Jan. 28-30
Mountain View, Calif.
This event is for women from a diverse array of technological fields and those doing technology within non-technical fields.
WordCamp
Various
Worldwide
WordCamps, where WordPress aficionados congregate, are happening in dozens of cities this year, including Phoenix on Jan. 29, Orlando on Feb. 5, Melbourne on Feb. 26-27 and elsewhere.
A Helluva Camp for Nonprofit Rebels
TBA
San Francisco
As the economy faces a jobless recovery, social entrepreneurs are emerging in all sectors and industries. This content-packed camp features new faces and new ideas for the rebels who want to shake up the nonprofit world.
February
Social Media Week
Feb. 7-11
Various
Social Media Week is a global platform that connects people, content and conversation around emerging trends in social and mobile media. The goal of the event series is to help people, brands, companies, not-for-profits and governments around the world establish deeper and more valuable relationships through open collaboration and social communication.
edSocial Media Bootcamp
Feb. 8
San Francisco
This full day workshop provides an in-depth, hands-on introduction to social media technology. Learn how social media can help you strengthen relationships with the constituents that matter most – your students, parents, faculty & alumni.
Twiistup 8 Infinity
Feb. 9-10
Los Angeles
More than just a conference, Twiistup is LA's biggest technology event. Twiistup combines a showcase for innovation, a platform for thought leaders and an audience of entrepreneurs, media and investors all wrapped in a unique, stylized environment that rivals a Hollywood production.
Washington Nonprofit Conference
Feb. 17-18
Washington, DC
At this gathering you'll be able to explore new marketing strategies and fresh fundraising techniques, glean new insights and perspectives on donor acquisition, and learn how to use new technologies to establish and nurture relationships, mobilize fundraising during a crisis, expand globally into international fundraising and more.
Computer-Assisted Reporting
Feb. 24-27
Raleigh, NC
In this annual conference devoted to computer-assisted reporting, come and learn about tools you need to dig deeper into stories and give readers and viewers the information they want.
Wisdom 2.0
Feb. 25-27
Mountain View, Calif.
In this three-day event, attendees investigate how to create a world that is both technologically advanced and also highly developed in universal qualities such as mindfulness, wisdom and compassion that are essential for any society to flourish. See our interview with a speaker at the 2010 event.
TED
Feb 28-Mar 4
Long Beach, Calif.
TED2011 will assemble a cast of characters capable of stirring the imagination. Explorers, storytellers, photographers, scientific pioneers, visionaries and provocateurs from all parts of the globe will participate in this seminal event.
March
Social Enterprise Conference
March 5-6
Boston
The 2011 Social Enterprise Conference will provide a platform for you to explore how others are living change and for you to be inspired to live change through your own life in your own way.
ReVisioning Value
March 7-8
Portland, Ore.
ReVV 2011 will be a must-attend event for innovators from nonprofits, for-profits, finance institutions, investors, educational institutions and people interested in making their money matter. The event will provide a deeper engagement for attendees ready and willing to integrate new best practices into their business.
South by Southwest
March 11-20
Austin, TX
South by Southwest offers an amazing gathering of thought leaders in independent music, independent films and emerging technologies. Fostering creative and professional growth alike, SXSW is the premier destination for discovery. The Integrated Media Association Conference will take place March 10 within SXSW.
Innovative Giving
March 16
Washington, DC
Innogive – Mobile Giving Applied lets you connect with peers who share the same questions and some that have answers regarding online giving technologies. Make new friends, meet old and meet yet others from intriguing mobile and innovative giving technology companies – all coming together to understand how to forward their cause in a changing and increasingly mobile world.
Web and New Media Conference
March 17–18
Washington, DC
This conference is for government new media managers and webmasters, many of whom are wearing both hats in 2011. It's proved to be an excellent networking and educational forum.
NTC: Nonprofit Technology Conference
March 17-19
Washington, DC
This three-day gathering from NTEN brings together nonprofit professionals from around the world to collaborate, innovate and maximize effectiveness. It's perhaps the key nonprofit conference of the year.
Left Forum
March 18-20
New York
A one-of-a-kind gathering, Left Forum convenes the largest annual conference of a broad spectrum of left and progressive intellectuals, activists, academics, organizations and the public. Conference participants come together to engage a wide range of critical perspectives on the world, to discuss differences, commonalities and alternatives to current predicaments, and to share ideas for understanding and transforming the world.
AFP International Conference on Fundraising
March 20-22
Chicago
More than 4,000 professionals will come together in Chicago for a three-day immersion to share stories and strategies that work. It's a place to gain insight from industry and world leaders, a chance to learn breakthrough fundraising tactics and an opportunity to share best practices by meeting colleagues from across town and around the globe.
eCampaigning Forum
March 22-23
Oxford, UK
The event for e-campaigning practitioners to share their expertise.
Twestival Local
March 24
Global
Twestival uses social media for social good. It's the largest global grassroots social media fundraising initiative to date, raising $1.2 million within 14 months for 137 nonprofits. All local events are organized by volunteers and 100% of all ticket sales and donations go directly to projects.
Skoll World Forum
Mar 30-Apr 1
Oxford, UK
The theme for the 2011 Forum is "Large Scale Change – ecosystems, networks and collaborative action." Delegates will explore the increasingly global, complex and interrelated nature of pressing social problems, while also surfacing conditions and challenges that help or inhibit large scale change. Sessions will focus on the ideas, knowledge, networks and actions needed to span geographic areas, issues and institutional boundaries to achieve large-scale change.
Sustainatopia
Mar31-Apr6
Miami
With 60 individual events in film, art, music, eco-fashion, food, design & parties, Sustainatopia is one of the biggest sustainability and impact investing events in the world. (I'll be speaking there.)
April
Clinton Global Initiative University
April 1-3
San Diego
Building on President Clinton's lifetime in public service, the Clinton Global Initiative reflects his belief that governments need collaboration from the private sector, non-governmental organizations and global leaders to confront the world's most pressing problems.
Data 2.0
April 4
San Francisco
Data 2.0 is a full-day conference that spotlights how greater accessibility to data will impact business, technology and society. Organized by midVentures, the conference will take an interdisciplinary approach to government data, financial data, social data and the startups that take advantage of such data.
Social Venture Capital/Social Enterprise Conference
April 4-6
Miami
Socialbrite's JD Lasica & Sloane Berrent will be presenting the Move the Needle Bootcamp to kick off the conference. This is the largest impact investing and sustainability conference on the East Coast of U.S. and Latin America. 1,000+ attendees and 300+ speakers from around the world. Tracks include Philanthrocapitalism, Financing Impact, Empowering Women Through Investment, Defining Green Prosperity and Building Social Entrepreneurs.
Sustainable Haiti
April 4-6
Miami
Sustainable Haiti Conference represents the most comprehensive economic development conference of all time for Haiti.
Social Enterprise World Forum
April 5-7
Johannesburg
This international forum advocates for increased social impact through social enterprise. Join more than 700 social entrepreneurs in South Africa to learn, grow, be inspired, make new connections from around the globe and become part of this expanding movement.
Social Venture Network
April 7-10
Stevenson, Wash.
Social Venture Network connects, supports and inspires business leaders and social entrepreneurs in expanding practices that build a just and sustainable economy. The next conference, the Fall Invitational, will be held on Oct. 27-30 in Philadelphia.
Power of Global Networks
April 7-9
Brooklyn, NY
The conference will focus on how women's funds turn the conventional model of philanthropy upside down, radically changing the way individuals, corporations, foundations and governments invest in women and girls, and how women's funds, and the network at large, is an effective vehicle, for shared leadership and collective action, allowing us to increase our impact and build a movement for social change.
National Conference for Media Reform
April 8-10
Boston
This is the biggest conference devoted to media, technology and democracy. You'll be able to explore the future of journalism and public media, consider how technology is changing the world, look at the policies and politics shaping our media, and discuss strategies to build the movement for better media.
2nd World Non-Profit and Social Marketing
April 11-12
Dublin, Ireland
The 2nd World conference will bring together those interested in applying strategic communications, marketing and behavior change methodology to solve key social challenges.
Digital Leap
April 12
Toronto
The Digital Leap conference is about communication in a digital world, particularly the combination of technology, strategy and creative in a digital age.
ONN Unconference
April 12-13
Toronto
This unconference offers lively opportunities to connect directly with peers who share your commitment and your challenges. Through hands-on problem solving sessions, topics built on delegate input, roundtable groups of common interests, an evening reception and practical follow-up, the ONN meeting offers plenty of opportunity to share challenges and successes, build strategic relationships and problem solve for your organization and your sector.
Global Philanthropy Forum
April 13-15
Redwood City, Calif.
The Global Philanthropy Forum Conference is intended for individuals who have made a significant commitment to philanthropy, and executives from private, public and corporate foundations. Participation in the conference is by invitation only, and invitations are not transferable.
NCTech4Good
April 15
Chapel Hill, NC
The NCTech4Good Conference is an annual day-long event that offers information and networking for staff, consultants and volunteers for all North Carolina nonprofits and similar organizations.
Humber Initiative on Philanthropy Conference
April 15
Toronto
This conference will bring together experienced industry leaders, up and coming Humber grads and innovative Humber students for a day of education on fundraising. The agenda includes educational lectures, interactive presentation sessions and networking assemblies. All profits from this conference will be donated to the Humber scholarship fund in order to support future generations of fundraisers.
Earth Day Build-A-Thon
April 16-19
Oakland, Calif.
The Earth Day Build-A-Thon is Habitat for Humanity East Bay's annual celebration of green building. The Build-A-Thon is not only the biggest building event of the year, it is also their biggest fundraising event. Participants raise pledges, as they would for a walk-a-thon, to help raise the funds needed to purchase the building materials for the homes.
Global Engagement Summit
April 20-24
Evanston, Ill.
The Global Engagement Summit is a five-day training conference for students committed to global change. Delegates come together to understand the opportunities for their engagement, to hone the skills and mindsets that will enable them to better plan and participate in change-based projects, and to connect with like-minded peers from around the world.
Transparency Camp
Apr 30-May 1
Washington, DC
This unconference will convene a trans-partisan tribe of open government advocates — government reps, technologists, journalists, developers, NGOs, wonks, activists — to share knowledge on how to use new technologies to make our government transparent, accountable and accessible to the public.
May
99% Conference
May 5-6
New York
This event brings together some of the world's most productive creative visionaries to offer a behind-the-scenes look at their processes as they share road-tested insights on pushing ideas forward.
Women Entrepreneurs for Social Change
May 13-14
Vancouver, BC
Women Entrepreneurs for Social Change is an intensive, interactive gathering focused on ways to lead a successful, socially conscious enterprise. This unique forum offers women from small and large organizations the chance to explore business challenges in an intimate and inspiring environment drawing on the successful Social Venture Institute model.
Media that Matters
May 18-22
Cortes Island, BC
Media that Matters is a retreat and collaboratory for digital visionaries who are building bridges to broader audiences and new possibilities. This intimate, multidisciplinary gathering is aimed at sharpening skills, strengthening leadership, expanding professional connections, fueling passions and navigating the currents of today's dynamic media climate.
ArtezInterAction
May 19
San Francisco
The program will cover a range of topics from integration of social media tools to exploring mobile giving to best practices for online fundraising that will help nonprofits connect with their donors and prospects online. Learn about the latest trends in cloud computing, social network fundraising, smartphone apps and mobile web e-commerce.
Microfinance USA
May 23-24
New York
This is the place where the nation's leading microfinance champions exchange ideas and information that set the agenda for the future of the field. Join the conversation with expert practitioners, top investors and frontline researchers to explore and expand microfinance in the U.S.
SOCAP Europe
May 30-June 1
Amsterdam
SOCAP is a multi-platform organization dedicated to the flow of capital toward social good. The event series connects global innovators – investors, foundations, institutions and social entrepreneurs – to build a market at the intersection of money and meaning. SOCAP is also returning to San Francisco in September.
June
Cause Marketing Forum
June 1-3
Chicago
Highlights of the ninth annual forum include presentations full of news you can use from the cause marketing masters, dozens of topic roundtables and small breakouts that promote learning and networking, and Cause Marketing Halo Award presentations that go beyond the kudos to share key learnings.
Connecting Up
June 1-3
Melbourne
Connecting Up 2011 is the nonprofit interactive event for learning and thinking strategically about how innovation and technology can improve our operations and outcomes.
Fundraising Day
June 2
Toronto
The Association of Fundraising Professionals represents 30,000 members in over 200 chapters in Canada, the United States, Mexico and China working to advance philanthropy through advocacy, research, education and certification programs.
Craigslist Foundation Boot Camp
June 2
San Francisco
Craigslist Foundation Boot Camp helps people learn how to make a positive impact in their communities and neighborhoods. The expanded focus aims at community builders and people engaged with their neighborhoods and social good across all sectors.
Personal Democracy Forum
June 6-7
New York City
The annual gathering of people interested in how technology is changing politics, governance and society.
MyCharityConnects
June 6-7
Toronto
Join nonprofits from across Canada and social media experts for the premier social media and online fundraising learning opportunity of the year.
National Conference on Volunteering and Service
June 6-8
New Orleans
I'll be speaking at this annual event, which provides attendees with an opportunity to learn, connect and be inspired through plenary sessions, workshops, special events, service projects, exhibits, specialized corporate tracks and more.
Net Change Week
June 6-10
Toronto
Net Change Week 2011 is a week dedicated to exploring the intersection between social technology and social change.
Social Change Institute
June 8-12
Cortes Island, BC
SCI gathers seasoned and emerging leaders with thinkers and trainers from the change-making world. Designed to strengthen capacity, collaboration and success of the sector, SCI offers invaluable workshops, creative practices, dialogue circles and community building that will enhance your organizational effectiveness.
North by Northeast
June 13-19
Toronto
In its 17th year, North by Northeast Music Festival and Conference (NXNE) has become the Canadian festival destination for new and emerging talent: unsigned bands, indie favorites and major-label headlining artists. Seen as the most anticipated summer music event in Canada, NXNE Music, NXNE Film and NXNE Interactive are essential gatherings for artists, industry reps and fans.
New Media Consortium
June 15-18
Madison, Wisc.
The NMC's Summer Conference is an opportunity to learn about how higher-education institutions are using new media to improve teaching, learning and research. The conference offers presentations, workshops and networking opportunities and attracts an audience of hundreds of highly skilled professionals interested in the integration of emerging technologies into teaching, learning and creative inquiry.
bigBANG!
June 16
Dallas
Last June bigBANG! convened a community of investors, philanthropists, social entrepreneurs, nonprofit leaders and others who want to helped catalyze positive impact. This year the organizers will continue to advance the agenda of social innovation in North Texas.
Netroots Nation
June 16-19
Minneapolis, Minn.
Netroots Nation amplifies progressive voices by providing an online and in-person campus for exchanging ideas and learning how to be more effective in using technology to influence the public debate.
Games for Change Festival
June 20-22
New York City
The festival brings together leaders from government, philanthropy, civil society, academia and the game industry to explore the increasing real-world impact of digital games as an avenue for social change. The festival is also a showcase for some of the most innovative new games in development.
Allied Media Conference
June 23-26
Detroit
The conference seeks to cultivate strategies for a more just and creative world. Attendees come together to share tools and tactics for transforming our communities through media-based organizing.
International Development Design Summit
June 27
Ghana, Africa
IDDS 2011 brings together people from a variety of backgrounds to learn about design and practice it alongside users in villages in Ghana. The summit will focus on designing and developing products and the ventures to disseminate them via village-based market research, iterative design, field testing, user feedback and co-creation.
Aspen Ideas Festival
June 27 -July 3
Aspen, Colo.
The Aspen Institute has been the nation's premier gathering place for world leaders to engage in deep and inquisitive discussion of the ideas and issues that both shape our lives and challenge our times. The institute now seeks to engage a broader audience in a discussion of the significant issues that touch all parts of our society.
Tällberg Forum
June 29-Jul 3
Sigtuna, Sweden
With the theme "How on earth can we live together – How can we agree to agree?," 500 leaders from all over the world and from different sectors of society will gather for a conversation about the whole – and in the interests of the whole.
Nonprofit 2.0 Unconference
TBA
TBA
The Nonprofit 2.0 Unconference was held last June at SEIU in Washington, DC; awaiting word on whethere there will be a 2011 event.
July
Project SEARCH
July 11
Minneapolis, Minn.
With a theme that focusing on "Celebrating Innovations & Outcomes, the fifth annual Project SEARCH conference serves as an opportunity to convene an international network of partners for a weeklong offering of education, training and shared learning planned to assist new and existing program sites in executing the Project SEARCH model to its fullest potential.
Bridge to Integrated Marketing & Fundraising
July 20-22
National Harbor, Md.
The Bridge conference brings together some of the biggest buyers, sellers and users of fundraising and direct marketing products and services. The three-day event features nationally and internationally renowned speakers and top cutting-edge educational programming.
OSCON
July 25-29
Portland, Ore.
The O'Reilly Open Source Convention assembles the best, brightest and most interesting people to explore what's new and to champion open source adoption across the computing industry. Participants from the vast, diverse community will come together to learn, collaborate and inspire each other.
Alliance for Community Media
July 27-30
Tucson, Ariz.
The Alliance for Community Media is where progressive media makers come together to learn and collaborate.
August
ASAE Meeting & Exposition
Aug. 6-9
St. Louis
At the ASAE 2011 Annual Meeting & Exposition, you'll find focused learning sessions, thought-provoking speakers, a solution-filled Exposition Hall, and plenty of networking opportunities.
Global CSR Summit
Aug. 11-12
Cebu, Philippines
This year, the Global CSR Summit will examine the issues of sustainability for businesses in Asia for the 21st century amid weaknesses in the global economy, environmental disasters, political instability in the Middle East and the global food crisis. The theme of the event is "Beyond Sustainability" and will highlight the future directions of corporate social responsibility. It will involve going beyond narrow concepts of sustainability that aims at "minimizing" environmental harm and maintaining the status quo toward a new paradigm of embracing innovative and cutting edge solutions that contribute beneficially to profits, societies and the environment.
GOSCON DC
Aug. 23
Washington, DC
This year, GOSCON will partner with the Meritalk Network for Goverment IT and co-locate with their Innovation Nation Forum for a special one-day program. Innovation Nation will focus on the three bellwether topics in Federal IT today — cloud, data center consolidation and cyber security — plus GOSCON will feature a full track on open source
September
SOCAP
Sept. 6-9
San Francisco
SOCAP is a multi-platform organization dedicated to the flow of capital toward social good. The event series connects leading global innovators – investors, foundations, institutions and social entrepreneurs – to build this market at the intersection of money and meaning. SOCAP11 is asking, What needs to be created, what needs to be put into action, what should the social capital market stand for? What does Money + Meaning = ?
Open Video Conference
Sept. 10-12
New York
This multi-day summit brings together thought leaders in business, academia, art and activism to shape the future of online video. It's a forum for technical and creative innovation in online video as well as larger questions. This year's event will be about a third as big as years past, with an emphasis on working groups and concrete action.
Social Venture Institute
Sept. 14-18
Cortes Island, BC
Participants will present their business problems to a panel of experienced business leaders and fellow participants. In return, they receive advice, tools, and resources to strengthen and grow their enterprise in a socially conscious way.
Web of Change
Sept. 21-25
Cortes Island, BC
Web of Change connects the foremost thinkers and do-ers in the growing community of social change and technology from across North America.
IdeaFestival
Sept. 21-24
Louisville, Ky.
IdeaFestival is a world-class event that attracts leading global innovators and thinkers to discuss and celebrate imagination, new perspectives and transformational ideas. (I've spoken here in the past and recommend it.) It provides a stage to explore the cross-cutting nature of innovation involving a range of diverse disciplines.
Artez InterAction
Sept. 29
Toronto
Join thought leaders and peers and participate in one of the world's top social fundraising exchanges. Watch an all-star lineup of speakers and sessions to explore the potential of mobile and social media on your fundraising programs.
October
Blackbaud Conference for Nonprofits
Oct. 2-5
Washington, DC
The gathering provides four days of educational content dedicated to your specific needs and unprecedented opportunities to network and interact with your peers and industry experts
Convio Summit
Oct. 3-5
Baltimore
Convio Summit is an information-packed gathering of Convio clients, partners, industry experts and other invited guests. It's an event filled with innovative ideas to get your creativity flowing, with real-world examples of techniques that you can start using right away to boost your fundraising, advocacy, marketing and donor management efforts.
SXSW Eco
Oct. 4-6
Austin, Texas
The first SXSW Eco will feature three days of diverse, top-level programming for professionals in business, government, nonprofits and academia who want to look at environmental and sustainability issues though a fresh lens, develop new collaborations and contribute to innovative solutions to the most pressing challenges facing the environment, the economy and civil society.
Retail Sustainability Conference
Oct. 12-14
Orlando, Fla.
The Retail Sustainability Conference brings together executives involved in establishing environmental programs and integrating green practices into their companies. The conference's program will address the key operational aspects of environmental sustainability and compliance for the retail industry, including sessions on energy, waste management, water conservation, store operations, real estate development, supply chain issues and opportunities for improving corporate social responsibility.
Bioneers Conference
Oct. 14-16
San Rafael, Calif.
Since 1990, the Bioneers conference has acted as a fertile hub of leading social and scientific innovators with practical and visionary solutions for the world's most pressing environmental and social challenges. As a celebration of the genius of nature and human creativity, Bioneers connects people with solutions and each other. It's a dynamic knowledge platform and a uniquely holistic and diverse network of networks.
fiess 2011
Oct. 17-20
Montreal
This forum is intended as a meeting place for people and ideas. The event aims to bring together key players in the social and solidarity economy from countries across the North and South and their partners in government, labor movements, research institutes and international organizations, to help strengthen partnerships between civil society and governments, to highlight successful partnerships, particularly in the development of public policy, and to encourage the exchange of ideas around the theme of the social and solidarity economy at the international and inter-regional level.
Pop!Tech
Oct. 19-22
Camden, Maine
Pop!Tech will mark its 15th annual gathering with more than 600 remarkable thinkers, leaders and innovators showcasing powerful ideas and projects that are changing the world. I attended one year — it's a great gathering.
Social Venture Network
Oct. 27-30
Philadelphia
Social Venture Network connects, supports and inspires business leaders and social entrepreneurs in expanding practices that build a just and sustainable economy.
Social Enterprise Summit
Oct 31-Nov 2
Chicago
This international forum advocates for increased social impact through social enterprise. Join over 700 social entrepreneurs to learn, grow, be inspired, make new connections from around the globe and become part of this expanding movement.
November
BSR
Nov. 1-4
San Francisco
BSR works with its global network of more than 250 member companies to develop sustainable business strategies and solutions through consulting, research, and cross-sector collaboration.
BlogWorld & New Media Expo
Nov. 3-5
Los Angeles
BlogWorld moves from Las Vegas to LA, where experts from every field of blogging and new media will be on hand to share their knowledge, techniques and advice. Industry gurus will share their experiences and network with attendees in seminars and moderated panels.
Digital Capital Week
Nov. 4-11
Washington, DC
DCWEEK is a festival focused on bringing together designers, developers, entrepreneurs and social innovators of all kinds. Last year, the inaugural Digital Capital Week showcased tech innovation in Washington. The 2011 version of Digital Capital Week promises to be even bigger.
Women in Computing
Nov. 8-12
Portland, Ore.
The Grace Hopper Celebration of Women in Computing is a series of conferences designed to bring the research and career interests of women in computing to the forefront. Presenters are leaders in their respective fields, representing industrial, academic and government communities.
BigTent
Nov. 3-5
Omaha, Neb.
The BigTent Conference is a three-day day gathering of youth leaders, educators, advocates and young people who will share strategies, philosophies and tools to advance the health and wellbeing of families and children. The conference combines inspiring presentations, practical workshops and celebratory community building all aimed at equipping individuals, organizations and communities to do their part to ensure that young people are ready for college, work and life by age 21.
Vivanista's Charitable Fundraising Summit
Nov. 10-12
San Francisco
Vivanista's Charitable Fundraising Summit will bring together volunteer leaders, fundraising event chairs and nonprofit development staff to learn from experts as well as share fundraising best practices. This 1 ½ day conference will include an Awards Dinner honoring volunteers who have been nominated in a variety of fundraising fields.
Nonprofit Software Development Summit
Nov. 16-18
Oakland, Calif.
Aspiration helps connect nonprofit organizations with software solutions that help them better carry out their work. The firm's annual "NPTechie Love Fest" seeks to maximize nonprofits' effectiveness and impact.
NextGen Charity
Nov. 17-18
New York
NextGen Charity is the conference on new strategies in nonprofit and philanthropy work.
ARNOVA
Nov. 17-19
Toronto
ARNOVA, now in its 40th annual year, is the largest and most significant research conference focusing on nonprofits, philanthropy, voluntary action and civil society to be held on an annual basis. More than 600 prominent scholars and teachers, as well as practice leaders for the nonprofit sector, from across the U.S. and around the world will participate.
International Green Awards
Nov. 24
London
The International Green Awards is an initiative enlightening the world through showcasing the best in class examples of creativity in business, citizen and government initiatives leading to sustainable outcomes. This year, the gathering looks to reward sustainable achievement right across Business, Government & Citizen initiatives that influence positive change.
December
Securing Our Rights in the Information-Sharing Era
Dec. 1-2
San Francisco
The convening will bring together organizers, policy experts and community leaders to better connect our work. Learn about existing data sharing programs and the different federal, public and private agencies involved in these programs, develop capacity to fight back and connect privacy experts with the communities affected by surveillance and information sharing.
Big Ideas Fest
Dec. 4-7
Half Moon Bay, Calif.
Conference participants will delve into the many opportunities in education to say "Yes, and" in an effort to build new solutions for education to better serve learning. Rapid Fire speakers provide the inspiration to think differently, and Action Collabs lead the charge to create and act differently.
Other conferences and events
We can't possibly list every conference in the world, but if you know of addtional gatherings that should be included here (or if you see anything amiss), please share in the comments!.
Note: We couldn't find any 2011 listing yet for:
• Global Voices Citizen Media Summit: Last year's event was held May 6-7 in Santiago, Chile.
• Nonprofit 2.0: Last year's event was held June 25 in Washington, D.C.
• Communicating Sustainability: Last year's event was held Sept. 22-23 in Santa Clara, Calif.
• The Feast Conference: Last year's event was held Oct. 14-16 in New York
• Association of Fundraising Professionals: Massachusetts Conference on Philanthropy: Last year's event was held in December in Boston.
— Thanks to Serge Paulyn Ramirez for helping to compile this directory of events.JD Lasica, founder and former editor of Socialbrite, is co-founder of Cruiseable. Contact JD or follow him on Twitter or Google Plus.