Shelbyville project kicks off with a series of 'Welcoming' videos

Chances are you haven't yet heard of Shelbyville, a small rural community in Tennessee, much less than the upcoming "Welcome to Shelbyville" documentary or the online project that is forging a pilot, or prototype, for communities to tell and share their own stories. So let me share my initial impressions of this remarkable, ambitious, exciting effort.
On Monday I was lucky enough to be a part of a "digital braintrust" of 20 progressive media and nonprofit representatives at the Bay Area Video Coalition headquarters convened by Active Voice, a San Francisco-based nonprofit that uses film, television and multimedia to spark social change.
We spent two hours reviewing the Shelbyville Multimedia project and offering ideas about how to finish it out and what to do differently next time. First, a quick overview: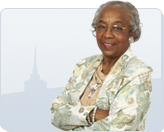 Active Voice conceived the vision of building a story-driven Web platform and brought together a team consisting of Free Range Studios, a creative services firm, and documentary filmmaker Kelly Whalen.
Over much of the past year, the parties combined efforts to create the ShelbyvilleMultimedia.org website while Kim A. Snyder directed and produced "Welcome to Shelbyville" (executive produced by the BeCause Foundation, in association with Active Voice) which has grown into an hourlong documentary that will air on ITVS' "Independent Lens" series on PBS on May 24.
You can see the webisodes, produced by Active Voice in association with the BeCause Foundation, on the Shelbyville Multimedia channel on Vimeo. If you're an educator, activist or community organization that wants to engage on a deeper level and host some of the webisodes on your own site or blog and invite conversations about the stories, head to the webisode discussion questions page.
What are your impressions? Please share your thoughts in the comments!
'Shelbyville': Stories about immigrant integration
Welcoming America is an umbrella organization that works to promote mutual respect and cooperation between foreign-born and U.S.-born residents.
The Shelbyville project is a series of stories about immigrant integration. One of Active Voice's objectives was to introduce people to Welcoming America, an umbrella organization that works to promote mutual respect and cooperation between foreign-born and U.S.-born residents. It is overseeing "welcoming" initiatives in 14 states, including Welcoming Tennessee.
"They opened doors for us in Shelbyville and introduced us to other affiliates, who hosted community 'sneak previews' in October," said Active Voice operations director Daniel Moretti.
Active Voice approached Irina Lee, the creator of First Person American, about working on a pilot based on the Welcoming Stories theme. The idea, Moretti said, was "to combine FPA's aesthetic and authenticity with Active Voice's need to attract user-contributed stories. We're hoping to raise funds to keep going, to both send Irina to other cities, and to commission other artists to create new Welcoming Stories formats."
You can see some of the Welcoming Stories on the Tumblr site created by Active Voice and Free Range.
The tone of the two sites is positive and uplifting. As Moretti told us: "We didn't want to build an advocacy site but a site to help people take the next step by providing options for different levels of engagement."
While the project took a lens to the issue of immigration in rural Shelbyville, Tenn., Moretti pointed out: "We're media strategists, not immigrant integration specialists. We had a feeling that what was going on in Shelbyville would resonate with people in small towns and large cities across the country, and we're eager to help them connect to these issues in a human and nuanced way. But Welcoming America is doing this important work for the long haul, and we hope the website will be a great vehicle for them."
The story-driven Web platform that Active Voice and Free Range developed, then, is not just to showcase webisodes, parts of a documentary or even the story of Shelbyville. Active Voice sees it as an early pilot of how other communities can tell their stories in a deep, meaningful but easy and lightweight way, with the focus on individuals' stories rather than forcing users to wade through a complex backstory.
The initiative's promise as a prototype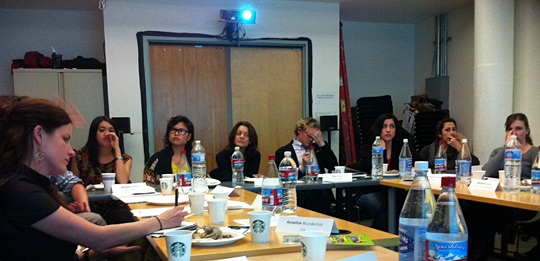 The Active Voice gathering at BAVC on Monday.
My impressions:
It's a superb initiative — one that I think will attract considerable interest across a number of sectors: educators looking for meaningful materials to incorporate into curricula, community activists and cause organization folks interested in a promising new social change platform, and others.
The producers were wise to tap into an outside braintrust for a reality check at a critical juncture in the project — two months before the documentary airs on national television.
Some reactions and ideas I tossed out (and am adding to here) — some of which others echoed or built on:
• I love the nonlinear aspect of the site and the stories that are built through each resident. Every "character" gets her own page, containing a profile, her webisodes, a brief quote and short bio. Nice. John Bruce of ForwardMapworks called it "transmedia," allowing the user to enter the story at multiple points.
• Also love the focus on character arcs and interesting personalities rather than loading visitors down with too many facts.
• I suggested holding a live online town hall in Shelbyville on the evening of May 24 to coincide with the national broadcast — and to live stream it with LiveStream (another participant suggested CoverItLive) to enable both viewing and comments.
• I also suggested offering the webisodes as an ongoing weekly series on a national site or in a local publication to gain added visibility and traction — maybe in Nashvillest, my favorite hyperlocal Web publication.
• And I suggested creating a strong call to action on the front page of Shelbyville Multimedia and to create a Welcoming Toolkit that offers tools and resources to community activists and reformers.
• I would toss out the Shelbyville Multimedia logo and create a new one with the state of Tennessee as the backdrop while incorporating a dot to designate where, exactly Shelbyville is located — the very first question everyone asks when they come to the site. And use it across all online properties.
• I think the project took a slightly wrong turn with its initial branding. "Shelbyville Multimedia" doesn't convey the idea of community residents sharing their personal stories. (I notice that some good urls, like ShelbyvilleVoices.com, are still available.)
• As a result, it's difficult to tie the disparate elements of the project together. The team used WordPress as its still-in-progress Web platform and a separate Tumblr site, with completely different branding, as a way for people to contribute their own stories. In the end, a Tumblr site seems to detract from the main site.
• The team also decided not to allow comments or conversations on the main site, chiefly because of issues regarding limited resources for moderation. I wouldn't have gone that way — I think you need to build in those capabilities as a fundamental part of any site that calls itself a community platform. Certainly conversations should be encouraged to bloom across independent sites and blogs, but the lack of a central "conversation hub" seems to swim against the tide in this era of interactivity, even if many of the conversations are happening elsewhere.
• As it is, that shortcoming can be ameliorated by adding a series of conversation widgets — pulling from Twitter or outside blogs — on the main site.
• Similarly, the idea that supporters who want to embed Shelbyville webisodes on their own sites cannot do so without obtaining permission in advance seems like a business decision forced on the team by traditional filmmakers concerned about control over all digital rights. Certainly, there are tradeoffs and difficult choices that face project leaders when choosing nationally acclaimed filmmakers over untested documentarians who lean toward openness. But I sense that, for the next project, there are plenty of talented filmmakers and digital storytellers who prize sharing and creativity and are adept with producing high-quality visual stories.
• The team said they settled on Vimeo to host the videos because it monitors where the videos are being hosted, while YouTube does not. But another participant pointed out that YouTube allows for greater visibility, serendipity and discovery and offers options to view related videos at the end of each viewing. And I'll add another: I believe YouTube allows nonprofits to embed an "ask," or call to action, at the end of its videos, while Vimeo does not. (Having said that, I tend to use Vimeo more than YouTube for my own video hosting.)
Those reservations aside, Shelbyville Mutlimedia deserves kudos and congratulations for pulling together an accomplished site in just a few months. It's an inspiring, rare and possibly groundbreaking project that's worth your attention — and perhaps a welcoming initiative in your own community.
Related
• How Shelbyville Multimedia came about
• First Person AmericanJD Lasica, founder and former editor of Socialbrite, is co-founder of Cruiseable. Contact JD or follow him on Twitter or Google Plus.

This work is licensed under a Creative Commons Attribution 3.0 Unported.