We've already looked at seven different ways that people interact with your Facebook Page.
Facebook Insights allows you to view daily interactions by type in a report called "Daily Active Users Breakdown."
This report can be found by selecting the "Users" report on the left-hand side of your Insights panel: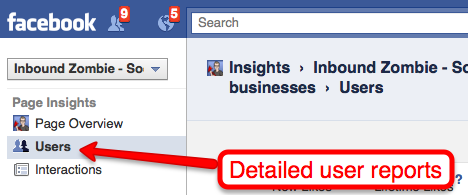 Understanding the breakdown of Daily Active Users
Halfway down the Users report, you'll find the Daily Active Users Breakdown chart:

This chart provides daily numbers on five different stats. Mousing over any data point in this chart will allow you to see details for a specific day.
Unique Page Views – This is the number of users per day that have viewed your Page.
Post Views – This is the number of people per day who have viewed your posts. This number is typically higher than the other data points because posts receive a large amount of exposure in news feeds.
Liked a Post – The number of unique fans per day who have liked a post.
Commented on a Post – The number of unique fans per day who have commented on a post.
Wall Posts – This is the number of unique fans who have posted to your Page (includes updates, photos, videos, links).
What does this tell data me about my fans?
Like any set of data, it always makes more sense in context. The quickest way to get context is to view a time period of at least 30 days.
Two trends that stand out in the above example:
Concentration of active fans – You'll notice that Post Viewers is much higher than Unique Page Views. This means that most of the interactions are from a small group of fans.
Creators need reminders – Wall Posts were apparent on days when five or more fans commented on Page posts. This could mean that active fans like to stand out from the crowd with their own ideas.
I'll be taking a deep dive into Facebook Insights with Charityhowto on May 18th, 2011.
Related
John Haydon delivers social web strategy solutions for "the quick, the smart, and the slightly manic." Curious? Then visit the John Haydon blog, follow him on Twitter or leave a comment.

This work is licensed under a Creative Commons Attribution-NonCommercial 3.0 Unported.