It only works when it's connected to the real world

At the National Conference on Volunteering and Service — which some folks call "the Super Bowl of nonprofit conferences" — George Weiner and I teamed up on one of the most successful Social Media for Social Good Bootcamps that Socialbrite has put on to date. (Socialbrite has put on camps in New York, San Francisco, Miami, London and elsewhere.)
For those of us who live and breathe tech and social media — me in Silicon Valley and George, CTO of DoSomething.org, in New York and Washington, DC — it's always a good reality check to come to gatherings like this and see how the non-early adopters are faring.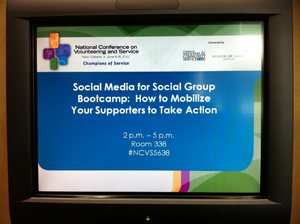 The three-hour session we led yesterday offered a range of tips on how to use social media strategically for campaigns, for collaboration, for building community, and I invite you to browse through the presentation above, since the attendees found it useful: "AMAZING session" (thanks, Volunteer Centre) … "awesome, fantastic session" (thanks, NCVS) … "Great session!" (thanks, Groupon).
But there were more beginners in the crowd than I expected. For instance, only about five out of 50 particpants were using Google Analytics (the free tool every website and blog ought to have). None had heard of the Grassrootsmapping.org effort to document the Gulf oil spill, even though we're right here in New Orleans. And only one out of 80 people (not counting me) at today's session on data had ever used Tumblr, an easy way to post blog entries and photos.
These are good, smart, motivated people — we need to break through the barriers and connect the tools and strategies with the organizations and causes that need them, starting with the basics.
So let's take a deep breath and remember: We still have a lot of work before us, and there's a lot of education yet to be done.
JD Lasica, founder and former editor of Socialbrite, is co-founder of Cruiseable. Contact JD or follow him on Twitter or Google Plus.

This work is licensed under a Creative Commons Attribution 3.0 Unported.