Tap-n-Give app helps lay groundwork for other charity apps
Guest post by Tonia Zampieri
Smart Online

Does a mobile app make sense for your nonprofit? It depends.
If your organization has the capacity to support one, a mobile app can be not only a phenomenal branding tool but also an entirely new way to capture engaged supporters who spend a large amount of time on their mobile device. It provides a new channel to share content and, in some cases, even monetize content that previously would have been difficult to do.
Being a passionate nonprofit professional and self-professed mobile techie, I embarked on a journey in spring 2009 to launch a mobile app that would support nonprofits. It was a little crazy, but deep down I knew that mobile was where things were going.
My idea was simple: To create a tool that would deliver more awareness, engagement and financial support to important causes, all from a rapidly growing medium: smartphones! Imagine anyone with one of these devices having the ability to learn about, spread the word, raise funds, volunteer and more, all from their fingertips. How cool.
The outcome became Tap-n-Give (now defunct), an iPhone app available on iTunes during 2010 that supported a handful of nonprofits. The development cycle took nine months and cost $10,000. It was a pilot project with limited success, but the process — from market research to determining what the app would do to project management with the app development company — was quite an experience!
Learn from my mistakes
Here are some of the things I probably would have done differently (and will do differently for my next app!):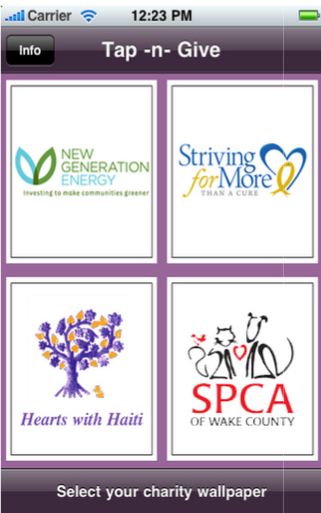 Performed more consumer research about how a potential supporter would want to interact with their favorite nonprofit.
Provided optional email address input instead of forcing the user to provide email upon app download.
Explored other avenues to collecting the contact info throughout use of the app.
Provided a free initial download with in-app purchase capabilities within the
app and user experience.
Created a more interactive use case involving a simple game or other utility that
would encourage repeated use.
App wasn't very "sticky" and short on functionality due to a limited budget. Wait
until more funding is available to make an investment and identify a clear ROI.
Had a clearer marketing strategy about how the nonprofit partners would
market the app for download – and how it would tie in with their existing
campaigns.
Worked with a professional team who understood more than code but the use
cases that would make for the most successful nonprofit focused app.
The learnings have been priceless, and I want to share them with you in the video above and in this Charity Mobile App Retrospective whitepaper. It's time to hop on and get informed – here's hoping these tools will be a solid start.

This work is licensed under a Creative Commons Attribution 3.0 Unported.