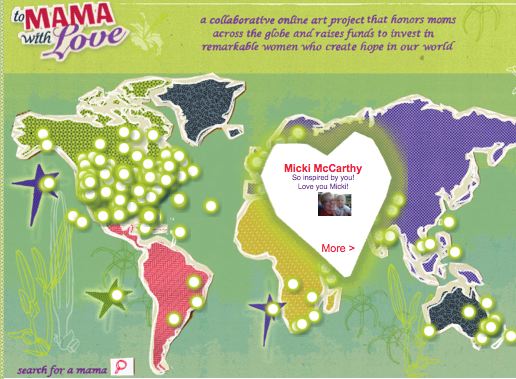 JustCoz, Twibbon, Google Docs were among tools used for community engagement
Guest post by Amy Sample Ward
Membership Director, NTEN

Every campaign, every organization, every individual engaging with others online has a set of tools and techniques they've learned from and rely on every day. Building community and maintaining engagement is often a full-time job – even if it goes unpaid.
Epic Change is no different. The To Mama With Love campaign saw them try some new tools as well as some trusted favorites, even with no budget and lots of volunteer time.
Twitter is a major part of Epic Change campaigns and their daily engagement plan. To Mama With Love is no exception – but, as Stacey Monk, CEO of Epic Change, reflects, "It's a much different medium than it used to be."
Two or three years ago, you could have a conversation out in the open and have people organically join in. It's much more challenging to do that now.
Two or three years ago, you could have a conversation out in the open and have people organically join in. It's much more challenging to do something like that now. The 2011 To Mama With Love activity on Twitter was driven primarily by people very close to the campaign, whereas the first Tweetsgiving was driven by people Stacey didn't know yet or hadn't invested time cultivating relationships with.
More than 180 people with over 635,000 total followers signed up to participate by authorizing Epic Change to post via their Twitter account using JustCoz, an online relay system that lets you donate a tweet a day to help raise awareness for causes that matter to you.
While there were a few instances of serendipity – where notable JustCoz participants like prominent technologist & entrepreneur Jeff Pulver (who has over 400,000 followers) were retweeted by followers like Cisco CTO Padmasree Warrior (who has nearly 1.4 million followers) – Stacey points to the difficulty in getting people to join in the conversation on Twitter.
Some messages sent by Epic Change via their 180+ JustCoz participants would get zero response — from over 635,000 total followers. "No one seems to be listening anymore," Stacey said.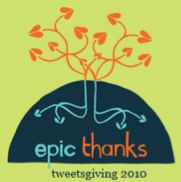 By comparison, when Epic Change launched the original TweetsGiving in 2008 – when Stacey herself had far fewer followers & the Twitter ecosystem itself was exponentially smaller – the campaign generated over 3,000 tweets in just 48 hours.
Twitter should be used for cultivation, not broadcasting. Stacey uses it for one-to-one personal connections. She explains that when they first approached Twitter, they thought it would be a way to amplify voices of people who weren't being heard. Now it seems like no one will be heard.
JustCoz: Relying on focused engagement
Twitter was thought of separately than JustCoz for just this reason. Focused engagement, with direct messages, replies and retweets, required a different process and purpose than broadcast messages.
The limitations of JustCoz include the ability to send messages only once every 24 hours (meaning, at least 24 hours must pass between messages), messages go out through all authorized accounts at once (there's no option to stagger posts) and you have only one message (there is no segmenting).
In Stacey's opinion, the most helpful tweets are the ones written authentically from the first person. You can't do that when you're mass-tweeting.
Stacey and her team thought JustCoz could be a good way to get people involved and start generating buzz before the site actually went live, and then maintain some messaging throughout the campaign.
How did it go? Well, like much of social media, it depends on the message. Here are a few of the examples:
When we asked people to join by tweeting, because it was easy and different, we went from 20 to 180 people who had signed up to let us tweet through their accounts.
When we tweeted with the ask "write a love note," we generated more responses to that during the campaign than actual campaign messages.
We thought we could generate a conversation but it didn't happen. That may have been because the "tweeter" of the message wasn't aware that they'd tweeted anything, so couldn't carry on the conversation. Stacey offered that it would be helpful if JustCoz participants received a direct message any time a message was sent from their account.
Twibbon, Pitch Engine and blogger outreach
Epic Change also incorporated Twibbon into the To Mama With Love campaign. Supporters simply connected their Twitter profile with Twibbon on the TMWL Twibbon page, and the tool updated the Twitter profile picture of the user with an overlay that included the campaign logo and hashtag. According to the Twibbon profile for TMWL, 667 users added the badge to their pictures.
In addition to Twitter, two volunteers created separate press releases about the campaign on PitchEngine to spread through their networks. Stacey does feel that it's a useful and simple tool that can help spread your story, but had there not been volunteers in the public relations industry involved in the group, she may not have made the time to use the platform.
When it came to blogger outreach, a Google Doc was the preferred and successful tool. They were able to update it at any time with all the information necessary to reach out to, orient and support bloggers spreading the message about the campaign.
The first TMWL campaign used a highly customized WordPress site. To incorporate the level of functionality and customization they wanted for the 2011 campaign, Epic Change recruited a volunteer developer to redesign the site in PHP.
They did not have a preference in mind for the redesign when it came to the programming language, just a clear understanding of what they wanted supporters to be able to do. That directed the build. PHP was selected because that's what the developer volunteering to contribute the tremendous amount of work and hours was most comfortable with.
The team had about six to eight weeks of development from mock-ups to live site. But, again, that was with incredibly capable developers passionate about the work and campaign. In most cases, it should be noted, the process would take longer. An important contributing factor to the speed at which they could build the site was their clarity around what they wanted and needed; they never changed their minds or redesigned aspects during the process.
Bit.ly was another major infrastructure component, Bit.ly is a URL shortener that allows you to track your links across social media as well as customize the shortened link. Epic Change had an organizational account and almost always gave a URL they were using in email, Facebook or Twitter a unique URL that matched the content or ask. Especially when it was a URL to pages they would reference often, like the sign-up pages to join the volunteer team, creating the shortened URLs helped them share easily while making it easy for supporters to share appropriate links, too.
The third part of the TMWL infrastructure was Radian6, a social media monitoring service. Radian6, which was acquired by Salesforce on March 30, sponsored the campaign by providing Epic Change with free access to the monitoring tool. This allowed Stacey and the team to have real-time access to detailed metrics, making it possible to revise the messages & tactics on the fly.
Manymoon: Project management app connects to your Google accounts
Planning tools abound, especially for small teams looking to use a Web-based tool to keep everyone connected and informed at any time, from anywhere. Epic Change used four planning tools, but much of the work was really in just two: a private Facebook group and Google Docs.
With the intention of using a project management tool to be organized and purposeful before the campaign, and during, Stacey set up the team with Manymoon, a project management application that connects to your Google apps/Gmail accounts. Stacey felt it was a great tool, but they didn't use it effectively. Furthermore, asking volunteers to master a tool that's not entirely intuitive — that's the biggest fault with most every project management tool on the market — is a stretch. Ultimately, Manymoon was helpful for putting the plan together between Stacey and Sanjay. They will look for another tool to use next time specifically for site development planning.
Stacey found that what they were trying to do in a project management space wasn't really project planning, but organizing the volunteers and volunteer opportunities. As such, creating Google Docs let them have varying levels of privacy for different documents – some were intended to be shared publicly, others with just the team and so on – as well as update content easily and in real time. Some of what they used Google Docs for included:
A new form for supporters to sign up for various missions
Information for bloggers
Information about the campaign and how to get involved
To make the Google Docs even easier to share, Stacey created custom URLs for the pages using Bit.ly.
The bulk of the communicating, organizing and planning – both before the campaign launched and during – was carried out through the private Facebook group. Stacey was already participating in private groups to have an idea of the functionality and options and found private groups could be really engaged – especially because of the functionality and layers of notification settings that Facebook provides across the platform.
One aspect they were dissatisfied with about the Google Group from the 2010 campaign was the broadcast feeling of the emails, often resulting in Stacey being the only one to start a conversation or share a message. On the flip side, they found the Facebook group allowed for people to start their own threads and conversations. This wasn't because of any difference in permissions between the two platforms but because discussions in Facebook's groups are all visible and non-linear, whereas email can often lead to conversations getting muddled or people reading and following without responding.
Using both Facebook and Google for groups
Stacey struggled with the decision to commit so much time, energy and focus on Facebook during this campaign because of the ethical questions around the site's practices regarding personal privacy, data sharing and so on. They had a lot of conversations around whether they wanted to be in there; they knew there were people who would have participated but do not want to be on Facebook. It was a difficult decision that meant people would be left out.
Despite the downside, they do want to nurture the group that formed there in between campaigns and get people involved further ahead of time for the next campaign. Ideally, though, Stacey says she'd like to see something that is equally useful and easy to use, but that will allow everyone in. She'd like to have the option of choosing both utility and ethics.
Since the Facebook group kept most of the supporters and volunteers engaged throughout the day with updates, idea sharing and feedback, the Google Group was used mostly for major updates to ensure that important announcements made it through to everyone involved. Since Facebook's notification settings can be set to receive no email updates from groups, Stacey felt it was important to send periodic updates through the Google Group as a supplement, even though it was not very good for conversation. She thinks they may move to MailChimp next year.
Because it is a fundraising (and love-sharing) campaign, it could be argued all of the tools are fundraising tools. But, as for specific technologies used for transactions, there were just two: bitcoin and PayPal.
Representatives from bitcoin, a peer-to-peer currency exchange, reached out to Stacey before the campaign. Epic Change decided it could be an interesting way to allow for donations, so they added it to the TMWL site. Ultimately, only one person used it. Since it does not require extra work or management by Epic Change, they may continue to offer it for their campaigns and measure any growth in interest.
PayPal was the the workhorse, as it managed all of the donation processing. PayPal offers reduced fees for 501(c)3 organizations and is a flexible tool for donors (not requiring a PayPal account, for example).
Have you used any of these tools? Please share your questions and your experiences!
Related
• Plant the seeds of hope wherever you can (Socialbrite)
• 5 lessons from a crowdsourced birthday party (Socialbrite)
• Why you need to share your story (Socialbrite)

This work is licensed under a Creative Commons Attribution-NonCommercial 3.0 Unported.