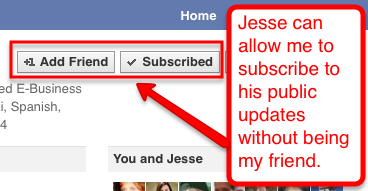 And what it means for your nonprofit
Target audience:Nonprofits, NGOs, cause organizations, social enterprises, brands, social media managers, individuals

With all of the amazing features that Facebook Pages have, the one thing that they've always lacked is the ability to create that personal connection that Facebook users like.
This all changed last week when Facebook released a new feature on Facebook profiles called the Subscribe button. This feature allows people in your organization to publish content on their personal Profiles that anyone can subscribe to without compromising any privacy.
What this ultimately means for your organization is creating a deeper, more personal experience around your nonprofit on Facebook. (Ted shares a few examples on the frogloop blog.)
In the image at top, you can see that I have subscribed to Jesse's public updates, but I am not his friend.
How will this affect my current friends on Facebook?
This won't change how you and your friends connect on Facebook. They've always been able to see your updates (and vice versa), so you won't have to "subscribe" to each other (see image below).

You can choose to filter what types of updates you see from both friends and non-friends you've subscribed to (important events, photos, comments and likes, status updates). The filtering options include life events, status updates, photos and more (see below).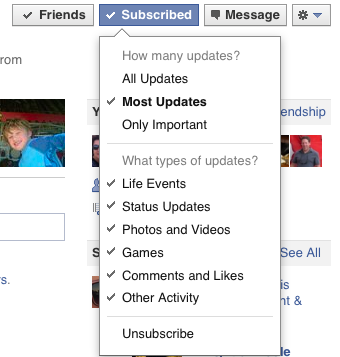 How to configure the subscribe feature on your Facebook Profile
To enable the Subscribe button on your Profile, click on the "Subscriptions" tab on your Profile and click "Allow Subscriptions":

Then you want to turn commenting on. This allows Facebook users who aren't your friend to comment on your public updates.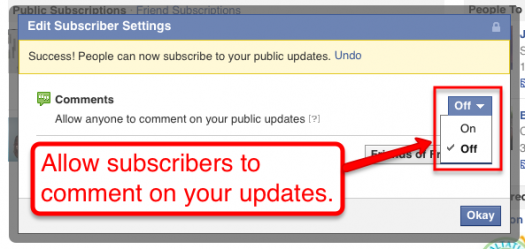 Finally, you want to choose who you want to get notifications about.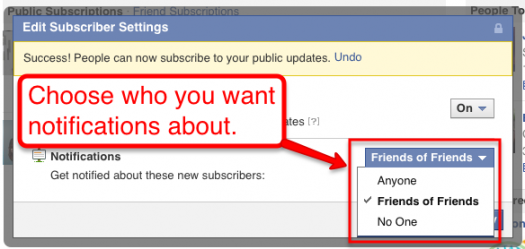 Once you've activated the Subscribe button, Facebook users will be able to see the number of people who subscribe to your public updates. Kevin Rose, the founder of Digg, has over 223,000 subscribers already!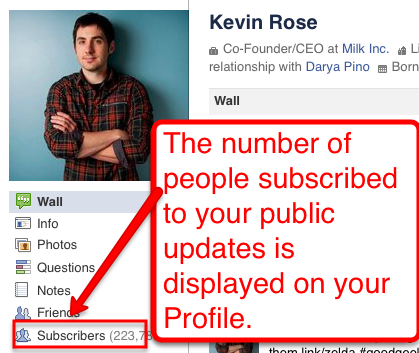 How to publish content to users who subscribe to your Profile
As soon as you've allowed people to subscribe to your public updates, users who subscribe to your Profile will be able to see updates that you've published as public. Keep in mind that you'll have this choice every time you publish an update on your Profile.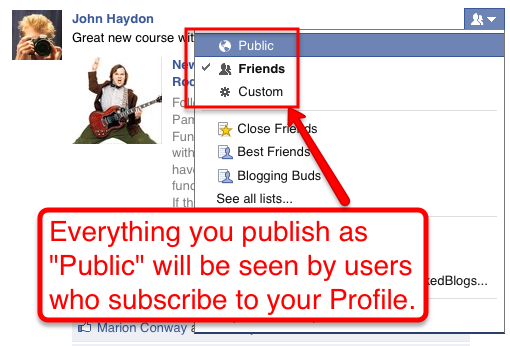 Remember: The Subscribe button won't create great content for you.
Activating the Subscribe Button implies you are sharing information that's interesting and valuable. Your content strategy should now include ways that your organization's leaders can optimize content for Facebook.John Haydon delivers social web strategy solutions for "the quick, the smart, and the slightly manic." Curious? Then visit the John Haydon blog, follow him on Twitter or leave a comment.

This work is licensed under a Creative Commons Attribution-NonCommercial 3.0 Unported.