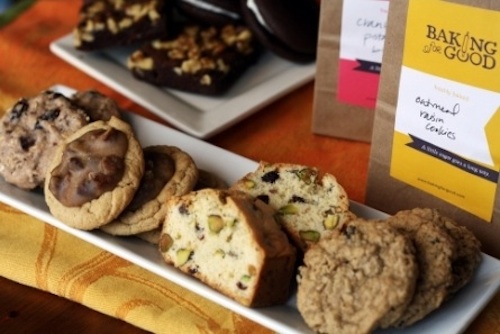 Baking for Good learned that quality labeling doesn't have to break the bank.
Tips and tricks for making the most of the funds you've got
Target audience: Nonprofits, NGOs, cause organizations, businesses, brands, social enterprises, social entrepreneurs, marketing managers.
Guest post by Emily Dubner
Founder & CEO, Baking for Good

Two years ago, I launched Baking for Good, an online gift bakery that donates 15% of the proceeds from every sale to a charity of the customer's choice. I started the company with $40,000 of my own savings and got busy growing it, rather than waiting to raise more capital from outside sources. Whether you are a for-profit or nonprofit business, you will always be dependent on cash flow to grow your business, but just because you don't always have the funds you want doesn't mean you need to scale back everywhere.
Here are my top tips and tricks for bootstrapping your business or nonprofit without sacrificing results.
Be willing to spend in order to save.
1 There will always be people willing to work for you for free or next to nothing — whether it's because they consider it to be a good experience, they have time on their hands, or they are your family and friends. If you find a person who is an expert at the role in question, you've won the lottery. But in many cases, you may find yourself let down. Take design, for example. Before I started Baking for Good, I paid next to nothing — about a hundred dollars — for a friend to design my logo. No offense to my friend, but the logo was terrible. I didn't really know any better, and I was very cautious about spending money, so I went with it. But a few months later, a mentor gave me great advice: "You only get one shot when you're launching your brand, so invest in the important stuff like the logo and design." I took a step back and realized that I needed to bring in a professional, someone who would have the time to really help me envision my brand and then bring it to life.
Looking back, what I would have done instead when my friend offered to help was ask her not to design my logo, but to brainstorm a few different ideas for the logo font or style so that I would have a better idea of my vision when I worked with a professional designer. Instead, I came to my designer with a blank slate and spent a lot of time in the "discovery" phase before we got to the real design work.
When outsourcing work, find partners who believe in you.
2 Since Baking for Good is a small, bootstrapping company, I've had to outsource many of the core roles of the business. Web development in particular was an area that I had to outsource, because I could not afford to bring on a full-time developer. The decision about which firm to work for came down to two contenders: a super professional, buttoned-up firm that delivered its proposals on-time and was responsive to feedback, and a laid-back, creative agency that took a while to write me a proposal but really "got" my idea and inherently believed in it.
By choosing to work with the firm that believed in Baking for Good, I got world-class service without having to stretch my budget.
At first, both firms came to me with quotes that were way out of my budget. The first firm helped me eliminate features in order to bring the price down. The second firm brought the price down significantly without changing any of the specs and then asked me to propose payment terms that would work for me.
I went with the second firm, and although there were frustrations along the way, they built an amazing site for me and have been willing to continue to work within my limited budget, even if it means that they have to cut their rates significantly to do so. I know that if I had worked with the first firm, subsequent Web changes and developments would have been difficult, if not impossible, for me to afford. By choosing to work with the second firm — the one that believed in Baking for Good and was committed to helping it succeed — I got world-class service without having to stretch my budget.
Think before you print.
3 One of my biggest regrets with the lead-up to Baking for Good's launch was having ingredients stickers printed for the treats we were planning to sell. My designers envisioned cookie favors that would have a small Baking for Good sticker on the front and an ingredients sticker on the back. Since "www.bakingforgood.com" was already on the front, we didn't include it on the ingredients sticker for the back. To achieve economies of scale and save money long-term, I decided to have thousands of the stickers printed. Well, guess what? I've never used them, for a whole slew of reasons:
Many of the favors we do are for special events like weddings or birthday parties, so our customers want to do custom stickers instead of our standard ones.
We ended up changing the recipes for some of the treats soon after launch, making the ingredients no longer accurate.
I had no use for the stickers on their own because they didn't have our name or website on them.
Now I'm very cautious about what I print. I always try to do a small-scale version of what I want to have done professionally and try it out to see if it works, see how I want to change it, etc. It sounds intuitive that you should test things before spending money on them. But, you would be surprised how many times clients ask for something special printed for custom gifts we do for them, only to realize they want to change the messaging or the design and then have to start over. So before you make any important, expensive decisions, do a small-scale test drive first!
What are some bootstrapping tips that have worked for your organization?
Emily Dubner
is the founder and CEO of
Baking for Good
, an online bakery that donates 15% of the proceeds from every sale to a charity of the customer's choice. Follow her on Twitter at
@BakingforGood
.

This work is licensed under a Creative Commons Attribution-NonCommercial 3.0 Unported.