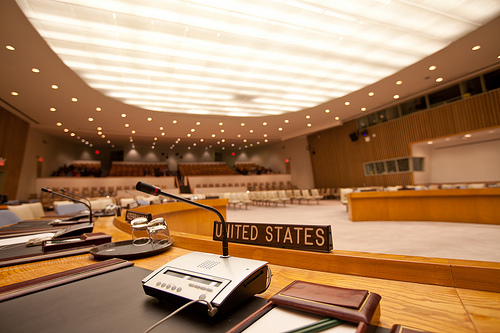 Target audience: NGOs, nonprofits, foundations, social enterprises, cause and advocacy organizations, educators, general public.

We're still winding down after a whirlwind day Friday at the United Nations. At the invitation of Amine Lamrabat, Socialbrite sent Shonali Burke and myself to give a presentation on how NGOs (international nonprofits, chiefly) working with the UN can use social media to create impact and advance their causes.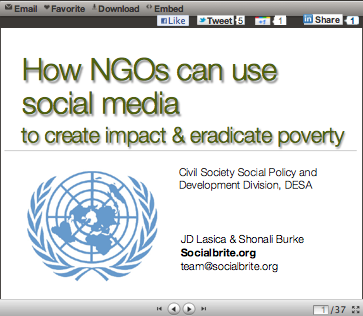 This was one of the most rewarding and invigorating gatherings I've attended in quite some time, for both the knowledgeable give and take as well as the astonishing scope of the social good being done by the people in the room. Among those attending were representatives of Mercy International Association, Global Action to Prevent War and Armed Conflict, the Norway Mission to the UN, the American Cancer Society, representations from throughout the UN and many others.
Here's a Flickr set of 32 photos I snapped. Some of the topics that came up during our talk included:
• How do we scale a campaign to 1 million signatures? Our answer: Set realistic goals. Approach the campaign in phases. Build up a community of support and deputize supporters to participate on your behalf. Learn from past mistakes. Depending on your budget, consider using a large advocacy platform like Care2.
• How should we deal with an autocratic regime? From China to Myanmar to Iran, we've seen examples of governments that won't hesitate to crack down on pro-democracy dissidents. Advocacy groups like Witness have learned a great deal about protecting the identity of pro-democracy activists, so absorb their learnings. (See a Witness official's guest post on Socialbrite on What are our ethical responsibilities when recording video of people under oppression?) Follow Rebecca MacKinnon on Twitter discussing China and cyber-activism. See the latest Netizen Report on Global Voices Advocacy. And also see the brilliant work-around Tunisian human rights activists undertook by geotagging stories of human rights abuses around the presidential palace using Google Earth, Google Maps and YouTube.
• Should we launch social media accounts in multiple languages? Readers, what do you think? My advice was to use no more than two languages in the same social stream, but to launch separate accounts in multiple languages when you have both the capacity and market opportunity for it.
• How to improve SEO results? Well, that's a subject for a return day of training at the UN, I hope.
As always, we welcome follow-up questions and conversations with anyone who attended, or missed, Friday's session. Email me, email Shonali, or call us at 925-600-7641.
Related
• How NGOs can use social media to combat poverty (Socialbrite)
• Fighting poverty by enhancing social entrepreneurship
• Witness: Putting a face on human rights (Socialbrite)JD Lasica, founder and former editor of Socialbrite, is co-founder of Cruiseable. Contact JD or follow him on Twitter or Google Plus.

This work is licensed under a Creative Commons Attribution 3.0 Unported.