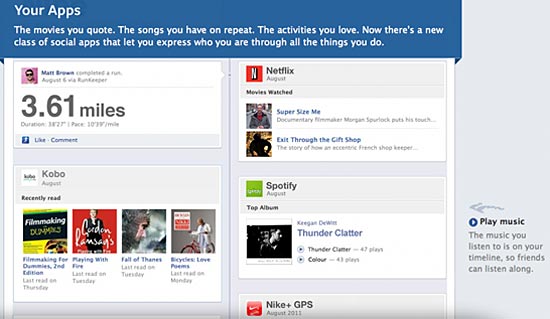 Move signals a game-changer for how brands and organizations will use Facebook
Target audience: Nonprofits, foundations, NGOs, social enterprises, cause organizations, brands, businesses, Web publishers, educators, general public.
On Jan. 18, Facebook introduced Timeline apps, along with a list of the first 60 Timeline apps that are approved and ready for Facebook users. (A user's profile is now his or her "timeline" of activities.) Timeline apps are the next iteration of Facebook's Open Graph, Facebook's way of connecting users to Facebook through real-time actions on the Web.
Facebook is promoting this as the new way to know what your friends are doing, in real time. I'm a bit more realistic: This roll-out offers Facebook and application developers a lot of information about what you like to do.
I think this is a potential game-changer for how brands and organizations will use Facebook. The apps offer greater exposure within Facebook to potential supporters, and more information about your supporters on Facebook. I'm personally a bit doubtful about whether or not it will deepen online engagement, which I consider at the end of this blog post.
What is the Timeline app?
In simple language: Version one of the Open Graph was a Facebook user Liking things on the Web and connecting those actions integrated back into Facebook. For example, you clicked "like" on a website, and that like showed up as "your name likes name of website/brand/product" in the newsfeed.
Version two extends the concept: A Facebook user may add a Timeline application to his/her Timeline, and every time the user takes an "action" related to the application, the app updates the user's ticker (the right-hand side home page scroll) with a notice that the user has taken an "action." Facebook explains, "We are now extending the Open Graph to include arbitrary actions and objects created by 3rd party apps and enabling these apps to integrate deeply into the Facebook experience." The Open Graph can also be used to graph anyone's use of certain actions that are officially integrated with Facebook, such as clicking Like on a website.
Here's an example of a Timeline application I'm using: I belong to Goodreads, a book-reading social site. Goodreads has developed a timeline application. I first enabled the Goodreads app for my personal Timeline.
While enabling Goodreads for Timeline, I determined how the parameters of my actions within Goodreads would appear in my timeline:
I tested this by adding and rating two books I've recently read:
My Facebook friends and subscribers might see these activities on the right-hand side of their Facebook home pages, in the "ticker." Anyone could click on my Goodreads actions within their ticker, in which case Facebook would send that person to the Goodreads application to install. It's a virtuous circle: Wonder what I'm doing with Goodreads? Install the app and find out!
Of course, the other way to get users to install the app is to market to the app's own audience. Goodreads featured its Facebook app on the home page; last time I logged in, I opted to enable the Timeline application.
Timeline apps by three fundraising vendors
Three nonprofit fundraising vendors partnered with Facebook initially to launch their Timeline apps: Artez Interactive, Causes and Fundrazr. With Artez's Timeline app, a donor can choose to "spread the word on your Facebook Timeline," telling their friends that they've donated online. If a donor's Facebook friends click on the donation post, the friends are taken to the nonprofit's donation form. Fundrazr's and Causes' apps function in a similar way, though each offer slightly different options for Timeline visibility. This is Causes' list of Timeline action preferences, for example: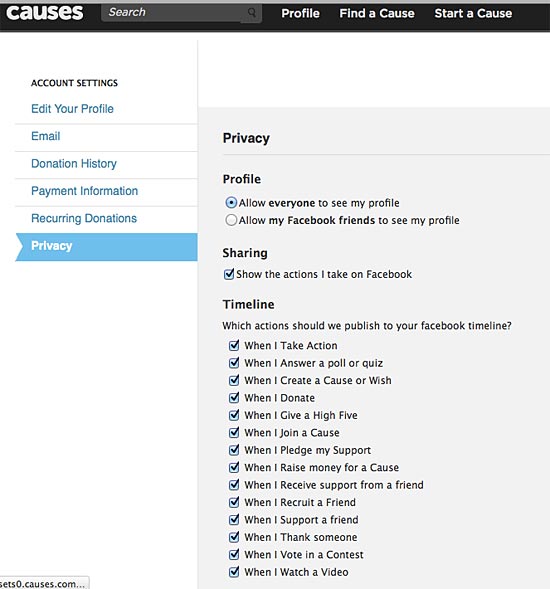 I would love to have seen Facebook partner with a few nonprofits at the launch of Timeline apps. This was a huge missed opportunity for Facebook, and I'm sad to see that they didn't see it this way.
How to develop a Timeline application
Facebook envisions tens of thousands of actions and applications, and I don't doubt that this could happen. Facebook points people to this developer tutorial for a step-by-step tutorial. The most important thing is to know what you want app users to do, such as donate to a cause, taste a wine, or read a book, and create the app based on your goals. You will also have to submit the app for approval from Facebook. The primary developer framework, according to Facebook, is that the app should enable public actions that are simple, genuine and not misleading.
Can Timeline apps benefit nonprofit organizations?
Timeline apps afford an opportunity for nonprofits to promote causes, activities and mission. I can envision apps that promote online campaigns, encourage people to interact with the organization in a certain way, encourage specific actions, track activity and to raise brand awareness. A few ideas:
Support the nonprofit: "Jerry supports the Canadian Red Cross"
Activism: "Debra signed a petition to stop fracking" or "Eliana contacted a brand to ask about its slavery footprint via Slavery Footprint"
Play a game: "Adam has donated 2,173 grains of rice to the UN to date via Free Rice"
Donate: "Kylie has started a virtual food drive with Feeding America"
Support a campaign: "David is growing a mustache for Movember"
In my opinion, I think the greatest Timeline app benefit is in the information the nonprofit will gain about app users, and how committed a supporter is to the cause. Installing an app is a deeper commitment than passively Liking a Page, or joining conversation on a Facebook Page. App users should be the organization's most committed online supporters.
When an app is installed, the developer knows a supporters' email address, other Likes and how the user is engaging with the application. Ultimately, the app both gathers supporter information that isn't available from people who Like a Page and spreads awareness about the organization/campaign/cause through the ticker.
While Timeline apps could increase specific types of online participation, I suspect that they will be more successful in awareness-building than deepening engagement. I worry about action burnout: As the ticker scrolls on and on, showing endless actions from friends, users will begin to ignore the ticker. The sameness of how the apps appear on the Timeline and in the ticker may hinder engagement from non-supporters.
But, as we all know, how this shakes out is anyone's call. I'm just as curious as you. What do you think about the new Timeline apps?
Republished from Debra's Community Organizer 2.0 blog.


This work is licensed under a Creative Commons Attribution-NonCommercial-ShareAlike 3.0 Unported.