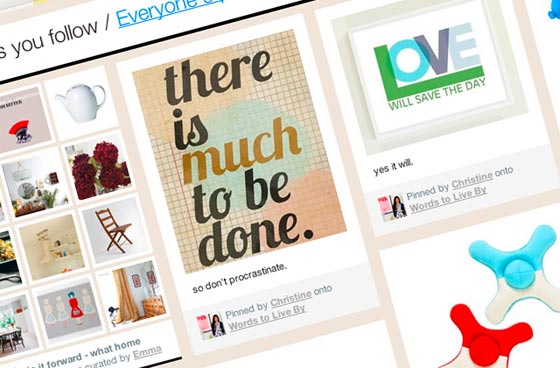 Try out the funnest visual social network on the Web
Target audience: Nonprofits, foundations, NGOs, social enterprises, cause organizations, brands, businesses, Web publishers, educators, general public.
Guest post by Noland Hoshino
[B]cause Media

There is a new darling in the social media world and her name is Pinterest. It's a virtual, interactive bulletin board where individuals, businesses, and nonprofit organizations can pin their interests and drive traffic to their website.
What is Pinterest?
Pinsterest is basically an online scrapbook that you put together while surfing the Internet. According to the website, "Pinterest is a virtual pinboard. Pinterest allows you to organize and share all the beautiful things you find on the web. You can browse pinboards created by other people to discover new things and get inspiration from people who share your interests."
Create Pinterest boards with a specific purpose in mind, like Humane Society of New York's Woof – Adopt A Dog
Although Pinterest is chiefly being marketed to women between the ages of 25 and 44, an increasing number of visitors have taken to the social platform: more than 4 million users a month, Mashable reports.
I know what you're thinking, "Argh, not another social media platform I have to manage. I can barely keep up with updating my Facebook page, or Twitter account, or Google Plus." But Pinterest is different, which is important to their success because the field is already crowded with so many social networks, apps and widgets, and soon-to-be copycats (MingleWing, Piccsy).
How does Pinterest work?
You build a collage of images by pinning them to your Pinterest board. It can be done in three ways: Use the Pinterest "Pin It" bookmarklet while perusing the Internet, upload your own images, or re-pin other users' images to your Pinterest boards that you've created and organized.
For example, I've created several Pinterest boards: Nonprofits on Pinterest, Social Good Marketing, Good Designs That Shine, Hugs My Soul (Motivational Quotes), to name a few.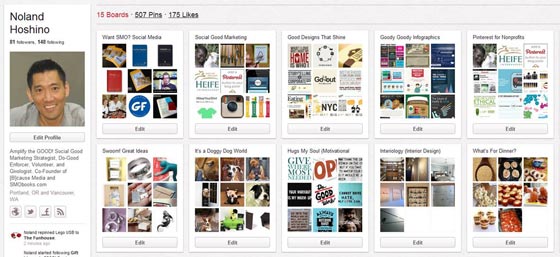 What makes Pinterest so interesting?
Pinterest can generate a lot of traffic to your website because pins link back to their original source. For example, if you pin an image of a product from your business's website onto your Pinterest board and a person clicks on the image, she will be directed back to your website (huge SEO bonus points).
There's an element of social broadcasting by re-pinning other users' images in Pinterest, tweeting pins to Twitter and liking pins to your Facebook wall. You can also embed pins onto your website or email them to a friend.
You can pin videos, too, which is cool.
Women, who  are usually the retail buyers in a household, have flocked to Pinterest to share decorating ideas, crafts, cooking recipes, bargain products and much, much more.
12 tips to Pinterest your nonprofit's interest
Create Pinterest boards with a specific purpose in mind. Example: Humane Society of New York Woof – Adopt A Dog.
Follow Pinterest users with similar interests with quality pins on their boards, like Nonprofit Organizations, National Wildlife Federation, Water.org, Jokolna Foundation. You can follow all boards or specific boards, such as Jennifer Windrum's SMAC! Sock Monkeys Against Cancer, Sylwia Presley's Nonprofits and Social Media, Miranda Carter'sCause, Jenn Howard's Sayings or Sevenly's Get Inspired.
Follow back influential people who follow you. The trick is to click "Follow All" on the individual's profile, then unfollow specific boards that aren't of interests to you.
"Like" pins or re-pin items that appeals to you. This action will show up on the user's sidebar. It will also send an email notification to the user (if turned on).
Use the pin comments section to engage in conversation and leave your mark.
Collaborate with co-workers or team members to help build your Pinterest board by using the board edit feature "Me + Contributors." Let's say your organization has a project to build a house. You can call the board "The House That Love Built" and invite team leaders to post photos of tools needed, progress of the build, and volunteers.
Use eye-catching images to get people's attention and re-pins. The more re-pins, the more chances you'll have people clicking to the source website.
Create an online fundraising catalog. Add a "$" symbol and the amount of an item in the pin description, i.e., $7.95 or $5.00. A gray banner with the price will be displayed on the upper left corner. Your pin will automatically go into the gifts tab located at the top of the homepage.
Use the search box by typing in topics, people's names, businesses, etc. Then filter search by clicking pins, boards, or people.
Use the @ feature in the comment box to tag specific people (like other social networks).
Use keywords to name your Pinterest boards, board descriptions, and pin descriptions for search engine optimization (SEO).
Add a Pinterest share button to your website and URL on your business cards.
What I like most about Pinterest is that it's visually appealing and easy to use. If I'm perusing the Web and I come across a really cool image, I can "pin" the image to my Pinterest board, like I'm creating my very own lifestyle catalog. Plus, all of my friends can see what appeals to me, which is useful when buying gifts (hint, hint).
Tip: If you highlight the Web context with the left button of your mouse, then click the "Pin it" button, the highlighted text will show up in the Pinterest description box.
Like the other social media networks, Pinterest is not a place to blatantly promote your organization. You will turn people away if you constantly push your cause. Instead, pin images that capture the lifestyle and essence of your organization while building a community of potential donors and volunteers who share the same interests.
Pinterest resources
• Joe Waters: Why and How Causes Should Use Pinterest
• Beth Kanter: Pinterest: A Tool to Curate Relevant Visual Content for Your Audience
• Avi Kaplan: Steal These 42 Creative Pinterest Ideas for Nonprofts
• Mashable: Pinterest: 13 Tips and Tricks for Cutting Edge Users
• LinchpinSEO: Ideas For Marketing Your Products Using Pinterest.Com
• Bcause Media delicious Pinterest Guide and Resources
• Kelly Lieberman Scoop.it Pinterest
Note: Pinterest is still in invite-only mode. Many of your friends may already be using Pinterest and have invites to hand out. Just ask.
If your organization already has a Pinterest account, let us know in the comments so we can follow your inspiration.
How would you use Pinterest for your nonprofit? What types of images would you post to your board? How are you pinteresting? Share your ideas in the comment below.
Noland Hoshino
is Co-Founder, Social Good Marketing Strategist, Do-Good Enforcer, Content Curator, Volunteer Evangelist and Givologist at
[B]cause Media
. Follow him on Twitter
@nolandhoshino
.