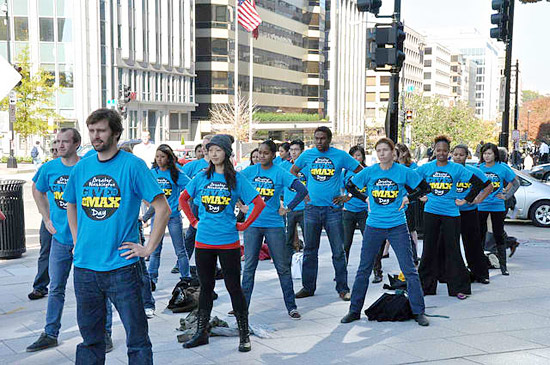 A flash mob at a Give to the Max Day event.
Report explores whether giving days can strengthen nonprofits

There's an interesting white paper just out, issued jointly by the Case Foundation and Razoo Foundation, and authored by Geoff Livingston (disclosure: he's a friend), titled How Giving Contests can Strengthen Nonprofits and Communities.
It examines whether "giving days" – such as last year's Give to the Max DC, which used gamification to give additional awards to the nonprofits and donors that raised the most money – can strengthen nonprofit communities.
Specifically:
"The report seeks to show how a giving day contest impacts a metropolitan area's nonprofit community. In particular, can these contests provide a financial boost during tough economic times, strengthen relationships between donors and nonprofits, and serve as an online capacity-building moment for participating nonprofits, all while strengthening the general nonprofit sector?

"Or are they another giving gimmick that fatigues donors and distracts nonprofits from vital mission-based activities?"
In a nutshell: yes, they can.
Donors said the event made them more likely to give again
You might remember my telling you about my participation in the event (though I couldn't do as much as I would have liked to, since I was recovering from surgery), and I found myself nodding as I read some of the findings:
96% of donors said they were more likely to give additional monies to their nonprofits as a result of their participation in the day;
84% of nonprofit survey said the pre-event training day – which was a key component of the initiative – increased their ability to interact and fundraise online; and
including prize money, Give to the Max Day raised $2 million for 1,200 nonprofits from 18,000 donors on the day itself (Nov. 9, 2011).
So G2MD did everything it set out to do. Sure, it didn't raise the whopping more than $13 million that Give to the Max Minnesota did last year. But like everything else, that has to be taken in context; this was the first time such an initiative had been rolled out in the DC area, and the other state/regional giving events have been in existence for a few years.
Everything grows with time; for a first-time initiative, I find this impressive.
Time and training are critical
One of the core components of the event was a training day organized for participating nonprofits in addition to seven half-day bootcamps around the area. The point was to ensure that the nonprofits were as well-prepared for the giving day as they could be and help them figure out how to build capacity, which is critical for incorporating social fundraising into a nonprofit's DNA.
Eighty-four percent of the nonprofits felt that the training increased their ability to interact and fundraise online, with 72% saying they'd be able to apply lessons learned through the contest to their ongoing work.
You can't do this type of thing (successfully, at least) without spending time on it. And guess what? The nonprofits that spent more time on their campaigns did better.
Sixty-two percent of the nonprofits that spent 10-30 hours on their events raised $2,500 or more; whereas only 23% of those that spent 10 hours or less raised $2,500 or more.
Donor acquisition and building community
Nonprofit organizations know that they have to balance their short- and long-term fundraising; it's great when a one-off campaign works well, but the key is to acquire donors that will sustain over time. And when they use social media to build community, and then gradually convert that community into donors, they're being really smart.
Of the $2 million raised for area non-profits, more than $1.8 million came from individual donations – that's huge!
24% of donors heard about the day via an email from a friend — which is exactly the kind of thing we hope to see if we can get our community energized
58% of the nonprofits recruited new donors
96% of surveyed donors said they'd give more money in the future to participating nonprofits
Gamification and my 2 cents
There are some really interesting case studies in the report, including a breakdown of how gamification was used to encourage participation and fundraising, so you should read it, particularly if you work for or with nonprofits.
These kinds of giving days can be a boon or a curse for your organization. If you don't take the time to prepare and really put some thought into how you'll approach it, you'll find yourself scrambling at the last minute.
I don't think there was anything more Razoo could have done to help the participating nonprofits prepare for the event. And while I don't mean to be all cranky, if the NPs that didn't do well didn't spend the time on preparing for the event… well, they have only themselves to blame.
This kind of event is really a gift to area nonprofits, so if you plan to participate this year, don't take it lightly. (I'm not sure when the various Give to the Max events are, but I'm sure they will be announced soon.) If you work it, it could be a huge opportunity for your organization not just to raise funds, but to build your donor base that will stay with you over the long haul.
This article originally appeared on WaxingUnlyrical.Shonali Burke  is a public relations and social media expert and consultant based in Washington, D.C. Her firm provides integrated PR for measurable results. You can connect with Shonali via her website or follow her on Twitter.


This work is licensed under a Creative Commons Attribution-NonCommercial 3.0 Unported.