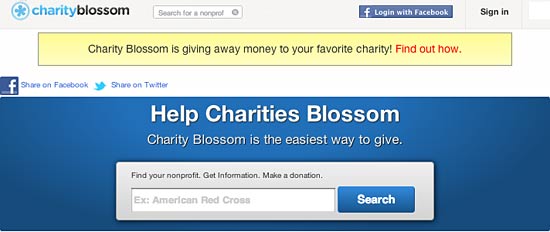 36 million pages makes it easy for people to find their favorite causes
Target audience: Nonprofits, foundations, NGOs, cause organizations, cause supporters.
Guest post by Janet Fouts
Social Media Coach
You may have read my post here a few months ago about social fundraising, and I wanted to share a new start-up in this category that has a unique twist.

Founded by Wayne Yamamoto and Jason Culverhouse, both of whom have several successful start-ups to their credit, Charity Blossom has listed close to a million nonprofits on their website. The list of charities runs the gamut from huge multi-national organizations like the Red Cross to tiny, very local charities like my favorite, Town Cats, which may not have the bandwidth to set up fundraising pages on their own. Listings on the site give an in-depth background on the charity based on their Form 990 documentation, so donors can make informed choices and even add comments or update some of the information on the charity, upload photos or discuss the charity right on the page.
It's about search engine optimization
"We want to make giving, easy, efficient, and even fun."
—Wayne Yamamoto, CEO and founder
Charity Blossom brings another card to the table with search engine optimization. The website is designed to maximize the benefit of the extensive SEO knowledge of the Charity Blossom team, and as a result it's heavily indexed by Google and Yahoo. Charity Blossom already has more than 36 million indexed pages. In the end, this is going to make it very easy for people to find their charities through Charity Blossom and donate. As new charities create a presence on the site and attract donors, it becomes even more visible through social sharing with Twitter and Facebook integration as well as the ability to start a discussion on the site with Facebook Connect.
Says Wayne Yamamoto, CEO and founder of Charity Blossom: "Giving is going online — just like airplane ticket sales, banking and shopping. However, a lot of donation activity is currently entrenched in the offline world. When you give at events, over the telephone, or in response to snail mail, so little actually makes it to 'doing good.' We want to change this and make giving, easy, efficient, and even fun. Charity Blossom helps donors help their favorite charities blossom."
Sharing is giving
Currently they are running a promotion to help spread the word where a donor can invite their friends to donate through the site. For every three friends who donate to whatever charity they choose, Charity Blossom will give $10 to the charity of the initial donor. Some additional details:
How the funds are transferred
Charity Blossom partners with Charity Pass to process funds. Charity Pass is a 501(c)(3) public charity that works with nonprofits to process donations on behalf of donors. The full details of how funds are transferred and fees incurred are in the FAQ on their website.
Charity Blossom accreditation
To make it easier for donors to feel comfortable about donating, Charity Blossom offers a badge of confidence for approved charities to post on their websites. From the website: "Whenever you see the Charity Blossom Badge, you can be assured that the charity has agreed to be truthful and transparent. Only those Charity Blossom members that exhibit trust and transparency can become an Accredited Nonprofit of Charity Blossom and display the Badge."
For the donors
When a donor makes a donation, it shows up on their Charity Blossom dashboard, where they can easily see who they have donated to, amounts and dates of donations and download a receipt. This means a donor can contribute to several organizations all from their Charity Blossom dashboard and be able to track the receipts easily for tax purposes.
Donors also have to option of donating to a "field of interest" donation. This means the funds will be distributed to Charity Blossom vetted charities.
Have you used Charity Blossom? What do you think?


This work is licensed under a Creative Commons Attribution 3.0 Unported.