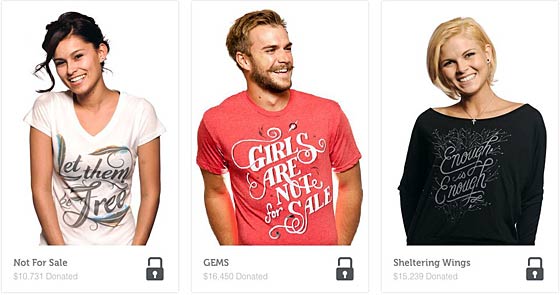 3 tees to combat slavery on Sevenly.
Using ecommerce & social networking to help 52 causes a year
Target audience: Nonprofits, foundations, NGOs, social enterprises, cause organizations, brands, businesses, general public.
Guest post by Ryan Wood
Director of Public Awareness, Sevenly
Many Socialbrite readers may not have heard of the social enterprise Sevenly, so here's a quick explanation of what we do and how we came about:
For every shirt you buy with Sevenly, we give $7 to a charity, and we focus on a different cause every week — 52 charity T-shirt campaigns per year, like this week's effort for hunger relief efforts in Haiti. We've raised more than $400,000 so far toward charitable causes with this simple model: For every T-shirt purchased, $7 goes to charity.
We've run campaigns for organizations such as Autism Speaks ($22,855 raised), the Somaly Mam Foundation ($14,812 raised), The Girl Effect ($8,218 raised) and Pencils Of Promise ($9,884 raised), with many more on the way. Our ultimate goal is to help people, fund worthy causes and offer the magic kick some charities need to keep changing the world.
The big idea: Birth of a new kind of cause campaign
Before founding Sevenly, Dale Partridge and Aaron Chavez were both running highly successful businesses with incomes to match. They had always dreamed of becoming successful entrepreneurs because of the freedom it allowed, but soon realized that they weren't giving back to society. So in April 2011 Dale and Aaron created Sevenly. After nearly a daylong conversation about how to tackle poverty, the idea of Sevenly emerged. They came to the realization that the biggest problem is not the fact that millions of people are in need; it's the fact that billions are watching it happen. Sevenly was developed around the belief that people matter, and we figured that if we could just get people to start giving, then we could get them to start caring.
How nonprofits can get on Sevenly's list
Sevenly supports seven causes: the eradication of slavery in all forms, clean water, medical needs, hunger, aid (with nonprofits like the Breast Cancer Foundation and Love Without Boundaries) and poverty and disaster relief. Every seven days we partner with a new nonprofit. We design a unique, limited-edition T-shirt that represents the featured nonprofit's cause, and promote and sell it on our website for seven days. For every shirt sold, $7 is donated directly to that week's partner. Since our launch last June 13, almost 2 million people have shared our campaigns across their social networks.
What kind of nonprofits do we support? An organization must be passionate about their cause and must be implementing processes and executing projects that are having a tangible, positive impact on the cause they're representing. As long as the nonprofit's cause falls into one of the seven that we support, we'll review your campaign application. Our most popular campaigns to date have been mostly domestic, such as Autism Speaks, Jessie Joy Reese Foundation, etc. While we will continue to support our seven declared causes, our main focus areas in 2012 will be hunger, medical and sex trafficking.
Here's how nonprofits can apply to run a campaign with Sevenly.
What moves the needle? Lessons for cause organizations
Learning how to master descriptive copywriting for today's always-on generation is crucial to your nonprofit's online fundraising initiative
We've learned that online fundraising is most effective when potential donors are intimately connected with the cause. This is much easier to accomplish in person, but with the next generation being mostly savvy about technology, learning how to master descriptive copywriting is crucial to your nonprofit's online fundraising initiatives. Use pictures that clearly display your message, create a sense of urgency for the overall objective, and most of all, don't just ask people for their donations, give them a tangible, relatable reason to give.
The integration and execution of  "share goals" within each campaign has been key to Sevenly's model. On our homepage you'll notice the prominent placement of our Facebook and Twitter share buttons. During each campaign we run, we strategically set a social media "share" goal so that our customers — whom we consider Sevenly's "co-givers" — can spread the word across their own social platforms. This does two things:
If the customer is unable to purchase a shirt for the week, they're still able to donate a share or a tweet.
It creates a good surge of virality for every campaign. Buying a Sevenly shirt is only a vehicle for engaging our customers with the cause that they love. Sharing or donating their influence is just as valuable.
Here is this week's cause, with our nonprofit partner Heifer International, to help alleviate hunger for Haitians still coping with the 2009 earthquake.
We launch a new campaign every Monday morning at 10 am PDT. Due to a code of secrecy within Sevenly, I can't release the cause or organization we'll be working with next week. But visit us Monday and find out!
What do you think of the idea of buying a tee for a good cause?

Ryan Wood
is the director of public awareness and partnerships for Sevenly.org. He spends time developing and implementing social strategy while being inspired by social causes and the nonprofits behind them. Follow him on Twitter at
@RYRWood
, visit the
Sevenly website
or email him at
[email protected]
.

This work is licensed under a Creative Commons Attribution-NonCommercial 3.0 Unported.