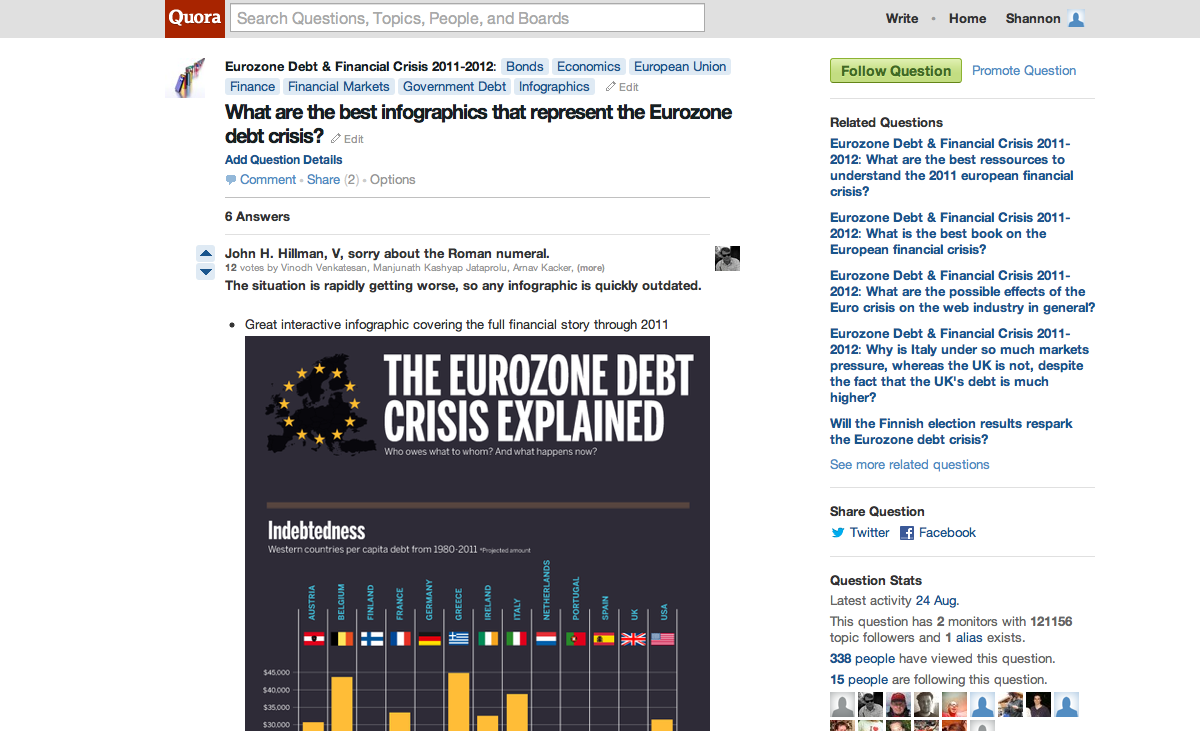 10 essential steps for using Quora effectively
Target audience: Nonprofits, cause organizations, foundations, NGOs, social enterprises, educators, journalists, general public.
Guest post by Brannon Cullum
Movements.org 

Quora, the question-and-answer site that launched in 2010, helps you to collect, organize, and share information, expertise, and knowledge. The founders, two former Facebook employees, want Quora to be a place of "knowledge that people trust." Quora is a place to ask questions you may not normally search for on a search engine like Google or Yahoo.
For the most part, answers come from people with some particular interest or expertise in a question's topic area. Responses tend to be thoughtful and informative, and take a longer form (certainly longer than Yahoo! Answers), which helps facilitate in depth discussions and conversations.
There are a number of ways that nonprofits and grassroots organizations can use Quora, including:
Finding topics directly related to your particular issue area and monitoring what people are saying
Adding your own knowledge to discussions
Taking advantage of many of the professionals (especially in tech and journalism) that are using Quora to ask questions about topics like strategy, web design, social media tools
Finding new contacts/experts in issue areas you care about
Researching an issue area
Create your Quora account
1Point your browser to Quora.com. To create an account, you have the option of using your pre-existing Facebook or Twitter account, or an email address. Quora asks that you use your real name on the site.
Confirm your account
2 You will get an email or message asking you to confirm your account.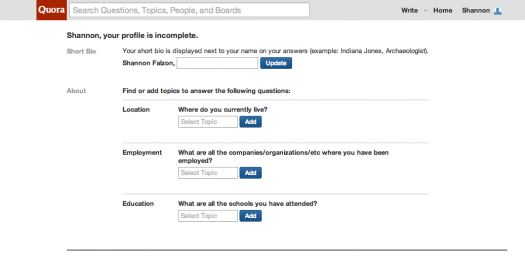 Spice up your profile
3 Set up your profile by clicking on your name in the top right-hand corner. Add a headline, such as your profession or interests, and a photo. You can also add a more detailed description about yourself
Search for topics that interest you
4 Each question on Quora is tagged with one or more topics, so one of the first starting points is to find topics to follow. When you visit your Quora homepage, questions that fall under these topics will populate your main feed. On the search bar at the top of the page, you can search for topics of interest to you. When you go to that topic's main page, click the green "Follow Topic" button on the right-hand side if you want to follow it.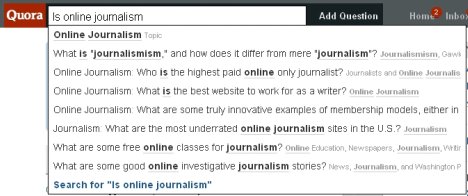 Follow questions to stay in the know
5 You can search for questions in the main search bar. Just type in your question into the search bar and see if it (or something similar) appears. You can also follow particular questions by clicking "Follow Question" on the right-hand side so you can get updates whenever the question is edited or new answers are added.
Pose your own query
6 Don't see any answers to the question you have? Go ahead and pose your question. First, make sure a similar question doesn't already exist. If not, you can click "Add a Question" next to the main search bar. Before you can add your first question, Quora will guide you through a brief tutorial. What makes a good question?
Avoid using the second person (questions generally should not include the word "you").
Give your question enough context so that anyone can understand what you're asking, regardless of when or where they answer your question.
Polling (yes-or-no) or survey types of questions that seek a one word answer are not allowed on Quora.
Use proper spelling, capitalization, and grammar.
Contribute your expertise
7 Come across a question that you have an answer for?  On the specific question page, use the text editor to add your answer. Quora lets you add in URL links and images to your answers. You can also edit your answer once you've added it. Check out Quora's guidelines for answering questions.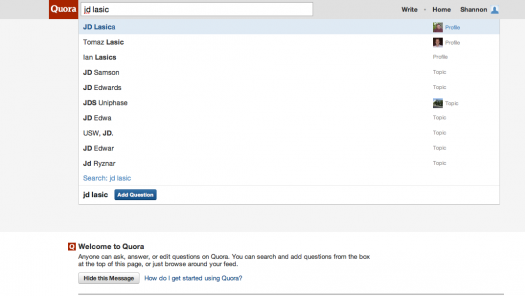 Follow like-minded members
8 Like other social networks, you can select other community members to follow on Quora. If you have a particular person in mind, you can search for that user in the main search bar. On any person's main Quora page, click the green follow button to follow that person. You can see questions that person has asked or answers he or she has shared. You can also connect your Quora account with your Facebook and Twitter accounts so you can automatically follow those friends who are on Quora or import your email contacts to see who in your network is on Quora. Like Twitter, you can see who the people you follow also follow (and who are their followers). This is a helpful way to find new people to follow.
Tip! If you prefer to ask a question anonymously, click the "visibility" setting at the bottom of the text box. You can select "Anonymous." Once you have added the question, click the link that reads "Make Anonymous" in the "add answer" section. Anonymous questions won't show up in the homepage of your followers and anonymity applies to the question and its answer.
Edit existing questions
9 Many members of the Quora community improve the site's content by editing questions, adding topics to questions, and summarizing answers. To edit a question: When you are on a particular question page, click the "edit" link next to a question or click "Add question details. "To add additional topics to a question: When you are on a particular question page, click the "edit" link next to a question, type in a topic, and click "add." To add a summary: If you want to summarize answers to a question, click on the "Options" menu in the upper right-hand corner of the question page and select "Create Answer Summary."
Cast your vote
10 Users can vote answers up or down. so that the "best" answers get pushed to the top. The more votes an answer gets, the higher up in the responses it goes. To vote a question up or down, click on the up or down arrow to the left of any answer.
Tip! Remember, the most popular answers may not be the most accurate.
Brannon Cullum
 is a contributing writer for 
movements.org
, where this article first appeared. She completed her Master's Degree in Communication, Culture and Technology from Georgetown University where her research focused on the use of mobile technologies in international development projects.


This work is licensed under a Creative Commons Attribution-NonCommercial-ShareAlike 3.0 Unported.