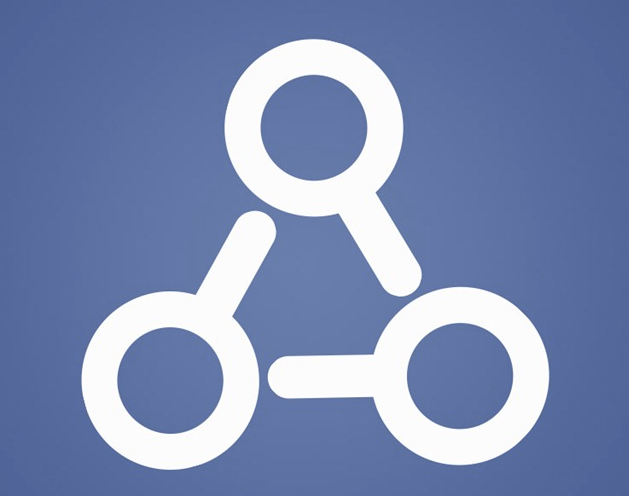 Connect your organization through Facebook Graph Search
Target audience: Nonprofits, NGOs, cause organizations, social enterprises, businesses, Web publishers, bloggers, social media managers, anyone with a Facebook Page.

Facebook's new Graph Search is very different from Google search. With Graph Search, you combine keyword searches with friends who've shared content on Facebook related to that search.
For example, here's a search of friends who like The Ellie Fund and live in Boston: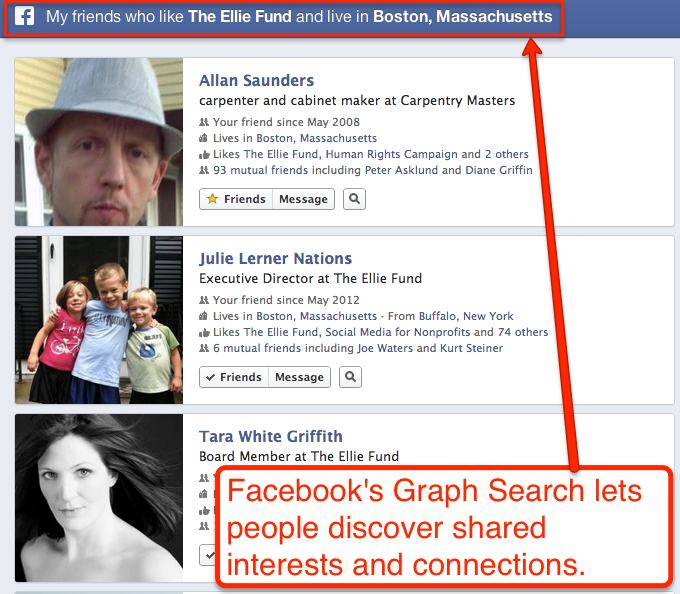 Graph Search also allows people to discover your organization through different keyword / network search combinations: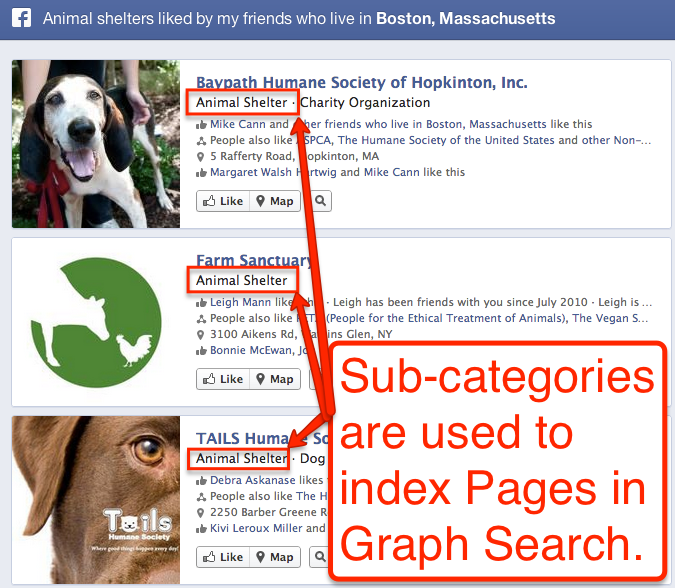 Facebook Page SEO isn't new
Google has been indexing Facebook Pages for quite some time now, so Facebook Page SEO (search engine optimization) isn't anything new.
Both Google's and Facebook's search algorithms consider your page name, category, vanity URL and keywords within your About tab.
What is new is the combination of keyword, category and connection (as shown in the examples above) – and the way Graph Search suggestions influence how searches are conducted.
Here are eight steps to optimizing your Facebook Page for both Google and Facebook's Graph search:
Tweak your page category

1Make sure you've selected the best possible category for your page. You can edit your category by going into your Basic Information admin panel, as shown above.
Tweak your page sub-categories
2If you have a Facebook Place (local Place or Business), you can add up to three sub-categories. These can be added / updated within your Basic Information admin panel (as shown above).
Complete your address
3Graph search will allow users to search for local nonprofits their friends like, so make sure your address is complete and current.
Complete your About section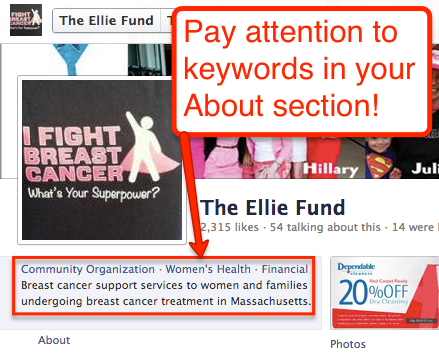 4The information you share in your About section will help people find your page in search. Particularly if you put keywords at the beginning of specific fields.
Do not start off with, "We are a 501(c)3 organization…" People don't search for 501(c)3 when they're looking for services and resources for breast cancer patients.
Tag your photos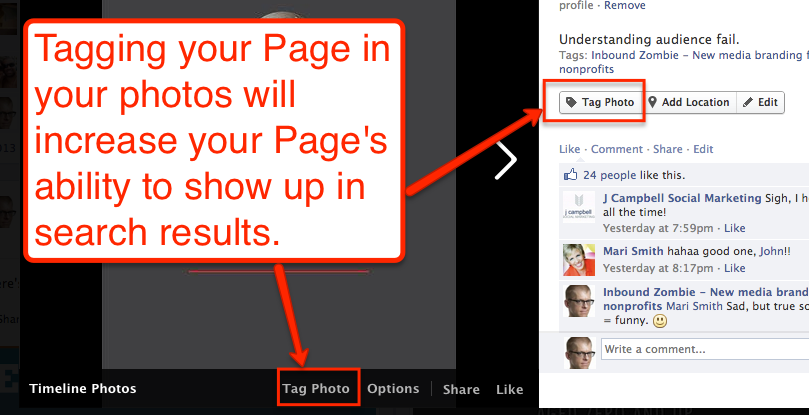 5Photos are a primary content type displayed in Graph Search results. Make sure you tag each photo with your page name and any location associated with the photo.
Pay attention to photo descriptions
6Devote a few seconds to filling in photo descriptions. For instance, guess which keywords are in the description of each photo this search result?
Create a username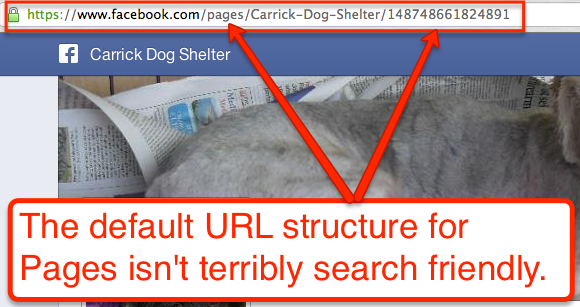 7If you haven't done so already, create a custom URL (username) for your page that includes the name of your organization. For example, http://www.facebook.com/pages/Ashoka/66279444793 should be shortened to http://www.facebook.com/Ashoka. This will improve your SEO on both Facebook and Google.
Continue creating killer content
8Remember, like Google, Facebook wants to display the best results at the top of a search. And parsing out great content on Facebook has always been done by looking at how much people have talked about that specific photo, video or text update.
Questions? Tips? Share them in the comments section below!
John Haydon delivers social web strategy solutions for "the quick, the smart, and the slightly manic." Curious? Then visit the John Haydon blog, follow him on Twitter or leave a comment.

This work is licensed under a Creative Commons Attribution 3.0 Unported.