Photo courtesy of songglod (Creative Commons)
5 ways to move people back to your home base
Target audience: Nonprofits, cause organizations, foundations, NGOs, social enterprises, businesses, educators, Web publishers, Facebook administrators.

When you post links on your Facebook page, there are a number of factors that determine whether someone clicks on your link or not.
So it's time to think about this strategically. Here are five ways to get more traffic from links posted on your Facebook page:
Post long URLs
1BuddyMedia conducted a study that found that full-length URLs get three times as many clicks as URLs that have been shortened by using a URL shortener. Long URLs tell the user what website they're about to visit, whereas short URLs hide this important piece of information. (Note: That doesn't mean you should extend your regular URLs, just think twice before using URL shorteners like bit.ly or ht.ly.)
Make the title more attractive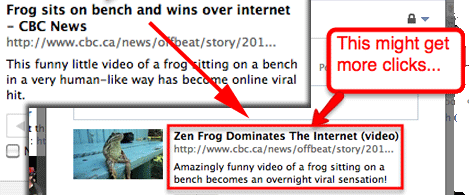 2When you post an article on Facebook — especially one from your website — you want people to click on it! The problem is that the default title Facebook creates for that article may not be very click-friendly. For example, the title may be very long and may also include the name of your website, which is not needed on Facebook.
Fortunately, you can edit the title and description within the preview displayed on Facebook by following these three steps:
Paste the URL into the publisher where it says "write something."
A preview is automatically generated (you can delete the URL after the preview is created).
Double click on the title and or excerpt to edit the text.
Select the best image

3When posting a link to Facebook, you'll also be able to choose from a variety of images related to the article. Tab through these images to find one that stands out. If Facebook often doesn't offer you the right choice of images, follow this advice from our sister site, Socialmedia.biz.
Post photos instead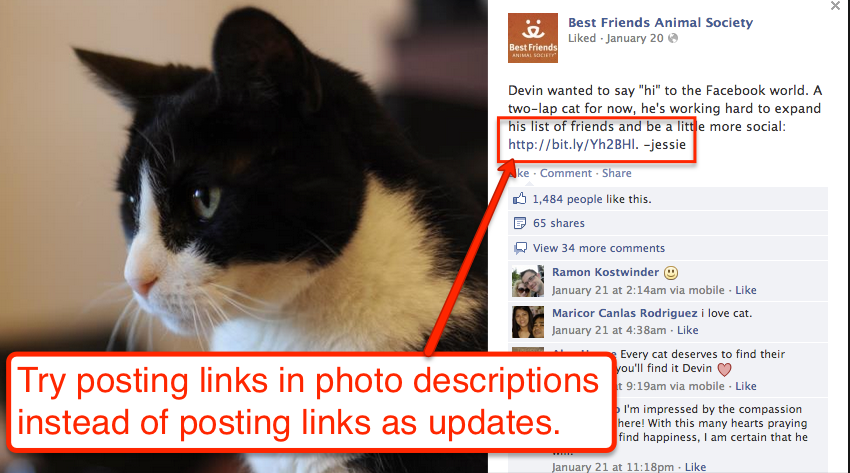 4The research shows that links actually get the least amount of likes, comments and shares. And photos get the most likes, comments and shares.
So the next time you want to post a link on your page, post a photo instead:
Select an interesting photo within the article you want to post.
Save the image to your hard-drive and post it on your Facebook page.
In the description,write a short description about the article along with a link to the article (as shown above).
Measure links posted on Facebook
5When all is said and done, you want to to know which links are actually sending the most traffic to your website!
How do you know who clicked on a link posted on Facebook if it's the same one shared on Twitter, LinkedIn and Pinterest? This is where using Advanced Segments in Google Analytics comes in handy. Learn how to create these by watching this video.
How does your organization use Facebook to help generate traffic on your website?
John Haydon delivers social web strategy solutions for "the quick, the smart, and the slightly manic." Curious? Then visit the John Haydon blog, follow him on Twitter or leave a comment.

This work is licensed under a Creative Commons Attribution-NonCommercial 3.0 Unported.