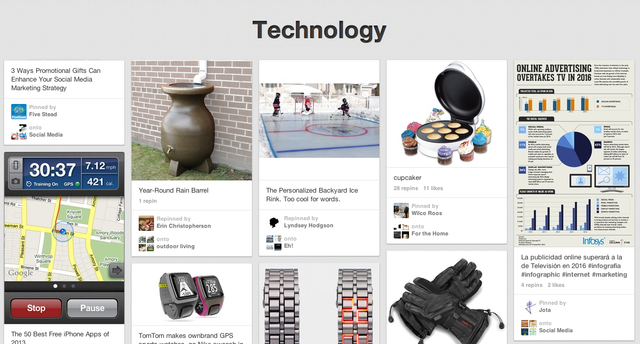 Attract more visitors, encourage sharing through Pinterest
Target audience: Nonprofits, cause organizations, foundations, NGOs, social enterprises, businesses, marketers, Pinterest users.

By now you've heard about Pinterest, the social site that allows people to share images and videos, follow boards and people, and re-pin stuff they find interesting.
But have you optimized your website for Pinterest?
Why should you care about Pinterest?
First of all, why should you give a hoot about Pinterest? There are a few reasons, including how it's one of the few social networks where women are the predominant user group. Plus, it's also the fastest growing social networking site on the planet – ever.
And finally, Pinterest helps you reach your website objectives:
Getting new visitors
Getting visitors to stick around longer
Getting visitors to share your goods with their friends
If you take a look at these these goals, you'll notice that they all have one thing in common: shareable content on your website.
How people use Pinterest
When Pinterest users visit a website, they have the ability to pin photos or videos from your website by using a browser plug-in, saving an image from your website and uploading it (as shown below), or entering a URL from your website into Pinterest.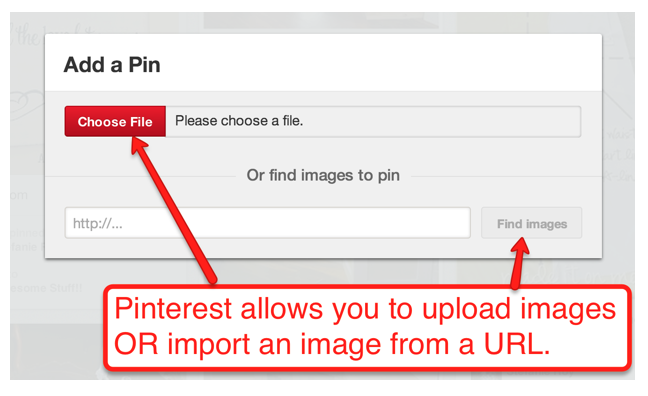 After they upload or import an image, they add a short description and select a board for the pin (shown below). They can add it to a board they've created or a board they've been invited to curate pins for.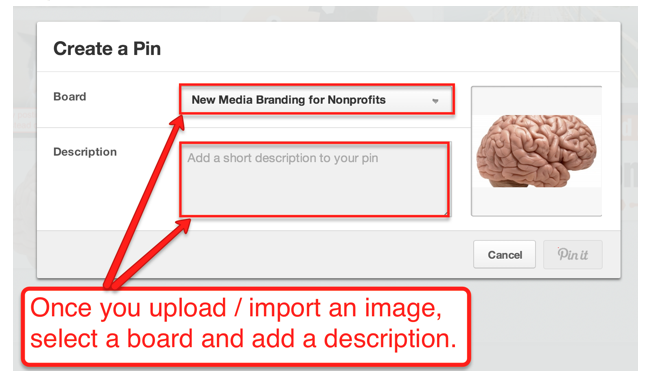 They can also edit the description and link URL for the pin (shown below). I love doing this with photos that have the highest virality on my Facebook Page.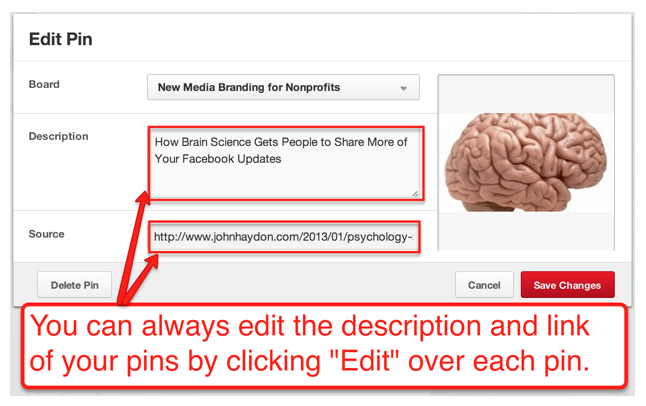 Repins dominate Pinterest
Keep in mind that people can also repin content from your site once it's added to a board. In fact, most of the activity on Pinterest is repinning. What this means for you is more exposure (more inbound links) to pages on your site that have amazing images!
10 ways to optimize your website for Pinterest
Because people might be visiting your website at this moment looking for something to share on Pinterest, it makes sense to make sure your site accommodates them. Here are 10 ideas:
Test your website. Do this now: Copy the URLs of your most visited pages and copy them into Pinterest by clicking on Add at the top of Pinterest and then into the URL field you'll see after you click Add A Pin in the pop-up window. (Note: You need to have a Pinterest account to do this.)
Fix your website. If you're having problems getting Pinterest to pull in images, talk to your web master or head of IT (if you have one of those).
Use the Open Graph Meta plug-in, if you're using WordPress, to sniff out the problems (pulling the right photo from a post or page).
Add featured images. Make sure each page or post has a featured image. This is one of the main image sources Pinterest will use.
Use infographics. Infographics take up much more vertical real estate on Pinterest than any other type of image, enabling your pin to stand apart from the crowd.
Get the Digg Digg plug-in. The folks over at Buffer own this plug-in, so you can bet that it's very reliable. If you don't use WordPress for your website, check out the Buffer Button. There's also the Pinterest plugin I use.
Play nicely. Follow the five points of Pinterest etiquette, which are pretty much common sense.
Make sure your content is pin-worthy. Start thinking about how to make your website content (particularly images and video) remarkable, emotional and interesting.
Add text to images. When someone pins an image from your site, all that's taken with them is the image. For some images on your site, it might be a good idea to add text or a URL to the image (like this one). This way, your branding and/or URL go along for the ride as people re-pin the image.
Verify your website. Help Pinterest users trust your website by verifying it with Pinterest.
These are a few ideas to make your website ready for Pinterest.
What else would you add?
John Haydon delivers social web strategy solutions for "the quick, the smart, and the slightly manic." Curious? Then visit the John Haydon blog, follow him on Twitter or leave a comment.

This work is licensed under a Creative Commons Attribution-NonCommercial 3.0 Unported.