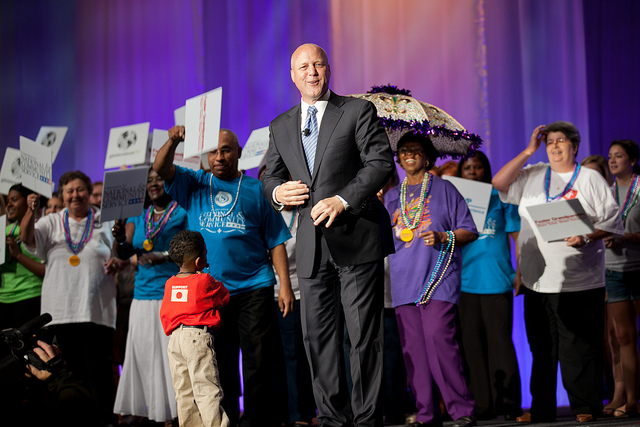 New Orleans Mayor Mitch Landrieu at the 2011 NCVS (photo by JD Lasica).
Plan for the month's top conferences & events

June marks a busy month for the nonprofit and social good community — the last frenetic blast of conferences before the lull of summer kicks in. Highlights include the Emerging Media Conference in Seattle (starting today), NCTech4Good, Personal Democracy Forum, North by Northeast, the National Conference on Volunteering and Service, Netroots Nation, Indie Web Camp and the Aspen Ideas Festival.
Which of these will you be attending?
For the full year, see our Calendar of 2013 nonprofit and social change conferences. If you're interested in social media, tech and marketing conferences, see this month's calendar on our sister site, Socialmedia.biz.
If you know of other events, please share by adding the info in the comments below. And if you can't attend, hope you'll follow the proceedings online, through live streams (where available) or Twitter hashtags.
Conference
Date
Place
June
The Learning Conference
June 3-4
Miami
The Learning Conference will bring together more than 200 leaders in philanthropy for cutting-edge conversations that will showcase diverse perspectives, strategies and solutions to help navigate the challenges and opportunities associated with making learning a priority.
EmMeCon: Emerging Media Conference
June 3-6
Seattle
The Emerging Media Conference welcomes attendees with an opportunity to view and experience the latest in technology advances and upcoming product roll-outs. Included in this program are demonstrations, presentations and discussions led by some of the most connected and recognized experts in the industry.
Sustainable Brands
June 3-6
San Diego
Sustainable Brands is an international community of learning and action focused on understanding and leveraging the role of brands in shaping a flourishing future. The gathering is ground zero for sustainability, brand and innovation professionals who come together from around the world to be inspired, engaged and equipped to succeed by building the better brands of tomorrow, while building a network of like-minded colleagues who can help.
NMC Summer Conference
June 4-7
South Carolina
The NMC Summer Conference is a one-of-a-kind event, attracting an audience of hundreds of highly skilled professionals interested in the integration of emerging technologies into teaching, learning and creative inquiry.
Fundraising Day
June 5
Toronto
The Association of Fundraising Professionals is the professional association for individuals responsible for generating philanthropic support for a wide variety of charitable organizations. In thie annual event, the association advances philanthropy in society by enabling people and organizations to practice effective and ethical fundraising.
NCTech4Good
June 6-7
Chapel Hill, N.C.
This conference is designed to serve nonprofit professionals, volunteers and consultants, as well as small business owners. The conference focuses on technologies in areas such as fundraising, social media and communication and advocacy tools, offering both pre-selected presentations and workshops and spontaneous sessions.
Personal Democracy Forum
June 6-7
New York
Personal Democracy Forum is the world's leading conference exploring and analyzing technology's impact on politics and government. Join hundreds of individuals interested in how technology is changing politics, governance and society.
Social Change Institute
June 6-10
Hollyhock, B.C
At the Social Change Institute, you'll gain insight into the latest movement and organizing strategies, online tools, campaigns and leadership practices while immersed in the stunning natural setting of Canada's leading educational retreat center: Hollyhock. This is your chance to break away from the daily pressures of work and life. To think big, focus your intensions, sharpen your skills and make life-long connections.
North by Northeast
June 10-16
Toronto
Now in its 19th year, North by Northeast has become the Canadian festival destination for emerging artists and major-label headliners, for music filmmakers and for digital interactive innovators bridging the gap between technology and the arts. Seen as the most anticipated summer music event in Canada, NXNE Music, NXNE Film and NXNE Interactive are an essential gathering for artists, industry and fans.
Social Media for Nonprofits
June 13
Mountain View, Calif.
In this conference series, these sessions are designed to provide attendees with concrete insights and takeaways, showcasing best practices, pitfalls to avoid and free, helpful resources for nonprofits and causes.
Tällberg Forum
June 13-15
Stockholm
The Tällberg Forum is an arena for reflection, conversations and the search for creative solutions, integrating both nature and the arts, where people feel free to step outside of their professional identity, to share doubts and new ideas and to search for ways forward outside of established frameworks. It acts to stimulate the conversation on, and design solutions to, the problems of our times in order to foster new thinking and solutions.
Symposium on Scaling Social Impact
June 17
New York
Social Impact Exchange's Symposium on Scaling Social Impact will bring together nonprofit leaders, funders, professional service providers and academics to explore the state of scaling in the nonprofit sector. The symposium is a wonderful opportunity for those interested in advancing the field of social impact to network with other like-minded professionals and build knowledge and increase skills for this important work.
National Conference on Volunteering and Service
June 19-22
Washington, DC
This National Conference on Volunteering and Service provides attendees an opportunity to learn, connect and be inspired through a wide range of exciting and informative plenary sessions, workshops, immersion learnings, special events, service projects, exhibits, specialized tracks and more.
Allied Media
June 20-23
Detroit
The Allied Media Conference cultivates strategies for a more just and creative world. We come together to share tools and tactics for transforming our communities through media-based organizing.
Netroots Nation
June 20-23
San Jose
Netroots Nation amplifies progressive voices by providing an online and in-person campus for exchanging ideas and learning how to be more effective in using technology to influence the public debate. At the annual convention, participants strengthen the community, inspire action and serve as an incubator for ideas that challenge the status quo and ultimately affect change in the public sphere.
Indie Web Camp
June 22-23
Portland, Ore.
Indie Web Camp is a regular gathering of web creators building and sharing open Web technologies to advance the state of the independent Web and empower users to own their own identities and content on the Web. Participants get together for a weekend to talk about what has been done in the field, what still needs to be done and then spend a day hacking and creating.
Aspen Ideas Festival
June 26-July 2
Aspen, Colo.
The Aspen Ideas Festival will gather some of the most interesting thinkers and leaders from around the U.S. and abroad to discuss their work, the issues that inspire them and their ideas. Presented by the Aspen Institute and The Atlantic, the festival is dedicated to dialogue and exchange and in its commitment to bringing ideas to the public at large.
JD Lasica, founder and former editor of Socialbrite, is co-founder of Cruiseable. Contact JD or follow him on Twitter or Google Plus.

This work is licensed under a Creative Commons Attribution-NonCommercial 3.0 Unported.