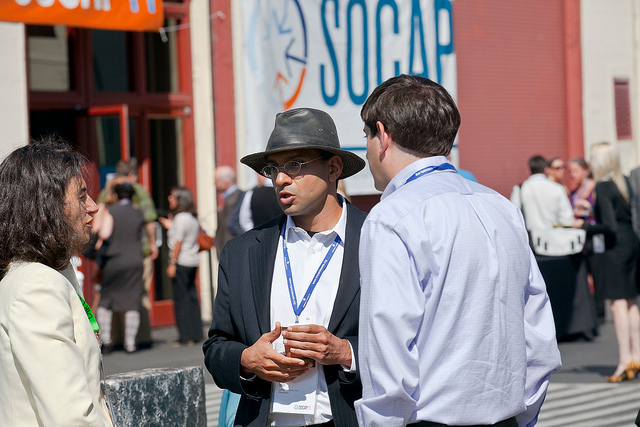 A scene from SOCAP 2011 (Photo by JD Lasica).
Plan for the month's top conferences & events

With summer largely behind us, September marks a return to a number of conferences key to the nonprofit and social good community. On tap this month: SOCAP (the Social Capital Markets conference, kicking off today), Web of Change, the IdeaFestival, ArtezInterAction, Blackbaud Conference for Nonprofits and lots more.
Which of these will you be attending?
For the full year, see our Calendar of 2013 nonprofit and social change conferences. If you're interested in social media, tech and marketing conferences, see this month's calendar on our sister site, Socialmedia.biz.
If you know of other events, please share by adding the info in the comments below. And if you can't attend, I hope you'll follow the proceedings online, through live streams (where available) or Twitter hashtags.
Conference
Date
Place
September
SOCAP
Sept. 3-6
San Francisco
The venerable Social Capital Markets gathering for social entrepreneurs and change agents will return to SF's Fort Mason Center.
Nonprofit Management Institute
Sept. 10-11
Stanford, Calif.
The Nonprofit Management Institute is conducted by leaders in the field of social change: academics known for their work at Stanford and at other renowned universities and well-known practitioners who will share their insights and experiences from successes in the field.
Web of Change
Sept. 18-22
San Antonio, Texas
Web of Change is a series of conferences that connects the foremost thinkers and doers in the growing community of social change and technology from across North America.
Social Venture Institute
Sept. 18-22
Cortes Island, BC
Join business leaders and social entrepreneurs at the Social Venture Institute for an intensive, interactive inquiry into how to face the day-to-day challenges of running a socially conscious enterprise. Take advantage of this opportunity to fine tune business strategies, learn best practices for solving problems and build long lasting relationships with business peers and mentors.
IdeaFestival
Sept. 24-27
Louisville, Ky.
IdeaFestival is a celebration for the intellectually curious. It's an eclectic network of global thinkers and one-of-a-kind innovators bound together by an intense curiosity about what is impacting and shaping the future of the arts, business, technology, design, science, philosophy and education.
ArtezInterAction
Sept. 26
Toronto
Whether you're a seasoned fundraising veteran or new to fundraising, ArtezInterAction has something for everyone. This one-day conference is designed for fundraisers looking to accelerate their online activities.
Blackbaud Conference for Nonprofits
Sept. 29-Oct. 2
National Harbor, Md.
Join this conference to experience everything you love about the Blackbaud Conference — three days of educational content dedicated to your specific needs and opportunities to network and interact with your peers and industry experts.
Retail Sustainability Conference
Sept. 30-Oct. 3
Orlando, Fla.
This event brings together executives from all major retail and consumer product segments along with relevant solution providers to address the key issues of sustainability and environmental compliance for retail.
JD Lasica, founder and former editor of Socialbrite, is co-founder of Cruiseable. Contact JD or follow him on Twitter or Google Plus.


This work is licensed under a Creative Commons Attribution-NonCommercial 3.0 Unported.