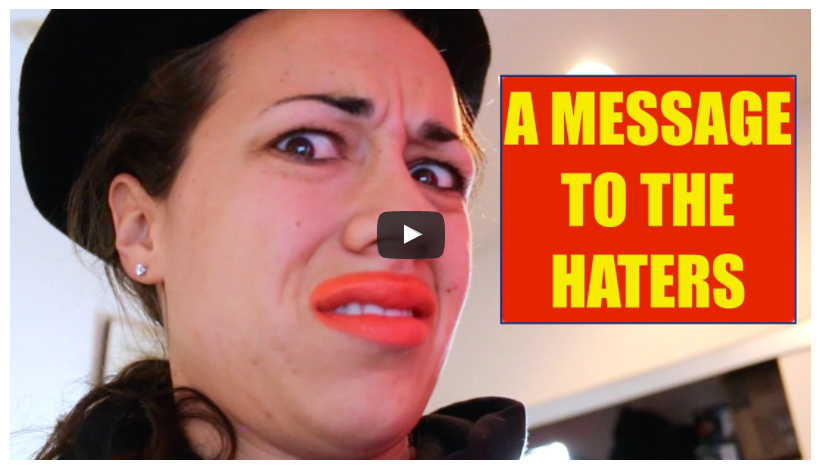 Haters Back Off is one of my favorite recent Netflix shows. YouTube star Maranda Sings essentially plays herself – a terribly flawed individual hell-bent on fame and fortune, no matter what cost, in the age of YouTube. Two thumbs up.
On her way to becoming famous, Miranda has to deal with haters – online, in her family, and in her mind.
Haters gonna hate
So what is a hater? From the urban dictionary:
A person that simply cannot be happy for another person's success. So rather than be happy they make a point of exposing a flaw in that person.
Hater example:
Susan: You know, Kevin from accounting is doing very well. He just bought a house in a very nice part of town.
Jane (hater): If he is doing so well why does he drive that '89 Taurus?
How to Handle Haters on Social Media
As a nonprofit marketer, you are tasked with growing a community of dedicated supporters, while also creating a safe and respectful place for discussion.
As a community manager, you must have a plan for haters.
Here is my 5-phase plan for haters:
1. Have rules for haters
Set expectations for the community by stating clearly what's ok and what's not ok.
Your rules (aka social media commenting policy) should have three components:
Set the tone – Encourage lively discussion and invite a variety of differing opinions.
Set expectations – Clearly define the line that must not be crossed.
Consequences – People who repeatedly cross the line will be banned from posting comments.
Here's an excellent example of a social media comment policy from the CDC:
A clear social media comment policy sets ground rules for your community while also helping moderators know when to delete comments or ban users.
2. Block hater comments
Protect your community from sticks and stones that haters like to throw.
Black, Jewish, LGBT, disability communities, etc. are all-too familiar with hate speech. Set up filters to block hateful or hurtful language from appearing in the first place!
For example, Facebook allows you to block hateful language in your Page settings:
If one of these words is used in a post or comment, it will not appear on your Page.
3. Ban haters
Many haters are repeat offenders. They feel better about themselves by making your nonprofit the bad guy.
Your rules should include a clear policy for banning repeat offenders.
The Humane Society clearly states theirs on Facebook:
You can block haters on Twitter by selecting "Block" in the user actions on their profile.

You can ban haters on Facebook by selecting "Ban" after hiding their comment.

4. Let your community deal with haters
Trust your community to moderate themselves. They will often deal with haters in strict but respectful ways.
Their responses to haters can range from simply correcting a fact, or taking part in a lively discussion. When this happens, let your community take the lead.
Your community is far more effective at changing minds (or at least defending your nonprofit) than you are.
5. Turn haters into lovers
Or at least likers.
Someone respectfully offering constructive criticism is not a hater. In many cases, they care as much as you do about the cause, but they have a different opinion.
If you shut down respectful criticism instead of engaging in constructive dialogue, you could turn those people into haters.Instead, use your wisdom to:
Instead, use your wisdom to:
Take a breath and come from a positive position.
Actively listen to those who respectfully disagree.
Express appreciation for their comment.
Seek to understand their position.
Quickly take action to correct or resolve the issue, if needed.
Often, feeling heard is enough to win them over, even though they still might disagree with you.John Haydon delivers social web strategy solutions for "the quick, the smart, and the slightly manic." Curious? Then visit the John Haydon blog, follow him on Twitter or leave a comment.

This work is licensed under a Creative Commons Attribution 3.0 Unported.