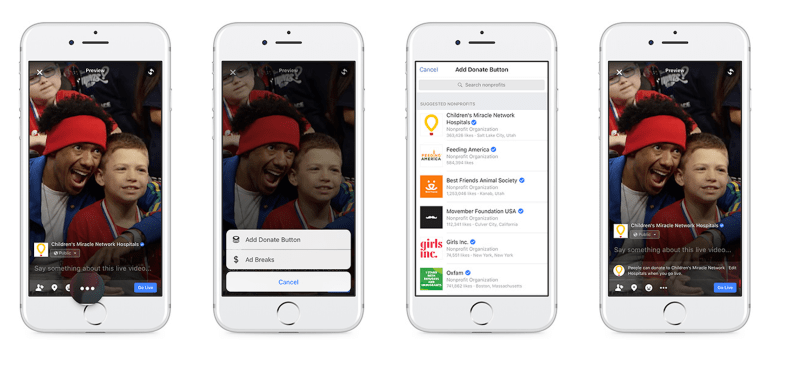 You already know that Facebook Live lets any nonprofit live-stream fundraising events, breaking news, impact stories, and more, directly from their Facebook Page.
But did you know that Facebook lets nonprofits add a donate button to their Facebook Live broadcast?
How to Use Facebook Live to Raise Money
If your nonprofit is based in the US, and your Facebook Page is verified, you can fundraise within a Facebook Live broadcast.
For example, in this screenshot from Facebook, Children's Miracle Network Hospitals adds the donate button feature to their Live broadcast.
Two things to remember about fundraising with Facebook Live:
Your Page needs to be verified. This feature is still gradually rolling out on iOS to admins of verified Pages in the US.
Your nonprofit must be approved to accept Facebook payments. You can apply here.
To add the donate button, click on more options at the bottom of the screen ("…"). Next, select your nonprofit from the options (as shown above).
Viewers can donate to your cause during the live broadcast, and supporters who missed the live broadcast can always donate from the broadcast recording.
But is just having a donate button enough? Of course not! Fundraising is about building trust, sharing stories of impact, and growing a community of supporters.
Here are a few pointers as you fold Facebook Live into your fundraising plans.
Use Facebook Live to tell donors about the impact THEY made
More often than not, donors hear about impact second-hand (through your newsletter, website, etc). Rarely do they get to witness, first-hand, the impact of their support.
Facebook Live is a super effective way to bring the impact to your supporters.
For example, Best Friends Animal Society introduces their cutest residents to supporters from all over the world. Without Facebook live (and other live broadcasting tools), supporters would have to travel all the way to Utah to witness, first-hand, BFAS's impact.
Make donors the heroes
If you want your donors to give over and over again, you need to tell them the truth: that for your nonprofit, they are the true heroes.
Feature donor stories in your broadcast. Tell your viewers the impact that one donor made. Recognize and praise this donor sincerely. Viewers will no doubt want the same praise and recognition.
For example, Stand Up To Cancer broadcasted news about a high school raised money during a "Sports Day For Charity".
Don't ask people to "Donate"
This one sounds a bit unintuitive, but let's face it, asking people to donate money to your nonprofit is a buzzkill.
The reason why is that the word "donate" doesn't place the donor in the role of the hero.
Instead, ask viewers to make an impact that's meaningful. For example, ask them to "Give clean water", "Feed hungry children", "Stop human trafficking, etc. Each of these asks is associated with a problem that donors ultimately want to solve.
Tell donors when you're going live
Facebook live isn't that exciting if no one shows up. Make sure your core supporters show up when you go live.
Post an update on your page the week before and the day before
Send an email to your email list
Share your broadcast date / time in your email newsletter
Tweet about it immediately before you go live
Facebook Live Tip #6: Make an outline for your broadcast
Call out commenters by name
The cool thing about Facebook live is that you can see comments as they're posted real time during your broadcast. Engaging commenters real-time increases engagement even further, creating massive reach for your broadcast.
Call out commenters by name
Read their comment
Reply to their comment
Say thank you
Ask for action
As your broadcast reaches more users, your viewer count will increase. This is your captured audience. Seize the moment to ask for action!
Ask participants to follow
Ask supporters to support an issue
Ask supporters to sign a petition
Share the recording with your supporters
You've put a lot of time and effort into your first Facebook a live broadcast. Congratulations! Make sure this investment goes further by sharing it with your supporters.
Send a follow-up email to subscribers
Link to your recent broadcast in your newsletter
Reshare the broadcast on other social channels
Embed the broadcast in a blog post
Remember, if you have added the donate button to your broadcast, it will exist in the broadcast recording. As you continue to broadcast stories of impact, you'll accumulate a whole series of fundraising videos on your Facebook Page.
Repurpose the recording
When you finish a live broadcast, save it to your mobile device. Then open the file in your favorite video editing software and create several videos to be used on other social networks.
Select key moments that are less than 60 seconds but still convey a powerful story. These short videos can be used on Instagram (which requires videos to be less than 1 minute), YouTube, Facebook, etc.
Get inspired by these creative ideas for Facebook Live
If you're not sure what topics or events you should broadcast, check out this list of 35 Facebook Live ideas for museums, animal shelters, youth organizations, and more.
John Haydon delivers social web strategy solutions for "the quick, the smart, and the slightly manic." Curious? Then visit the John Haydon blog, follow him on Twitter or leave a comment.

This work is licensed under a Creative Commons Attribution-NoDerivs 3.0 Unported.